"Gott Strafe England!": Walter Koch in Holsworthy Camp 1918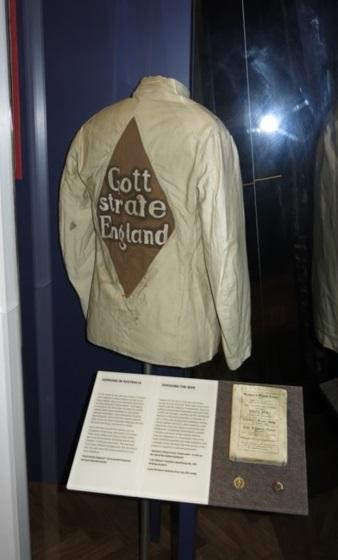 During the First World War several thousand people of "enemy origin" were interned in Australia. This included sailors removed from prize ships and merchant navy vessels, Australian residents born overseas – even some that were naturalised, and others born in Australia of "enemy" background. There were also about 1200 people interned from overseas from places like Singapore, British India and the Pacific Islands.
The Holsworthy camp at Liverpool in western Sydney was the largest and longest running internment camp in Australia and held both internees and prisoners of war. On display in the Memorial's First World War galleries is a white coat worn by German internee, Walter Georg Koch, at Holsworthy Camp in early 1918. He was one of the people interned from overseas, having been working as a planter in Ceylon (then a British colony, now Sri Lanka) when the war broke out. He was transported to Australia for internment in 1916.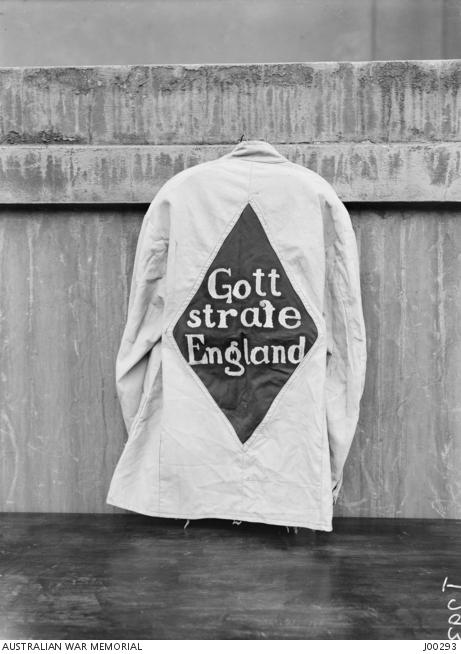 The coat is of a style that was issued to internees. Koch embellished the back with the message "Gott strafe England" for which he was court martialed on 19 March 1918 (despite the fact he was a civilian). His jacket was confiscated and used as evidence during the court martial. "Gott Strafe England", meaning "God punish England" was a popular propaganda slogan in Germany during the war. Items were produced in Germany with this slogan, including badges and 'Cinderellas' – like stamps but without financial value. What specifically caused him to do it is unknown but presumably frustration over conditions in the camp and his being imprisoned generally would have had an impact. When the war broke out it is unlikely that Koch would have ever thought he would end up an internee in Australia for over 2 years. 
He was sentenced to 30 days imprisonment. Given he was already imprisoned in an internment camp, this might not seem like much of a punishment but as the war continued, many camps developed into small towns with shops and amenities and presumably his punishment involved being in a jail like situation, away from these facilities.
At the end of the war almost 700 internees were forcibly deported and over 4600 "voluntarily repatriated" from Australia. I use this term in quotes as not all of these people were willing to leave and many had homes and family in Australia. However, very few internees remained in Australia - some had their naturalization revoked and some had to leave behind their wives, fiancées and children.
Koch embarked for Europe on board HMNZT Willochra on 27 May 1919, one of several ships repatriating internees. There were 870 internees on board – 601 from Australia and the rest from New Zealand. The guard consisted of both Australian and New Zealand troops. During the journey an illicit whisky still was found on board between Albany and Durban but the culprits were not identified.
The ship arrived in Rotterdam on 18 July and the former internees, including Koch, disembarked the next day into the custody of the Dutch Army. Later that day they boarded a train for Germany. The guards that escorted the internees were mostly men who had returned from active service, some even re-enlisting for the journey. Most did not return to Australia until September 1919. We don't know what happened to Walter Koch after his return to Germany but it is interesting to note a man called Walter Koch was interned in Australia during the Second World War, however, this appears to be a different man from the one interned during the First World War.