Inked: Tattoo Stories from World War II
Artists of war

Part two in a three part article looking at the rich history of tattoos in the Australian military by exploring their origins, meanings and their representation in the Memorial's photograph collection.
This photograph of Private Alfred Passfield appears alongside the preface of Alfred's own book,  The Escape Artist.  After being captured in Crete,  Alfred was interned as a prisoner of war in Hungary, Germany and Austria.  That is to say, he was interned for most of the time.   
Although many allied POWs considered it their duty to escape, Alfred had more than the average appetite to be free; he escaped from prison camp seven times, a feat for which he later received a Military Medal.  When he wasn't planning a break out, Alfred was restless and dispirited, and in need of a hobby. This is how he came to take up another form of 'escape' – tattooing.
In his 1989 oral history with the Australian War Memorial, Alfred explains how important tattooing was for him, and its relationship to escaping. The interviewer asks:  "After the third attempt Alf, did you finally consider settling down and putting your feet up for a little while?"
Alfred replies:
"No, I couldn't possibly do it. Under no circumstances...Even, after a week, I was highly fed up and used to get on everybody's nerves. In fact .. in desperation... I got some needles and ink from the guards for cigarettes and I started to tattoo myself, and there was a Frenchman doing the same thing. He was an escapist and it was the only way that we could keep our sanity. I don't think we did anyway otherwise we wouldn't have started to tattoo ourselves but that's what we did, and I never got tired of escaping, never. Because as soon as you got back and finished your time in the cells, you immediately started to plan of getting all the equipment for the next one and where you was going to go and everything. I never ever relied on the Escape Club*…they missed far too many opportunities. They would only let an escape go ahead if it was fool-proof and they were sure nobody was goin' to get hurt but you could have been hanging about for weeks and weeks, so I just used to work on my own."
Alfred's aesthetic sensibilities, combined with his technical and problem solving abilities, were not only key to making successful escapes, but were equally key to his tattooing. He could carve chess pieces, draw maps, copy pictures, source components and construct equipment, whether it was a compass or a tattoo kit. His tattooing was important to him, not only as a means to escape boredom, but as a key part of his identity. He even brought his tattoo gear with him, as essential kit, during his escapes. Considering that any item he carried while escaping should be crucial to survival, the inclusion of even a relatively lightweight set of needles demonstrates how clearly he valued his tattoo practice.
This is a great image of the quintessential tattooed sailor. As it was for sailors of centuries past, so John Paterson's tattoos are proofs of where he's been;  they're  his personal passport stamps, and a perfect demonstration of  how a tattoo helps its wearer to remember something important to them.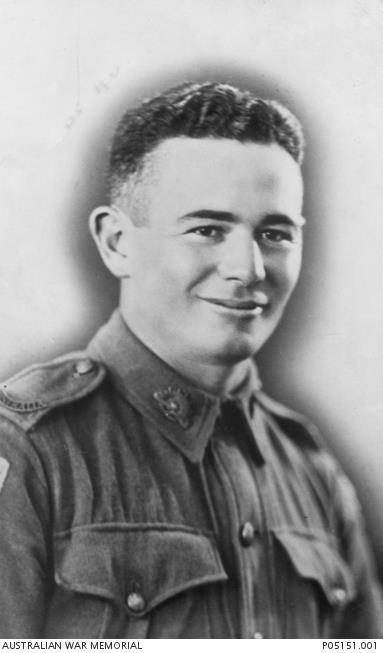 This photographic portrait is of Ronald Denham Clark, of the 2/4 Battalion. Born in 1913, Ronald displayed an artistic leaning from an early age, making toys to sell for pocket money and designing both his own and his brother Jack's tattoos. When he enlisted at Inverell, on 4 November 1939, the colourful tattoo on his left bicep was duly noted in his service papers9 and described as a heart, possibly with a sword through it.  View the document here.
Indeed, it was apparently thanks to his tattoos that Ronald ended up in prison! His tattoo was spotted by observant Germans whilst Ronald was sheltering in France with sympathetic locals.  He was sent to Stalag VIIIB at Gorlitz, eastern Germany, where he spent the remainder of the war.
Despite the lack of resources available to internees, Ronald continued designing and illustrating;  he obtained dyes by soaking the colours from Red Cross food labels. Paper would also have been scarce and he practiced his art on other materials.
Ahead of the Russian advance in early 1945, the camp was evacuated. Prisoners were force-marched in freezing winter conditions to Stalag XIB, south east of Bremen, which was liberated in April that year by the British.
A British doctor, Captain Walter Mills of 162 Field Ambulance, Royal Army Medical Corps, approached the camp just as its gates were opened. As hundreds of allied prisoners streamed out, Ron Clark amongst them.  No doubt elated by the end of the war and his release, Ron, coming into contact with Mills, exclaimed  'Here's a souvenir for you cobber!',  and so saying, pressed this handkerchief into Mills' hands. 10
Footnotes:
*'Escape Club'  - a group of allied POWs in any prison camp with the self-assigned role of planning camp escapes. Members included senior ranking decision makers, forgers, map makers and tool makers.
** very likely George John Paterson PM3578, NAA: A6770, PATERSON G J D