Japanese Ha-Go Tank conservation
The tank to the rear right in this image was captured in a pivotal action at Milne Bay in New Guinea in September 1942 after the defeat of the Japanese landing force. It had been involved in actions with Australian infantry of the 61st and 2/10th Batallions, and was stopped by SX1603 Jack O'Brien with a Boyes anti-tank rifle on 28 August 1942. O'Brien was wounded and awarded a DCM for this and other actions around that time. The tank was brought to Australia, dismantled, examined and partially reassembled by the Army. It was damaged by mine testing, then languished in the weather outside in a scrap yard for many years, and was then acquired by a private collector in the 1970's. The tank was repainted at that time and put into a diorama type display. No other conservation work was done other than the loose replacement of a non original track on one side of the tank. The Australian War Memorial acquired the tank in 2005 following the dispersal of this private collection.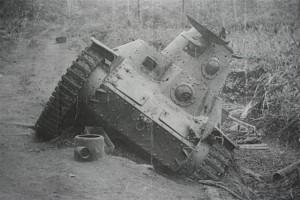 Comparison of the tank in its current appearance with the above original image enabled  verification of battle damage and positive identification of the AWM tank.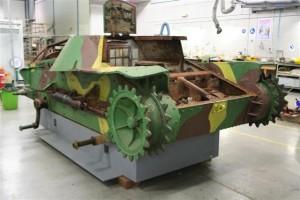 The above images show the tank  partially dismantled, pallets of original parts, parts sourced  from other Ha-Go tanks, and replica components. The aim of the conservation treatment is to treat extensive corrosion damage, free up corroded components, source original components or replicate missing components such as both tracks, and return the tank to its 'as captured' but non-operational service appearance.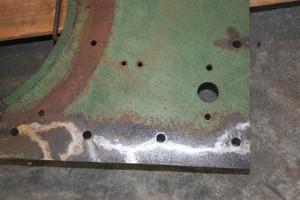 Above are some images of works in progress. Surprisingly, although corroded, most of the upper body bolts were relatively easy to unfasten, but it is anticipated that disassembly will become more difficult lower in the hull closer to accumulated water damage. Work is progressing dismantling and treating components, repairing the jigsaw of corrosion pressure cracking of the armour plates, and rebuilding badly damaged and corroded original road wheels sourced from other Ha -Go tank wrecks in the Pacific area.
A particular challenge with this treatment is to identify and preserve any historic evidence still remaining on the tank after its chequered career. Battle damage is largely obvious and easy to preserve. Not so obvious or easy to preserve are the signatures  of the 61st Bn infantry, scratched by the men on 9 October 1942, and still present in original paint remnants on the tank.