'Without Ivy ... I wouldn't be here'
Warning: the following story discusses post-traumatic stress disorder.
If you or someone you know needs help, support is available at Lifeline on 13 11 14 or Beyond Blue on 1300 22 4636. If you are an Australian veteran or family of a veteran, you can also call Open Arms, Veterans & Veterans Families Counselling Service, on 1800 011 046.
The Australian War Memorial has worked with veterans and their advocates to commission a work of art to recognise and commemorate the suffering caused by war and military service. The sculptural installation, For Every Drop Shed in Anguish, by artist Alex Seton, will provide a place in the Memorial's Sculpture Garden for visitors to grieve, to reflect on service experiences, and to remember the long-term cost of war and service. For more information about the Sufferings of War and Service sculpture, visit here.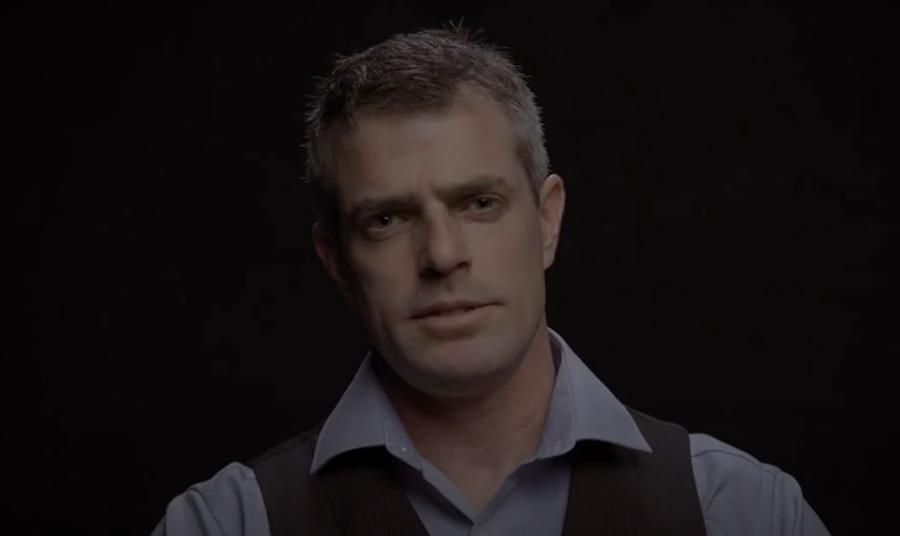 Wherever Jason Safaric goes, Ivy is always by his side.
"Without Ivy, I can tell you right now, I wouldn't be here," Jason said.
"Ivy saved basically my life, and my marriage."
Ivy is Jason's service dog.
Jason served in East Timor and Afghanistan and suffers from post-traumatic stress disorder. He was discharged from the Australian Army in May 2018.
 The small black Labrador has been a lifeline for him, helping him with his struggles.
 "I can't go without her too long," he said.
 "She's always there for me.
 "And we have a special bond." 
Jason grew up in Geelong, Victoria, and joined the Australian Army in 2000.
"I travelled around Australia, and I was working in different parts of the country," he said.
"I didn't like my job and I wanted more adventure in my life … so I joined when I was 22, almost 23, and I put my hand up for everything to get whatever experience I could."
He deployed to East Timor in 2002 and to Afghanistan in 2007 and 2009.
When Jason returned from Afghanistan, he found it difficult to readjust to normal life. He couldn't sleep and, when he did, he suffered from nightmares.
"It took a lot of time to get that courage to come forward," he said.
"I was not communicating with people and I knew I was going down a bad road …
"It took me nine years to speak up …
"But having Ivy in my life has helped me through the struggles that I have …
 "Things will set me off, or just put me in a position that I don't want to be in, and I just hide away. But Ivy gets me away from all that …
"She gets me out and about to engage with people again.
"If she sees me distressed, she'll come up, grab a ball out of the toy box, and we'll go and throw the ball a bit … and get out in the open air.
"Everyone's PTSD is different … but if I'm having a rough time, and I'm having nightmares, she'll come to me and try and wake me up."
For Jason, it's important to tell the stories of modern veterans and to talk about their experiences.  He took part in the Soldiers in Residence program at the Australian War Memorial in 2017 and hopes that by sharing his story he can help others.
"Everyone has a story to tell," he said.
"And if we can uphold that, and hold that history, and capture as much as we can, then the more we can capture, the more we can tell, and the more we can educate people.
"I know I'm not the only one out there.
 "I know there are a lot of struggling families with wives or husbands telling their partners to speak up but they just want to shut down. I shut down as well. I had nothing to do with anybody. I stayed home. I wouldn't leave. I wouldn't go anywhere.
"Ivy's the one that actually helped me to get out and have the courage to speak up.
"She's helping me day by day … and my sole purpose now is to get that message out there, that you're not alone, that there is help out there …
"Hopefully, by telling my story, I can make a difference somewhere, or inspire somebody who is struggling to get help.
"And that's all I can really hope for.  By putting it out there, hopefully we can save a few more lives."
Defence All-hours support line – The All-hours Support Line (ASL) is a confidential telephone service for ADF members and their families that is available 24 hours a day, seven days a week by calling 1800 628 036.
Open Arms – Veterans & Families Counselling Service provides free and confidential counselling and support for current and former ADF members and their families. They can be reached 24/7 on 1800 011 046 or visit the Open Arms website for more information.
DVA provides immediate help and treatment for any mental health condition, whether it relates to service or not. If you or someone you know is finding it hard to cope with life, call Open Arms on 1800 011 046 or DVA on 1800 555 254. Further information can be accessed on the DVA website.
For more information about service dogs, visit Integra Service Dogs Australia and the Department of Veterans Affairs.