'It's an absolute privilege'
Art has always been an important part of Julian Thompson's life.
A radiographer in the Australian Army, Captain Julian Thompson deployed to Iraq in 2016 and again in 2019.
When he wasn't working at the Taji Medical Treatment Facility, he would get out his canvasses and paint.
His painting Going nowhere: rusting monuments in salted earth was one of the highly commended artworks in the Australian War Memorial's 2022 Napier Waller Art Prize and has been on display at Parliament House in Canberra.
"I was privileged to be shown a couple of areas of the Taji military base, which most people don't normally see," he said.
"The subject of this particular painting is from what was known colloquially as the Saddam-era 'tank graveyard'."
In his artist's statement, he described the "sprawling expanses of lumbering military junk whose forms sprout from salted earth like fields of oversized, rusting metallic mushrooms".
"They represent scenes of utter desolation ... of environmental and human tragedy," he wrote.
"To visit the tank graveyard is to behold recent history's tragic arc in a land whose proud, ancient achievements are subsumed into the relentless chaos and suffering of recent decades.
"It is impossible not to ponder history here; it seems to seep from every rusting metal panel and float between monolithic vehicle bodies like an invisible vapour."
He said: "It's a very distinctive landscape and that lends itself very much to art.
"Iraq's had a fairly hard history in the last few decades, there's no denying that, and you see the visual evidence.
"It's an ancient land, with a long, proud history. So much of what we have in our contemporary society has derived from that long history; and the contrast between that long, proud history and this really hard, more recent history, is acute.
 "One of the things that is very hard to capture in the artwork is the extent of these fields of debris.
"There are kilometres of landscape that are just covered with these kinds of relics.
"It was once the fourth largest army in the world, and a lot of the hardware is now rusting and getting eaten up by the salty soil.
"I just felt that I was very privileged to see it first-hand, even though it is such a bleak landscape."
"It was only a very brief visit, but it was one of the most interesting days of my life."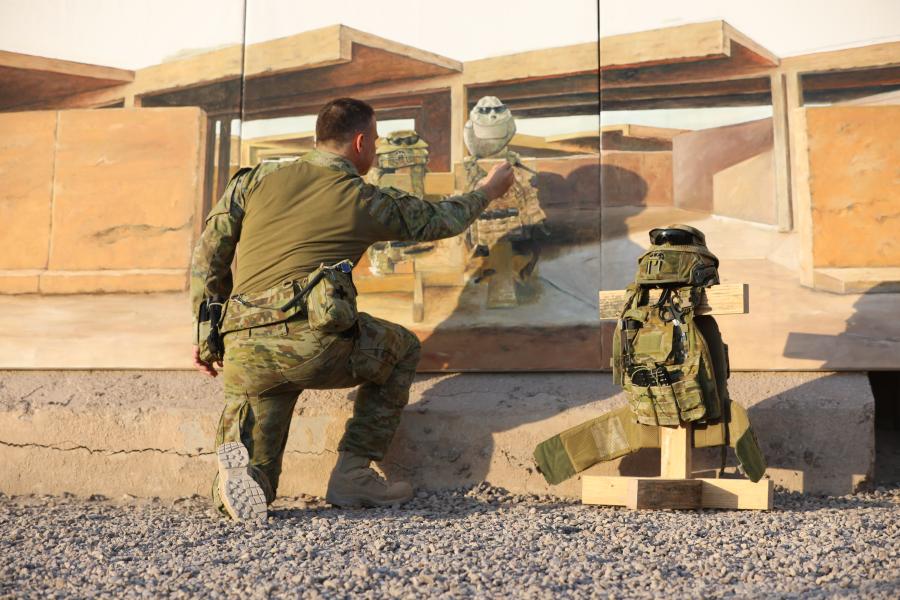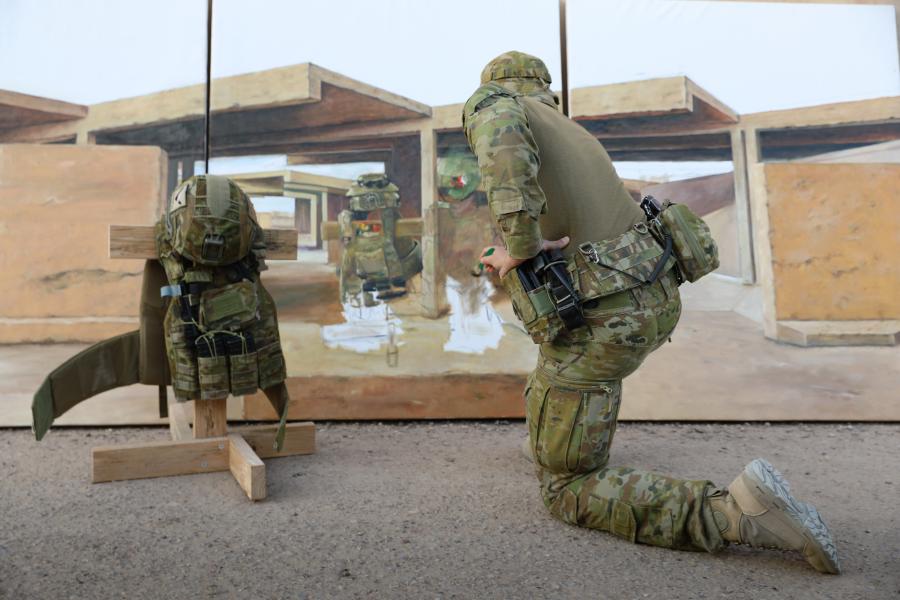 It was a world away from where he grew up in rural Victoria.
His grandfather had served on Gallipoli during the First World War and his father was a National Serviceman, but Thompson never dreamt he too would end up joining the Army.
"I went to art school and I spent 10 years as a professional artist before joining the military," he said.
"I was actually a landscape painter living in Tasmania … and then the GFC come along.
"I was casting around for some options … and radiography was the first thing that I thought of.
"Twelve months in, and I had a bit of a sliding doors moment.
"My wife saw an ad online for Defence recruiting for health careers in the Army, and we pretty much made an on-the-spot decision. It was completely out of left field, but a few months later I was a fully paid up member of the Australian Army.
"It was a life-changing moment, conducted over the course of an hour's conversation, that would have major ramifications – positive ramifications – for my life.
"I finished off my degree with the Army's support and I'm still here.
"I've been blown away by the rich visual imagery that Army presents on a daily basis.
"It's visually interesting, and it's symbolically interesting.
"The fact that we wear camouflage means we're actually wearing an abstraction of the Australian landscape, and that distinction between figure and landscape is very much broken down by what Army does.
"The fact that tactically the soldier tries to blend in to the landscape dissolves that even further … Those bits of symbolism, I find absolutely fascinating.
"They really fuel my interest, and have led to a complete change in my artistic direction.
"I was doing fairly conventional technical landscapes and now I'm painting these military themes.
"Since being in Army, I really get a sense of being part of something larger, of being part of something which has its own history.
"And that's very much symbolic … We are part of a continuum that goes back a long way, and that continuum is very tightly knit to the Australian national identity.
"I feel very much that I have a ringside seat to Australia's history … and if I can respond to that artistically, that's great.
"The people in the paintings are often people I'm working alongside… They get to see the development of the paintings, particularly when I've been on deployment … and if I can make imagery that gives a little bit of a voice to other people's experiences as well, then that's awesome.
"It's an absolute privilege."