'He always thought of others first'
George Wheatley will never forget the day his father died.
It was 13 November 1965, and his father, Kevin "Dasher" Wheatley VC, was on a search and destroy mission with a platoon of South Vietnamese soldiers in Vietnam.
Wheatley, and another Australian, Ron "Butch" Swanton, were with the platoon, sweeping through rice paddies near the village of Binh Hoa, when it came under fire.
Swanton raced to help a South Vietnamese soldier who had been wounded in the attack, and was carrying the soldier to a wooded area beyond the rice paddies when he suffered a serious gunshot wound to the chest.  
Wheatley, who had been providing covering fire, rushed to Swanton's aid and radioed for an air strike and medical evacuation.
A South Vietnamese medic bandaged Swanton's wound, but told Wheatley that Swanton would not survive.
Despite the medic's pleas, Wheatley refused to leave Swanton behind, and half-carried, half-dragged Swanton out of the open rice paddies towards the relative safety of the wooded area under heavy fire.
With the Viet Cong some ten metres away, and a second South Vietnamese soldier pleading with him to leave Swanton, Wheatley pulled the pins from his last two grenades.
His other ammunition exhausted, Wheatley clutched a grenade in each hand, and calmly awaited the Viet Cong.
The last person to see Wheatley and Swanton alive was a fleeing South Vietnamese soldier; he heard the two grenades explode, followed by bursts of small arms fire.
A search party found Wheatley lying beside Swanton the following morning; both had died of gunshot wounds.
For his actions in attempting to save his wounded mate, Wheatley was posthumously awarded the Victoria Cross, Australia's highest decoration for bravery in battle. It was the first Victoria Cross to be awarded to an Australian soldier in Vietnam, and the first since the end of the Second World War.
Wheatley's wife Edna had just started work at home in Campbelltown when she learned of her husband's death.
"It was the biggest shock," Edna said. "I don't think we really believed it.
"It was a Sunday, and I'd just started working at the local RSL club because money wasn't real good at the time.
"It was my first day, and I can still remember it. Women weren't allowed in the club, but I was allowed to work in the bar.
"I'd only just gone in when [the Regimental Sergeant Major] came to the club with the chaplain. He said did you bring your jacket and your purse, and then he came back to the house and we told the kids."
Eleven-year-old George, the eldest child in the family, was playing in the backyard when he saw his mother return home with the two men. He knew immediately that something terrible had happened, and that life would never be the same again.
Known as "Dasher" for his rugby union prowess, Kevin "Dasher" Wheatley was born in the Sydney suburb of Surry Hills on 13 March 1937, the son of Raymond and Ivy Wheatley.
He was working as a milk carter with his father, delivering milk, when he met Edna, an assistant at the local milk bar. Seventeen-year-old Wheatley climbed the telegraph pole outside and refused to come down until she agreed to go out with him.
The couple married at the registrar-general's office in Sydney in July 1954, and had four children: George, Phyllis, Ellen and Leanne.
"We were very young, and there wasn't much money, but we lived a good life," Edna said.
"He was the toughest of the tough, but he had a soft side too, and he always thought of others first.
"Then when George was born, he was just so excited to be a father. He was proud to be a dad, and he was so proud of all of his kids."
To support his growing family, Wheatley joined the Australian Regular Army on 12 June 1956. He served during the Malayan Emergency, took up boxing, and became renowned for his insubordination to British officers and senior NCOs.
George has fond memories of playing with his pet monkey in Malaya and seeing his father return from patrols.
"They would go out on patrols for weeks at a time, and Dad would bring half the guys home with him because they had nowhere else to go," he said.
"They were called the 'Scungees' because Dad wouldn't let them wash during their training.
"They'd come back and they'd smell, and Dad would make them eat their army rations cold.
"He used to say when reality hits, you won't have these comforts, so you'd better get used to it.
"They were a really good group of soldiers, and I still hear stories about the 'Scungees', and how good they were."
Wheatley was promoted to Warrant Officer Class II in 1964, and in March 1965 was posted to the Australian Army Training Team Vietnam. George remembers travelling into Sydney with his father before he left.
"It must have been a week or two weeks before Dad went away," George said.
"Enterprise – the big US aircraft carrier – was in and we went into Sydney on the train with him and then went to the Australian museum.
"And that's my last vivid memory of him; this big day out that we had together.
"There was never a lot of money, but we were brought up in a very happy household, and we never did without.
"We used to go to Army Christmases and things like that, and I remember we used to have to spit polish his boots. That was my job – the Brasso, the spatches, things like that – and I had to do them properly.
"They're the little things you remember – playing cricket and footy in the backyard, Dad hitting a golf ball, me chasing the golf balls through the orchard ...
"But I also have this memory of Dad cooking, and all it was, was sausages. He'd taken time off work to look after us when Mum was in hospital having my sister Leanne, and he went to the butcher's and he bought 10 kilos of sausages, or something ridiculous, and we ate those sausages for a week or so.
"We used to get the Army rations as well, and I loved those Army rations because there was rice cream. It was a real treat for us, and whenever I have rice cream now, I think of Dad."
A highly-respected and well-liked non-commissioned officer, Wheatley was known for being an exceptional soldier and had already earned a reputation for courage and loyalty by the time he arrived in Vietnam.
A favourite amongst the South Vietnamese children, Wheatley taught them to call out "Ned Kelly, Ned Kelly" as he drove through villages distributing toys and sweets.
He risked his life to save a three-year-old Vietnamese girl who had run into crossfire while Wheatley was assisting South Vietnamese troops in Quang Tri province. Wheatley ran after the terrified girl, and used his body as a shield while carrying her to safety.
"Dad already had this aura about him because of the things he'd done," George said.
"He wasn't a big man by any means – he was short and stocky – but he loved kids and he was always very loyal to his friends.
"Keith Payne said to me, 'Your dad was a wild man George – playing football, he'd run over you, tackle you, jump on you, tread on you, and then after the game he'd give you a hug and have a beer.'
"He would never get anybody to do something unless he would do it himself, and he always stuck up for people.
"I remember I would have been seven or eight when Dad was at Holsworthy and there was a rogue dog that kept coming onto the barracks.
"The RSM said to him if you don't get rid of that dog I'm going to shoot it, so Dad went AWOL with the dog and brought it home on the train and gave it to me.
"It was my first dog, and I remember Dad lost a stripe for being AWOL, and he ended up in the brig… all over the love of a dog.
"That's just the way Dad was.
"He got into trouble a bit, and he pushed the envelope, but if he thought he was right, he would stand up for what he believed in, regardless of his rank.
"He was a real larrikin, and he would just light up a room."
Wheatley's family and friends were left devastated by his loss. Wheatley's older brother had died in a firing range accident at Puckapunyal, and now Wheatley's mother was left mourning the loss of another son.
"When Dad went to Vietnam, he didn't actually tell his mum," George said. "He'd lost his brother when he was 14 or 15 … and it shattered his Mum, so Dad actually wrote a letter to her from Vietnam because he didn't want to upset her."
Wheatley's family fought to have his body returned. Australian policy at the time was to bury war dead overseas, but Wheatley's body was returned to Australia after funds were raised privately to bring him home.
"Pat Burgess, who was a journalist [in Vietnam], was just the best person," Edna said. "He met with these men in Sydney, and he helped us raise the money to bring him home."
Wheatley was buried with full military honours in Pine Grove Cemetery in Sydney. The following year, the Australian government announced that the remains of all service personnel who died overseas would be returned at public expense if their families desired.
The award of the Victoria Cross was announced in the London Gazette in December 1966, 13 months after Wheatley's death. The Queen, who reads each citation and approves the wording and awarding of the medal, expressed her sadness that the award was posthumous. The citation is said to be the only citation of which she has personally changed the wording.
In 1967, the Wheatley family was flown to Canberra, where George was presented with his father's Victoria Cross by the Governor General Lord Casey.
"We were all flown down to Canberra, and we were treated like royalty …
"Everybody was there, and I remember Russell McNamara, who was in Vietnam with Dad, said to me, 'Listen mate, be proud, stand tall, and think of your dad.'
"I was 13 at the time… And we were all dressed up, and I just remember thinking to myself, I wish Dad was here."
Today, Wheatley's name is on the Roll of Honour at the Australian War Memorial and his Victoria Cross is on display in the Hall of Valour.
His story was told at a special Last Post Ceremony commemorating the 55th anniversary of his death. The ceremony was attended by Wheatley's family and friends as well as the Governor General David Hurley, the Chief of Army Lieutenant General Rick Burr, the Chairman of the Australian War Memorial, Mr Kerry Stokes, and Wheatley's close friend, Keith Payne VC.
George wore replicas of his father's medals as well as the watch his father wore in Vietnam.
"I knew it was going to be emotional," George said. "But I thought Dad deserved it."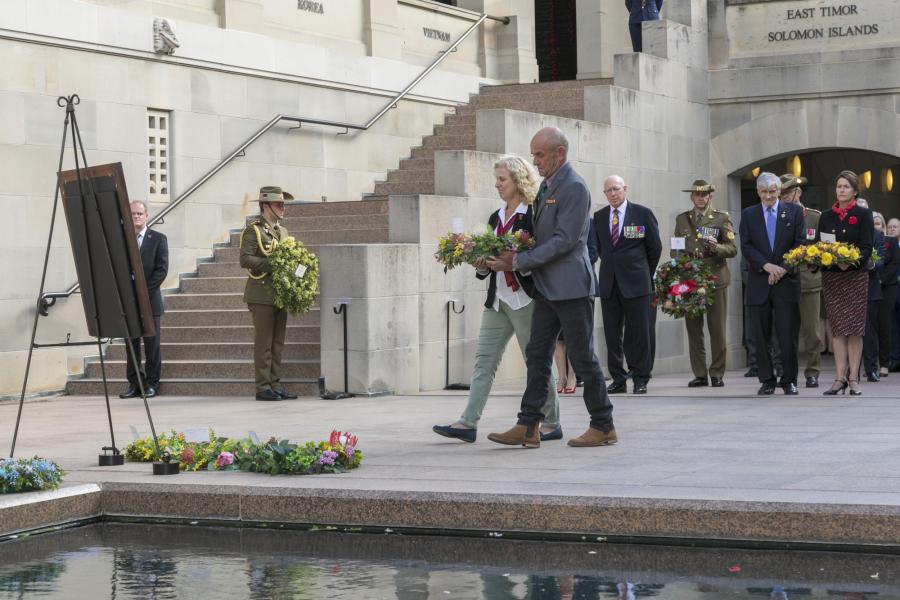 George cherishes his father's slouch hat, which was returned to the family 30 years after his death, as well as the last letter his father ever wrote to him. It is signed 'Love forever Daddie'.
To this day, George's mother, Edna, wears the number 13 on a necklace in memory of her husband, who was born on the 13th, and died on the 13th.
"It's funny how dad's story affected people in different ways," George said.
"[United States Marine Corps Lieutenant] Jim Lowe said Dad used to pull over in Vietnam and give these children lollies and a bit of rations, and he'd say, 'You can't save them all Dasher,' and Dad would say, 'Yeah, but we can save one at a time.'
"And that's the side of my father I like. 
"He was a hard man, but there was a big soft side to him too.
"He saved Jim Lowe's life in Vietnam as well, and Jim said, 'When I get back, if I survive this, I will name my son 'Dasher', and he did."
Wheatley was awarded the United States Silver Star, the nation's third highest decoration for valour in combat, for his part in an operation a few weeks before he was killed. The US Silver Star will be presented to Wheatley's family in Canberra on 14 December 2021, 56 years after his death.
The Republic of Vietnam also appointed Wheatley a Knight of its National Order and awarded him the Military Merit Medal and Cross of Gallantry with Palm. The latter two awards were pinned to Wheatley's coffin by a Vietnamese Colonel.
"I loved him, and I'm proud of everything that he did achieve," Edna said.
"The whole family is, and the tears I get today are tears of happiness. He would have been so proud of his kids, his grandkids and his great-grand-kids."
George smiles at his mother in agreement.
"He was a very brave man, and he always put everyone else first," George said.
"It would just not have been in his nature not to do what he tried to do.
"I just wish we'd all had more time together."