'Just singing in that special place makes it extra special'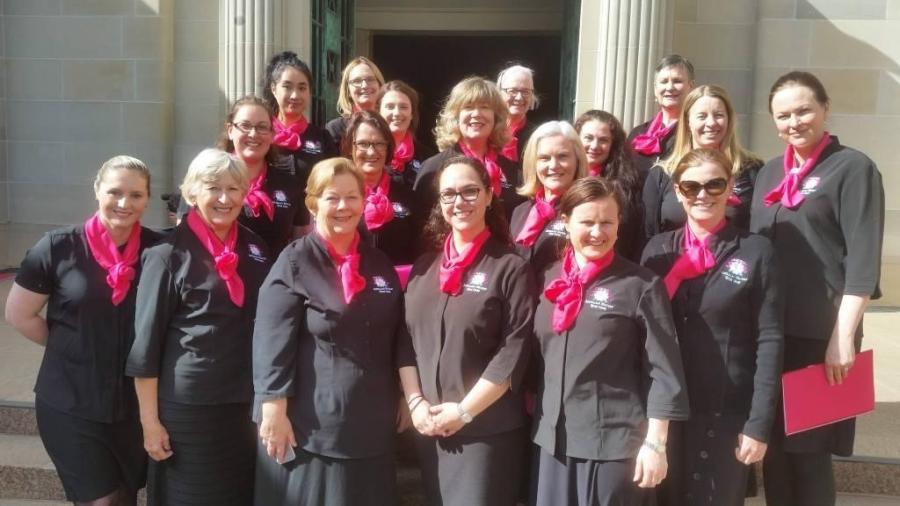 When Kylie Pearson sings before the Pool of Reflection at the Australian War Memorial in Canberra, it is deeply personal.
A member of the Australian Military Wives Choir, she will be performing at the Memorial on Anzac Day eve, before a special Last Post Ceremony commemorating the 105th anniversary of the second battle of Villers-Bretonneux on 24 April 1918.
The choir first began in August 2012 with a light-hearted suggestion between friends, in an email headed: 'Military Wives Choir. Should we start one?'
A small group of singers met in a cold Duntroon Chapel a few weeks later, and news of the fledgling choir soon spread. They had performance requests coming in before they'd even had their first rehearsal.
Today, the choir averages around 160 members across 13 different locations around the country and online. It welcomes women and girls who have a significant relationship with an Australian or Allied Defence Force member, such as a spouse, girlfriend, daughter or mother, as well as current and former female Defence Force members.
When asked why she wanted to sing with the choir, Kylie smiles.
"At first, I didn't," she admits.
"When I moved to Canberra, I already had a friend who I'd met in Puckapunyal. She bugged me for that full first year in Canberra to join.
"She kept saying to me, 'You should come along to this choir, it's really good,' but I had a little bub at the time, and I thought, 'Nope, it's too hard.' So it took about a year for her to convince me to come along.
"She eventually said, 'You're coming today,' and I just I loved it."
She still remembers attending that first rehearsal.
"I didn't know anything," she said.
"I'd been in the school choir – and I sing in the shower, and in the car, like a lot of people do – but I wouldn't in any way call myself a singer.
"I was just sort of humming along and trying to sight-read, but I really enjoyed it; so I started coming regularly, and learning the practice tracks, and never stopped.
"I was really nervous that people would be talking about their husbands and what they did, but at the very first session that I went to, Cath, the director, said, 'This is a first name only choir. We don't talk about surnames. We don't talk about rank. We don't talk about our husbands. We don't even talk about which service they're in. It's just about us.' And that sold me.
"It was all about us. There were no last names. There were no ranks. And that was a turning point for me. It made it really clear to me that this was something I wanted to be part of, and was proud to be part of."
The choir's repertoire includes contemporary pop and older favourites, including show tunes, seasonal, ceremonial, celebration songs and original choral pieces. The songs have been arranged specifically for the female vocal range and speak in some way to women's experiences.
"It's about relaxation and just getting away from everything," Kylie said.
"We all lead such busy lives these days, and it's about that support.
"These women are all in the same boat.
"When they move here, they don't always have that support network … They don't usually have family or friends here, so it's a really nice way to meet people.
"You're making new friends and singing together, and that connection is really important.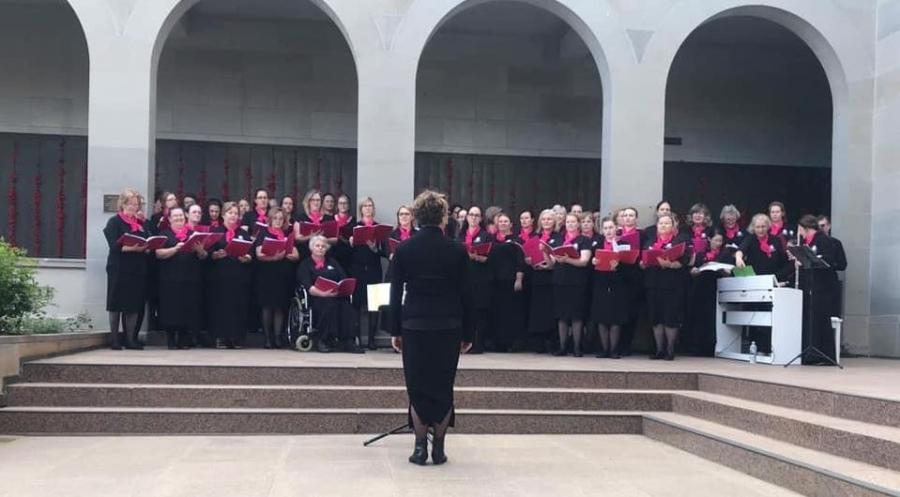 "It's sort of like doing meditation or yoga. You come away from it with this high and you forget about everything else.
"They encourage you to leave your cares at the door and to forget about everything else and just sing …
"It's really nice being in a room with people that understand.
"If you needed to, you could call on one of them, and they would come and help.
"You don't have to say anything because they understand. And that's really nice.
"You don't have to be a good singer, and that's something I really love about this choir – there's no audition.
"It doesn't matter if you can't sing, and it doesn't matter if you don't turn up every week, because sometimes you just can't.
"When I first started I had three children – a one year old, a three year old and a five year old – and rather than miss some of the rehearsals when my husband was away, I actually hired a babysitter.
"I decided that was something worth spending money on to get there, just to have that hour and a half to myself, and whenever I go, I'm so pleased that I did.
"It's kind of like going to an exercise session, you don't feel like it sometimes, but then afterwards you're like, 'Wow, that was great.'
"It was that one thing that I could do for myself."
The choir's symbol is the Gallipoli Rose, the seeds of which were gathered by Australian soldiers on Gallipoli and carefully brought home to their mothers to be planted in Australian gardens. The rose was chosen because of its rich history, its hardy nature and the vibrant pink and white flowers, which give the women's scarves their signature shade of strawberry pink. 
For Kylie, it has particular meaning. She and her husband first met at a pub in the Rocks in Sydney on Anzac Day. She had been working as a research scientist in Sydney and had attended the Veterans' March that morning.
She is looking forward to singing with the choir at the Memorial on Monday.
"Just singing in that special place makes it extra special," Kylie said.
"The Memorial's a really special place for all of us, for obvious reasons, but it's also a beautiful place to sing.  The sound, when it echoes down through the Commemorative Area and the Pool of Reflection, is just really special. They say it actually echoes through the whole building and people can hear it inside as well, which is pretty amazing.
"We've been lucky enough to perform at a lot of really special places, but the Memorial is one of those really special ones.
"It means a lot to me."
The Australian Military Wives Choir will perform at the Australian War Memorial before the Last Post Ceremony on 24 April 2023. For more information about the choir, visit here.