Mrs Rattigan and the Anzac Buffet London
Recently I have been researching collection items relating to an interesting woman who helped feed and entertain soldiers on leave in London during the First World War. Her name was Minnie Augusta Rattigan.
Mrs Rattigan was born Minnie Augusta McFarland at Barooga Station near Tocumwal, NSW on 23 July 1870. She travelled to England with her second husband, Alan Mansell Rattigan after their marriage in 1912. There, Alan Rattigan joined the 1st Life Guards, one half of the elite Household Cavalry. He was serving with them in 1914 as a second lieutenant interpreter when the First World War broke out. He later transferred to the Royal Fusiliers and was promoted to captain. While Captain Rattigan served on the Western Front, Mrs Rattigan did her bit back in London.
Mrs Rattigan was one of the co-founders of the Anzac Buffet. The Buffet was established by the London branch of the Australian Natives Association - an organisation of ex-patriot Australians - and opened in late 1915 to provide free meals and entertainment to Australian servicemen in London. At that time the bulk of the Australian forces were still in Egypt and Gallipoli and the Buffet would have catered more towards convalescing soldiers from the Gallipoli campaign, and a small number of Australians attached to units in France.
The Anzac Buffet was originally located at 130 Horseferry Road. In September 1916, it was relocated to 94 Victoria Road. Ostensibly this was because the original premises were required by military headquarters. However it was felt by some that the military did not want any competition for their newly opened Australian Soldiers' Club located nearby. The Club charged for meals and other comforts, while the Buffet continued to provide free meals and entertainment throughout the war.
The Buffet was open seven days a week and early on Mrs Rattigan ran the Buffet for two of those days a week, from 6am to 10.30pm. The staff at the Buffet generally fed and entertained 1000 Australian servicemen a day. In addition to serving meals, the Anzac Buffet had billiard, reading and music rooms. A highlight for Mrs Rattigan came on 20 November 1915 when she ran an event for six Australian and New Zealand Victoria Cross recipients; Hugo Throssell, Frederick Tubb, William Symons, Cyril Bassett, Leonard Keysor and John Hamilton.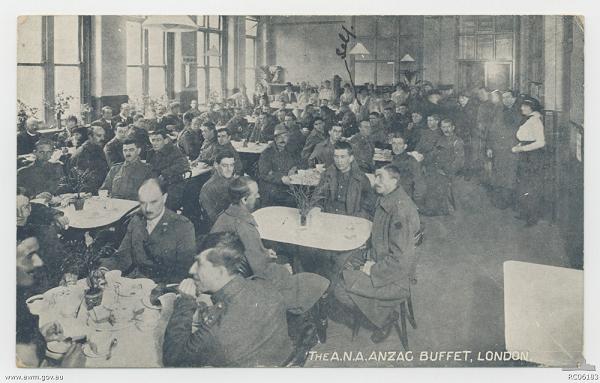 A recent donation to the Memorial is a postcard sent by Mrs Rattigan to her family in Australia, relating her involvement with the event, which also gained some attention in the press at the time. Mrs Rattigan is in the postcard, up the back. She marked her position for her family.
During and after the war, Mrs Rattigan's close contact with Australian servicemen led to her acquiring a number of items from soldiers and units. These were usually tokens of gratitude for her work and some of these items came to the Memorial from Mrs Rattigan in the 1920s.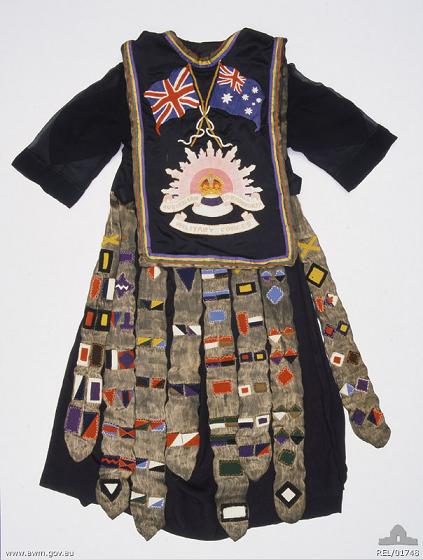 One of the more striking items is a patriotic fancy dress outfit made by three double amputees, 4439 Private Malcolm Brown 47 Battalion, 22 Private Joseph Allen Baillie 35 Battalion and 2176 Private Frederick Trice 4 Pioneer Battalion while at 2 Australian Auxiliary Hospital (2 AAH) in Southall, London. Each man had lost both his legs and was recouperating at the hospital at the time. The outfit was most likely made between late 1918 and early 1919.
2 AAH originally began as an auxiliary hospital to accept the excess patients from 1 Australian Auxiliary Hospital at Harefield. In 1916 its purpose changed and it was made a specialist hospital for fitting artificial limbs and caring for amputees. The canteen at the hospital was opened in late 1916, as a branch of the Anzac Buffet. It is possible the three men met Mrs Rattigan as a result of her involvement with the Buffet and gave her the outfit to express their appreciation.
At 2 AAH much work was done by the Red Cross to help rehabilitate wounded men. As well as improving them physically, men were also trained in various skills to assist them to gain employment once they reached home - especially if they had lost limbs or sight and could not return to their old occupations. Among other things, men learnt telegraphy, electrical mechanics, how to weave, repair boots or do carpentry.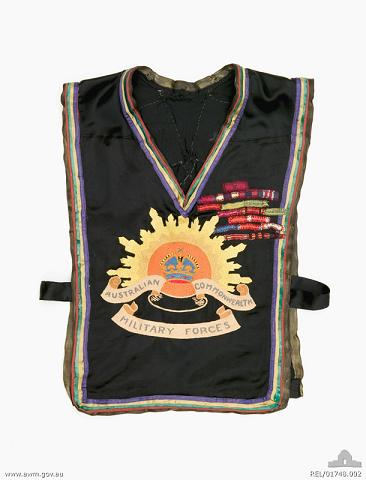 They also made rehabilitation embroideries - often using the Rising Sun badge as a key image. The Rising Sun Badge is the central feature of the outfit made for Mrs Rattigan.
Another item from a grateful soldier was a patriotic trench art 'watch stand' made by 505 Driver Francis James Caple as a gift from the 17th Battalion to Mrs Rattigan. It features a map of mainland Australia marked with the states and the Northern Territory.
Mrs Rattigan also collected a bangle made from wire from a Schutte-Lanz type German airship, the first German airship shot down over England during the First World War. The airship was shot down by Lieutenant William Leefe Robinson, a member of the Royal Flying Corps No. 39 Home Defence Squadron in September 1916. For this action Leefe-Robinson was awarded the Victoria Cross. Many souvenirs were made from the wreckage of the airship and sold to raise funds for the war. The Memorial has dozens of pieces of air ships purchased or collected by people in England during the war.
The Rattigans returned to Australia on 28 September 1919, but by 1935 were living at Hotel Savournin at Cagnes-sur Mer in France. They were still living in France when the Second World War broke out. Mrs Rattigan died during the war due to a medical condition and was buried at Cagnes-sur-Mer. Captain Rattigan remained in France for the rest of the war.