It was September 1914, and Able Seaman Jack Jarman was just 21 years old when he was serving as a crew member on the Royal Australian Navy's first submarine, HMAS AE1.
He was one of 35 crew members who disappeared without a trace when the AE1 went missing near Papua New Guinea during the First World War.
Now, 103 years later, the First World War submarine has been found off the coast of the Duke of York Islands, near Rabaul, in a search that started only a few days ago using the Dutch-owned survey vessel Fugro Equator.
"From a national perspective, it's one of the last great maritime mysteries solved," said Nick Fletcher, the Head of Military Heraldry and Technology at the Australian War Memorial.
"The mystery of what happened to AE1 has been lingering since 1914, and everyone wondered what went wrong.
"The fact that it was lost with all hands has made it an enduring tragedy that no one could really understand. All we knew was that it last submerged on the afternoon of the day it disappeared and was never seen again.
"That mystery has lingered over us as to exactly where the submarine was and what had happened, and now it has been found, we may be able to discover what caused the sinking, whether they struck an underwater object, or whether there was a failure of the hull."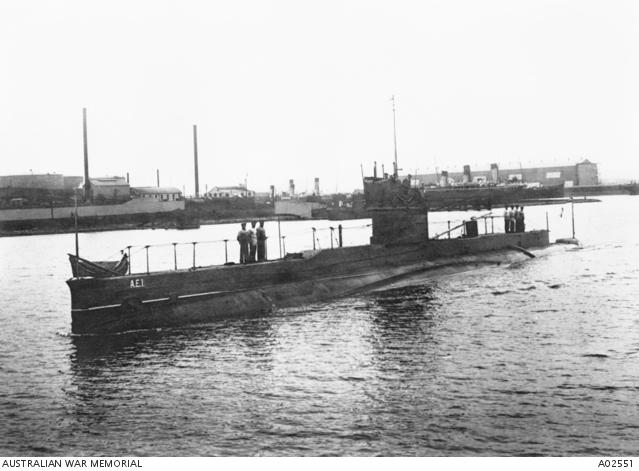 The AE1 vanished with 35 Australian, New Zealand, and British crew on board while patrolling the coast of New Britain on 14 September 1914.
"The crew of the AE1 were working with one of the Australian destroyers, the Parramatta, doing some exercises, patrolling, looking for enemy shipping and so forth. The submarine dived, which was completely normal, but it just never came up and was never seen again," Fletcher said.
"The Navy knew where it was likely to be, because it had to be within a radius of the spot where it was last seen, but there was no capacity for underwater signalling in those days, and no capability for the AE1 to signal that they'd struck something, or that they were stuck.
"It is a mystery that has been going on all through my life. Ever since I've been coming to the Memorial there have been captions saying it was lost with all hands, without trace, and no one knows what happened to it.
"You never really expect the day will suddenly come when they say, hey, actually we do know where it is, and it's here."
The AE1 was one of two E-class submarines built at Barrow-in-Furness in England and commissioned into the Royal Australian Navy in February 1914. The AE1 and its sister vessel AE2 were the latest in technology, but by mid-1915 they were both lost. The wreck of the AE2 was found in June 1998, but despite numerous searches, the wreck of the AE1 had remained missing.
"It's a really very important day in Australian maritime history," Fletcher said.
"For the Royal Australian Navy it is, I think, a source of satisfaction to know the last resting place of the first major vessel that it ever lost in wartime.
"On a national level, there's that feeling that, now we know where they are, we can pay our respects and close that little chapter of history, so it's really a big day."