'She explodes with my frustration, and my pride, and my rage'
Artist Natalie Duncan pours her heart and soul into her work. Things that she could never say in person, she paints onto large ceramic vessels which she creates as a way of expressing her thoughts and feelings about her family's military service.
It was art that helped her make sense of her own memories of serving in Afghanistan and to deal with her fears for her husband and brother, who also serve; but nothing prepared her for how she would feel when her own son enlisted.
She poured her fears and frustrations into her art, creating what she describes as an "all too personal" work.
The result – You are in danger and I am far away – won the 2019 Napier Waller Art Prize and is now on display at the Australian War Memorial in Canberra.
"I'm really overwhelmed, but really proud," Natalie said.  "When you scroll through the entries and read the stories behind them, you are proud just to be a part of it. It's like someone's saying, 'We believe in you, you're doing well, mate, keep going,' so I'm just really proud. It's like I'm going to explode."
But the prize-winning work, which Natalie affectionately refers to as 'she', almost didn't make it.
"She was a nightmare," Natalie said, laughing. "She fought me every step of the way. There was technical difficulty after technical difficulty.
"She's been fired in a kiln three times; she weighs 75 kilograms; and every time I got her out of that kiln, there was another crack, another imperfection.
"She was warped and dimpled, and … I'd pull her out again, and there would be more cracks, more dimples.
"There was no cooperation whatsoever, and I abandoned the work. She sat in a corner for a while, proudly displaying the cracks that I believed to be her ruin.
"And then something happened; there was a shift. I'd walked away from her, and she was just sitting there in the corner, and I just noticed something – the cracks and all that sort of stuff – it was just liberating in a way.
"I felt that she was calling me out with her imperfections to tell the truth, so I put into her my fears and my frustrations; fears for my son, my husband, and my brother, who all serve; and the terror of that bastard black dog stalking them."
For Natalie, the work is deeply personal. She served as a clerk in the army in Afghanistan, and her husband and brother are both clearance divers in the navy, but nothing prepared her for how she would feel when her own son enlisted.
"It's all around me," she said of her family's service. "We're embedded in it.
"I ignore the mental pictures of my husband disposing of bombs overseas. And I know what waits in the dark for too many of our people, when they are alone.
"In Afghanistan, you see the boys go outside the wire, and you think, 'Oh my God, how many IEDs are there right now as they're driving out?' And yet they still go out; they still get in the cars, and they still get in their ATVs, and off they go.
"You see them come back two weeks later, and they're exhausted, and dishevelled, and ringing their loved ones.
"In my artist's statement, I talk about the tired young heads resting in hands and the shaky voices calling home. Someone else might not hear that shaky voice calling his mum, but I do.
"And yet they still do the job – they still go out there – and I guess it made me fiercely protective of them and a lot more open-minded about what these people have to go through, and how amazing they are.
"But then it came to the point when my son joined the military ... Nothing prepared me for my own child joining the army. I feel an irrational sense of dread and pride. Rage that anyone could think there was any war worth risking him in, and fury at those who would not appreciate the gift of my child; willing, if this country asks, to give his life for you and yours."
She created her prize-winning work in response.
"It scares me, really," she said.  "I'd had that experience overseas and I'd seen other people's sons and what they went through, and it just triggered that moment with his service, with my husband's service, and with my brother's service."
She poured her thoughts and feelings into the work using the medium that she loves to tell her family's story.
"I think I just vented with her – we vented together – and because she was flawed, she was ruined, so to speak, so I just went for it, and it let me be brave," she said.
"I would never say the things that I say on a pot … but I'm brave when I'm sitting there painting … and I'll whack it on there."
It was her time in Afghanistan that first inspired her to pursue her art.
"I was lucky; when I was at 1st Commando Regiment, my CO knew I had an interest in photography and he encouraged me to do the combat and photographer's course, and that changed everything," she said. 
"When I went overseas, he had me taking photos in addition to my role in training, and that was it. When I came back, I knew I wanted to pursue art and that it was the way that I wanted to go, but it was the support of my CO and the support from Defence that triggered it."
In Afghanistan, she was moved by the war rugs that the women created in response to the conflict and created her own "memory jugs" out of ceramic as a way of telling her own story.
"Women and ceramics have been aligned together for so long, so I feel like we have a relationship," she said.
"There's that connection to mother earth – it's mud, and then you build her up, and then she endures; she endures ridiculously hot temperatures, and she changes, and you open the kiln, and it's like Christmas. What are the colours? Did it work? And that's what I love about it."
One of the highly commended artists in the inaugural Napier Waller Art Prize last year, she never dreamt she would actually win this year's prize.
"It's just amazing," Natalie said.
"I drive them around in the front seat of the car with a blanket wrapped around them with a seat belt on, and then suddenly someone else is treasuring it and she's this precious object behind glass."
As part of the $10,000 prize, Natalie's work will be accessioned into the Memorial's National Collection. She will also receive a two-week research residency in the Art section of the Memorial, as well as a mentoring day with eX de Medici, former official war artist to the Solomon Islands.
"I always think about my experience of Afghanistan, and how different that was [from the experience of] the boys who go outside the wire," Natalie said.
"And to be honest, there were times I was really grateful for that, that my service was a lot easier in a lot of ways, but I also feel ashamed of it
"I'm a clerk who served in Afghanistan. I don't have the same war history as other people, but when you have a competition like this, it encompasses everyone; it's another story, and it's another piece of the puzzle."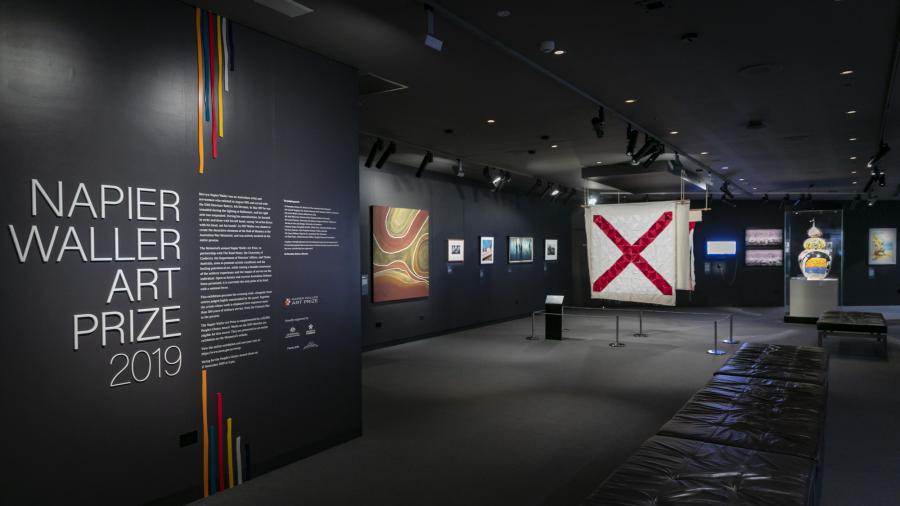 It means the world to her to see her work on display at the Memorial.
"When they were talking about it [at the awards night], I was nearly crying … and at that time I didn't know they were talking about her," she said, laughing.
"To me it was as if they were talking about someone else's artwork, and I was like, I can't wait to see this; it's going to be awesome.
"I love it now, but she makes me want to cry sometimes too. I look at her, and I feel sad for the people that I know that have suffered from horrible mental health issues; but she's colourful and she packs a punch, and I'm proud too.
"I think for this one I lost all sense of objectivity; I had the blinkers on, and I put everything into it, but she had to be imperfect, she had to be sort of broken, before I could relax and just go for it.
"She was so hard; she fought me all the way … but she explodes with my frustration, and my pride, and my rage. She has something to say, and I hope she speaks to you."
Natalie Duncan's work, You are in danger and I am far away, is now on display as part of the Napier Waller Art Prize exhibition in the mezzanine area of Anzac Hall. The exhibition runs until 25 November 2019.
Voting for the $5000 Napier Waller People's Choice Award closes on 17 November. The 26 shortlisted works can be viewed here.