Remembering Christopher Carter
Warning: this article contains images of deceased persons. 
Major General Marcus Thompson always knew his great-great uncle was killed during the First World War, but the details of his ancestry were far less clear.
"There had always been this story in my family that my mother's great uncle – Christopher Carter – had fought and died in the First World War," he said.
"My mother and her cousins would talk about this uncle, and how he and his sister, my great-grandmother, my mother's grandmother, were Aboriginal people…
"My mother had been researching and trying to get to the bottom of it, to find the proof – that confirmation – that indeed Nana was an Aboriginal woman, and that Uncle Chris was an Aboriginal man, but they just couldn't put their finger on it."
When he heard the Australian War Memorial was trying to identify Indigenous service people, he shared his family's story with the Memorial's Indigenous Liaison Officer Michael Bell. He had his answer within two days.
"During NAIDOC Week 2019, I took the organisation that I'm privileged to lead – Information Warfare Division – to the War Memorial for an afternoon of history in recognition of Aboriginal and Torres Strait Islander service to the nation," he said.
"I said to Michael: there's been this story in my family for years about Christopher Wilson Carter who served in the First World War … Michael and the researchers got back to me within 48 hours with details of Chris Carter's mother – my great-great-grandmother – that included her wedding certificate, and photos that clearly showed that she was an Aboriginal woman.
"The wedding certificate said she was an Aboriginal woman but was deemed a fit and proper person to marry an Englishman – my great-great grandfather – because 'she'd been educated and carefully brought up from infancy by Mrs Robertson on her homestead near Mortlake', and there we had it; that was the story, and it's just fabulous.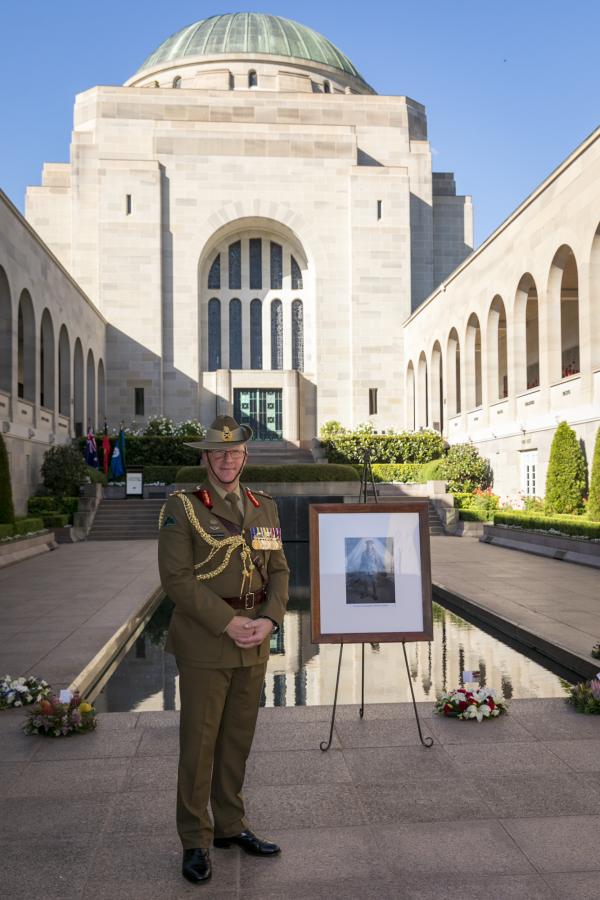 "It's been a big deal for the family, particularly for my mum. This has been something she has been trying to get her arms around, to find that evidence, if you like, of our background.
"The reason the family had not been able to nut out that evidence was because of the spelling of my great-great-grandmother's surname. They were looking for Hutchison; they were looking for Atchison; but it turns out her surname was Etchison; and it was just that phonetic piece of the puzzle that had brought them undone with their research.
"I'm very grateful to Michael Bell and the team of researchers at the Australian War Memorial for helping us work through this. It's significant news for me, and indeed my entire family."
His great-great uncle, Private Christopher Wilson Carter, was born in the small rural community of Greenwald in south-west Victoria in 1887.
A Gunditjmara man, he enlisted in the Australian Imperial Force in May 1916, one of the many Indigenous Australians who served during the First World War, despite not being legally allowed to do so.
He served on the Western Front with the 6th Battalion and was killed in action on the 9th of May 1917 during the bloody fighting at Bullecourt.
He and another man were hit by a high explosive shell near a support trench. The men were dug out, but Carter, who was described as having suffered from "serious head wounds" and was "fearfully crushed and knocked about", died just after he was freed. He was buried alongside the trench, and his identity disc was placed on a piece of board to identify the grave, but the gravesite was lost during later fighting.
Today, he is commemorated on the Australian National Memorial at Villers-Bretonneux, which lists the names of 10,773 Australian soldiers of the Australian Imperial Force with no known grave.
Major General Thompson paid his respects when he travelled to France with his wife and daughter in 2008. "Chris Carter is one of those for whom there is no known grave, and finding his name on the wall there at Villers-Bretonneaux was pretty special."
He was proud to share Carter's story at the Australian War Memorial's Last Post Ceremony.
"To have the opportunity for Chris Carter to be honoured as part of NAIDOC Week is super special," he said.
"What a great opportunity to really recognise the contribution by Indigenous Australians to our nation and to the defence of our nation.
"We've had Aboriginal and Torres Strait Islander people making significant contributions to the defence of our nation in peacetime and wartime in every conflict of our history and that's why NAIDOC Week is such an important part of the national psyche now."
He is keen to learn more about the Gunditjmara people and his Indigenous heritage.
"The Gunditjmara people are from south-western Victoria and south-eastern South Australia, and by sheer coincidence I was born in Timboon in south-western Victoria on Gunditjmara country where my Aboriginal heritage is based," he said.
"The Memorial is a fabulous tribute to those Australians who have paid the ultimate sacrifice in the defence of our nation … and to have the opportunity to honour and read the story of a family member is a great privilege.
"It also educates and informs every day Australians of just what their history is, and I think that is critical, if we don't reflect on history, if we don't learn from history, my belief is that we are more likely to repeat it."
Michael Bell is the Indigenous Liaison Officer at the Memorial. He is working to identify and research the extent of the contribution and service of people of Aboriginal and Torres Strait Islander descent who have served, who are currently serving, or who have any military experience and/or have contributed to the war effort. He is interested in further details of the military history of all of these people and their families. He can be contacted via Michael.Bell@awm.gov.au