'To think I can never see that face again is almost too much to bear'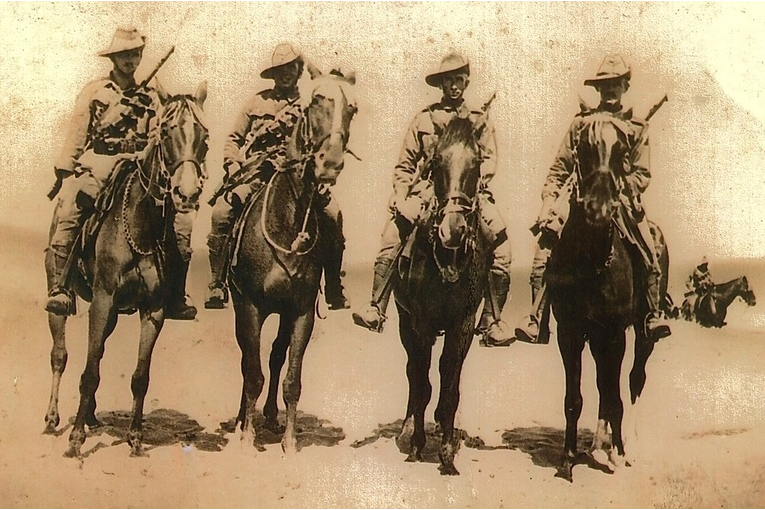 When the Last Post Ceremony began at the Australian War Memorial on Tuesday, 86-year-old Philip Bull was thinking of his uncle, Sergeant Colin Brodie Bull, who was killed during the Australian Light Horse charge at Beersheba on 31 October 1917, and whose story was then told as part of commemorations marking its 100th anniversary.
"Colin was my father's brother," said Philip, who laid a wreath in memory of his uncle. "My father [Clifford] never spoke much about the war. He was shot on the Somme in the head and fractured his skull - how he survived in those days I don't know - but Colin was shot through the heart at Beersheba and he didn't come home."
Colin Bull enlisted in the Australian Imperial Force in May 1915, and was determined to join the Light Horse.
"Colin put his occupation down as a drover so that he was sure to get into the Light Horse, but he wasn't. He worked, as far as we know, as a clerk [in Sydney]," Philip said.
"There's a letter that Colin wrote back to my grandmother saying he'd passed all the riding tests to be accepted into the Light Horse … That was just the sort of era they were in. They were both highly respected and chivalrous."
Colin was serving with the 12th Light Horse Regiment when the attack on Beersheba took place, the final phase of which was the famous mounted charge of the 4th Light Horse Brigade.
Held by 1,000 Turkish riflemen, nine machine-guns, and two aircraft, Ottoman forces were also relying on the forbidding open terrain and the absence of water to defend Beersheba. When the Australians of the 4th Light Horse Brigade arrived, with their horses carrying heavy packs of about 120 kilograms, the only water available was that in the wells of Beersheba.
Brigadier General William Grant gave the order to the 12th Light Horse Regiment: "Men you're fighting for water. There's no water between this side of Beersheba and Esani. Use your bayonets as swords. I wish you the best of luck."
Because of the shock value and sheer speed of the charge, they galloped right through the Turkish defences and took the town.
Colin was shot while galloping across no man's land during the battle.
"The horror of it is a bit too fresh for me to care to write more fully about it, especially as my pal Colin was shot dead whilst we were charging," Colin's friend Gordon Abbott wrote a week later.
"It has almost broken my heart to see him go under. And it will be unbearable blow to his mother, you can tell her that he died like a soldier with a rifle in his hand and could not have suffered as he was shot through the heart.
"We have buried him with the other brave fellows on a rise not far from Beersheba well in sight of the minarets of the mosque – May he sleep well there. God rest him."
Lieutenant E.B. Ralston wrote to Colin's father Joseph the following month, saying "his loss was deeply felt by all his comrades".
"It is with the greatest sorrow that I write these few lines about your son Colin and believe me it is the hardest thing an officer has to do," Ralston wrote.
"The last I saw of him was offering to bet a corporal that he would beat him in the gallop for Beersheba. I had just told the troop that we were to charge the position and take it at all costs.
"My troop after going a mile came to a concealed trench and it was there that your son met his death. From enquiries, I am told that he died instantly and without pain. It will be a relief to you to know that he never had to go through that most awful horror of a battlefield, lying crippled and praying for death.
"Your son to my mind has the right to the greatest title it is possible to give – He died as he lived, a true soldier and a gentleman, for he always lived cleanly and set a good example in spite of all temptations."
The Bull family was devastated by the news of Colin's death and, in later years, would never speak of the war.
"We used to go every second Sunday to visit my grandparents for Sunday lunch, but it was never mentioned," Philip said.
"There was a letter my grandfather wrote to an aunt, saying he'd received a visit from the local parson telling him of Colin's death, but he didn't tell my grandmother until the next morning. It broke her up. She was a broken woman after that."
It was left to Philip's grandmother Annie to tell Clifford of Colin's death while he was recovering from his own wounds in England.
"I do not know how to write these cruel words to you," Annie wrote. "I am heart broken. You know I loved you both too much and to think I can never see that dear face again seems almost too much to bear. They say time will heal the blow, but I can't understand that now. I just feel I want you home."
She was terrified she might lose Clifford as well.
"I am very thankful your life has been spared, but I am too frightened about you going back to the firing line," she wrote.
"You have seen too much in these last two years – the world is so altered since the war began …
"Do not grieve too much. I will try to bear up for your dear sakes, the love of my dear children is the most precious thing in all the world – poor father is very troubled, he knows what it means to me, but with God's help I will try."
Clifford was repatriated to Australia the following month, and today his brother Colin lies in the Beersheba War Cemetery under the words, "Son of Mr and Mrs. J.A. Bull, For the death of heroes, bless ye the Lord."
He was 21 years old.