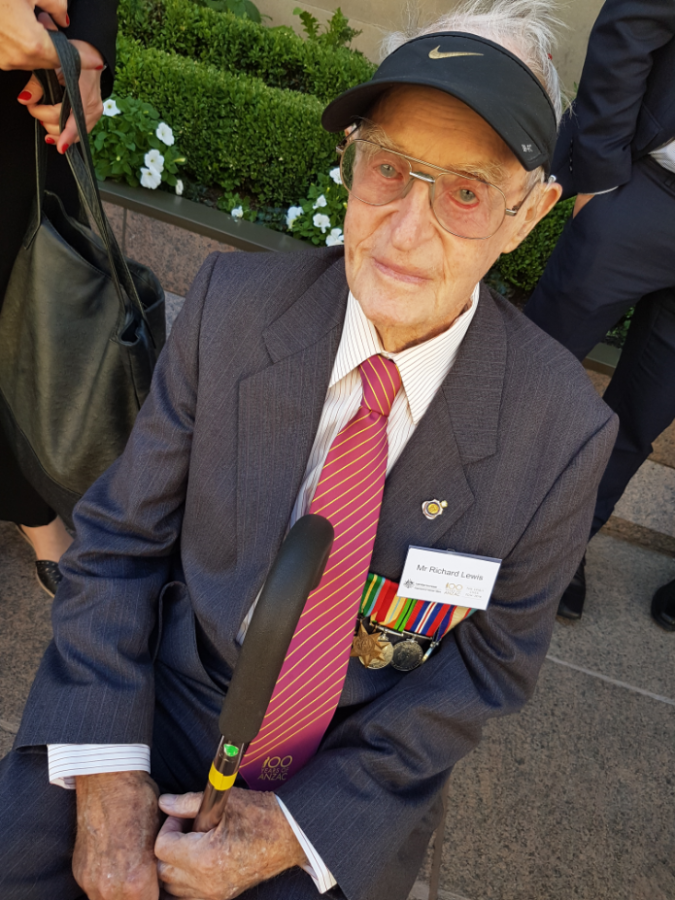 Ninety-eight-year-old Richard Lewis will never forget the sound of bullets going past his head in New Guinea.
"I was talking to a company commander lying in all this kunai grass," Lewis recalled.
"It's great high grass, and I was lying there talking to him, and they somehow got onto us with machine-guns, and they killed him. I was just talking to him like that, and he got it through the head. The next burst shot me in the back of the heel … but I was able to walk okay.
"I was very lucky. It was about the only real time I ever came under really close fire. You could hear them going through and spitting past your skull … It was not for long, but you wouldn't want it to be for long, either."
The 98-year-old from Tasmania was one of 11 veterans who visited the Australian War Memorial as part of commemorations marking the 75th anniversary of the Kokoda campaign and the beachhead battles that followed.
"[It was] as hard as you could get," Lewis said.
"It was completely exhausting all the time … We were assigned an unsuitable weapon, which was a medium machine-gun, and my main recollection was trying to lug this heavy thing up and down the Owen Stanleys a bit.
"I mean, the barrel was 40 pounds, and the tripod was 50 pounds, which we could split, but you had to carry it. That on top of the rest of your gear was just absolutely exhausting, and we'd get there after the rest of the troops. We used to load ourselves up for 10 minutes or a quarter of an hour and carry it, and then somebody would take it from your shoulders and put it on theirs, and we'd just keep on going."
Richard Lewis was just 20 years old when he enlisted in the Army in November 1939.
"My father had been in the first war, at Gallipoli and [the Western Front], and we just joined up," Lewis said. "There was … no other reason really, we just did it."
Lewis was sent to England to help protect against the expected German invasion after the fall of France, and was later deployed to the Middle East, taking part in the Syria–Lebanon campaign against the Vichy French.
After 13 months in the Middle East, he returned to Australia to help turn recruits into battle-ready soldiers before he was sent to New Guinea.
When Australian troops reoccupied the village of Kokoda on 2 November 1942, Lewis had little time to celebrate. He was involved in the battle of Buna–Gona as part of the heavy fighting at the beachheads, and later served in Borneo.
"Well, you just had to keep on going towards Gona," Lewis said. "It was funny, you got down and you got tired walking on the flat after being in the hills. All your muscles were trained for hills and [it was hard] walking on the flat from Kokoda to Gona."
Although Lewis doesn't remember where he was when the war ended, he says "hearing that peace was declared" was still the most memorable part of his military service.
"All I know [is that] it was … just utter relief," he said. "That's all – it was just a relief, and you could go back and do your normal business, which was going home and running a ... [farm supplies] business that I didn't know anything about."
Lewis went on to run the business for the next 50 years.