The ward smelled beautiful
In 1995, RAAF theatre nurse Robyn Green deployed to Rwanda. She was part of Operation Tamar, Australia's contribution to UNAMIR II (the UN aid/mission to Rwanda.
As a nursing officer in the RAAF, she was trained in aeromedical evacuations, but her specialty was as an operating room nurse. She trained as an advanced trauma nurse and put her hand up to go to Rwanda, to the posting officer's surprise who said, "theatre nurses don't deploy". But deploy Robyn did.
We had no idea what we were really up against… We arrived in the middle of the night, get loaded on these trucks sitting back to back. I remember how this doctor told us, "They'll take pot shots at us." I look around and the soldiers on the back of the truck with us, had no rounds. No magazines in their weapons. One soldier said "Oh, we had to check everything in. They only gave us the guns so we could look like we could protect you". And I thought "Oh my God, I'm going to die".
Ostensibly Robyn's team were there to provide medical services to UN staff but they all wanted to help Rwandan people,
What the hell are we going over to look after UN troops, we could do that at home. And Major So-and -So heard me gobbing off and thought, 'We'll fix her! They said, "Robyn, your dream has come true. You're in charge of a group going to central Kigali. You're going to look after three of the main wards in Hospital Kigali". And I thought, 'Ripper!'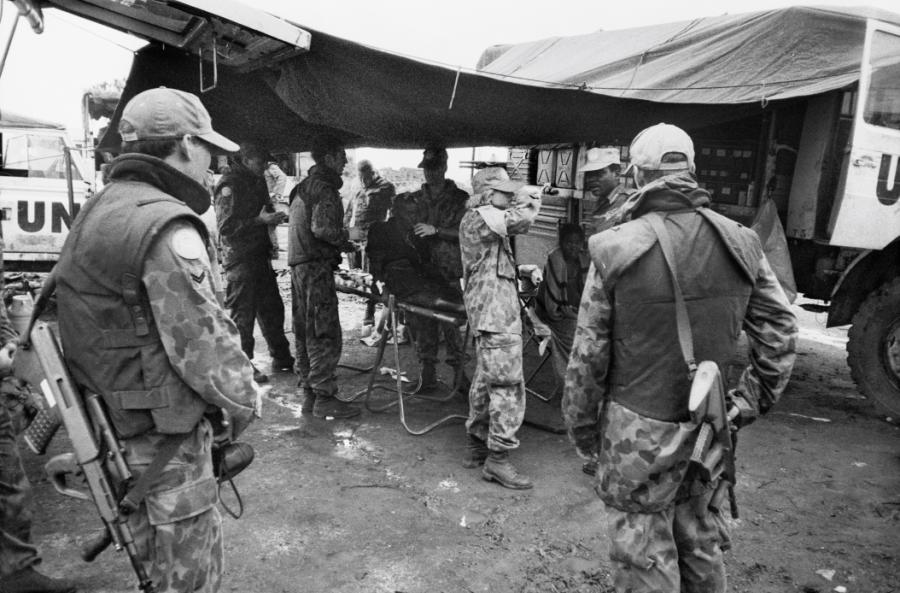 One of Robyn's first challenges was setting up hospital wards that would function efficiently – such as a designated area for patients with infections – but with due respect to Rwandan cultural norms, requiring segregation of male and female patients.  Needing lots of muscle power to move all the beds and gear, Robyn turned for help to the nearby Australian infantry barracks; nearly 30 years later she's still grateful to them:
So we talked to these guys who were about to be on their break back at the barracks.. 'Its going to be a bugger of a job, lots of heavy lifting' and they said, 'Great. Tell us when you want us Ma'am. 
They had this army of people there so it had to be done that day…Their time was so valuable to us... By the end of that day, we h
ad all of the traction beds at either end of the wards, regular orthopaedic and the children in the middle…. And the infection rate dramatically dropped in the hospital, just by being able to spread out. I walked in and the ward smelled beautiful. They were burning incense, all the beds had coloured blankets and bedspreads, the women were looking after each other.
Robyn also had to gain the confidence of Rwandan nursing staff, who were wary of demonstrating their clinical knowledge.
Most of what our work was initially was educate and re-educate the staff, because what happened over at Central Hospital Kigali, the head of surgery, just went around and started killing people.  A lot of doctors were killed, a lot of nurses because anyone who had any education, were killed... There were still a few locals that were there and Juliet was one of the nurses we got to know well but they didn't show you their skills because they were frightened. And there were still people who perpetrated the genocide still moving around in the population. And the RPA who came from Zaire and moved in, set up camp opposite the hospital … the staff were very frightened of them. 

Rwanda was an amazing country.. They had a nursing school. [But] some of the people in training there got murdered at that time. The school was decimated but the ladies who ran it survived... They were desperate for staff.  Robyn was instrumental in helping create the Rwandan Nursing Education Program with support from the Australian government.
Another important aspect of Robyn's role was to maintain her team's morale in the face of sometimes horrific injuries and aftermath of cruelty.
A lot of the medics would say, oh we saw this, we saw that but a lot of my job was encouraging them to keep going, to keep it up. I'd say ok, you took two steps back this week but you'll take steps forward next week. And ultimately in 6 months we'll have gained ground.. I picked up really quickly, we couldn't change Rwanda, we couldn't change the world.  But I used to tell them, they can help that individual. They can make that person's life a little better by their care.
And there were other rewards as well, as Robyn's smiling anecdote about her encounter with a new mother shows:
She very proudly handed me her baby to have a hold of. ..and my colleagues Hayden and Margie start laughing and I wonder what's going on. And the mother of the baby while I'm holding the baby grabs my arm and starts rubbing my skin, rubbing really really hard.  And I'm looking at 'em, and this baby's really cute, and Hayden said, 'They're rubbing your white off. Cos they believe all white people are black underneath, and if she rubs hard enough, she'll get down to your black soul'. And I said, 'Oh! Alright! Whatever!' .. And these are some of the beautiful things that happened that really helped the medics in their journey in Rwanda.. Cos they could see they were making a difference to these people.. in the lives of these people. And that's winning the lottery.
Squadron Leader Robyn Green (retired) was interviewed about her experiences for the Australian War Memorial's national collection in 2022.