Roy Dodd and Ray Collins are the best of friends. "We were two blokes in the wrong place at the wrong time," Dodd said. "But he's my best mate … my very best friend in the world... We don't shake hands, we hug, and that's what we do."
Their unbreakable bond was forged in Vietnam when they served together in the same tank crew during the battle of Binh Ba.
"Ray was the driver and I was the gunner," Dodd said.  "When you have to go through something like this in your life together, you are suddenly best friends in the world, and we are still, 50 years on."
Dodd and Collins were in Canberra to commemorate the 50th anniversary of the battle and attend a Last Post Ceremony at the Australian War Memorial.
They were honoured to discover their photograph on display at the Memorial as part of a special photographic exhibition marking the anniversary. 'Grandad' was painted on the side of their tank for their crew commander, Corporal Geoffrey Bennett, who was in his 30s at the time.
"It's life-changing when something like that happens to you," Dodd said. "It's the afternoon after we got shot up … They came around and said to me, 'We need to take this tank out again; do you want to come,' and I said, 'No thanks, I'm fine.' I'd been out yesterday."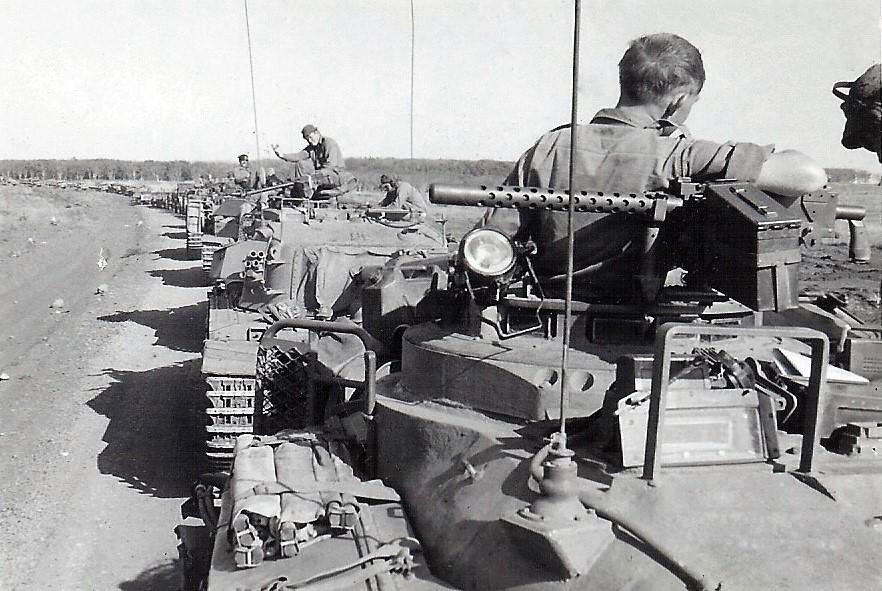 On the morning of 6 June 1969, an Australian Centurion tank and an armoured recovery vehicle were heading past the village of Binh Ba, less than 10 kilometres north of the Australian Task Force Base at Nui Dat, when the tank was struck by a rocket propelled grenade.
A small South Vietnamese force was sent in to investigate, but when they were stopped by heavy fire, they requested Australian support.
Within hours, Dodd and Collins were on their way to Binh Ba as part of a ready reaction force and civilians were being evacuated from the village in readiness for Operation Hammer.
"We expected nothing," Dodd said. "We'd done this before, and when we got down to Binh Ba we didn't expect anyone would be there. But they were there, and ... they were very good professional North Vietnamese soldiers – not just the local boys – and they came and stayed for a fight and wanted to get stuck in."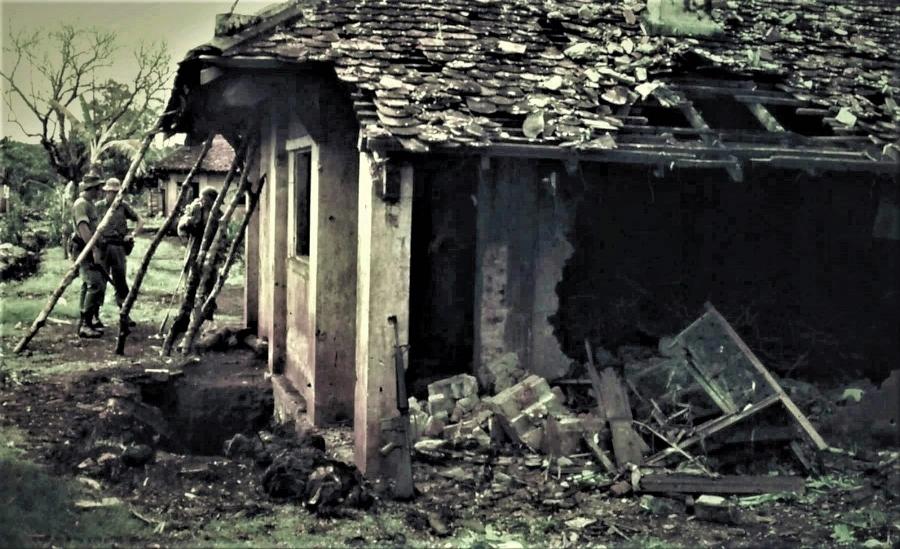 What followed was two days of fierce house-to-house fighting as the Australians attempted to remove the North Vietnamese Army and Viet Cong from the village in a battle unlike any other experienced by Australian troops in Vietnam.
"There's certain things you'll never forget," Collins said. "We were lined up to go through the village, and one of the tanks … went through on his own. A little while later he said we'd better catch up, so we drove in after him for rear protection, and that's when we got hit, right down one of the lanes in between the huts."
They had moved rapidly to the west to cut off the enemy as they withdrew, firing at targets on the way, when their tank was struck by an RPG round, which penetrated the turret, severely wounding the crew commander, Corporal Geoffrey Bennett.
"I felt it," Collins said. "But I just kept going … It nipped past the radio, and took the radio out, so we had no communication, and then it went through the back of our crew commander's seat, and because he was crouching in the seat, instead of sitting in it, he didn't get killed."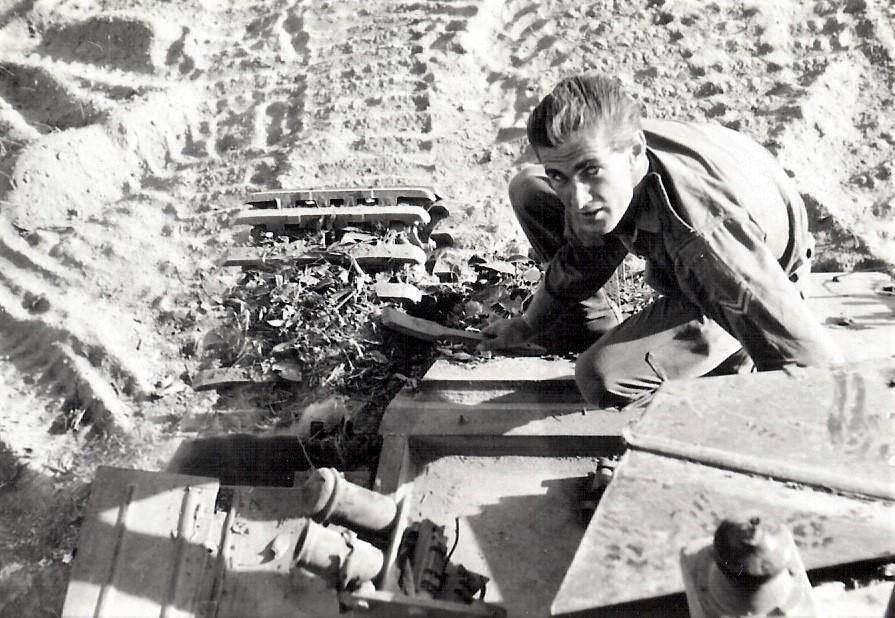 Luckily, Dodd was shielded by the gun and only suffered slight wounds to his face, but the crew commander was severely wounded and the loader/operator, who suffered shrapnel wounds to his arms and face, was deafened by the noise of the blast.  
"[In the photo] we're pointing at the RPG hole," Dodd said. "It's a little thing – you can put your finger in it like this – but inside it all just splashes out.
"[The operator's] face was all pockmarked with shrapnel, and they flew him to hospital – no one knows what happened to him; he went home … and we've never seen him since – [but the crew commander] was badly wounded.
"He had a huge hole in his leg … and he was bleeding everywhere …
"I thought our gunnery gear was shot because we were going through the village and suddenly my gun started going left, and I thought, 'We'll hit one of these huts,' and then [the crew commander] said, 'Fire'.
"He'd seen where the guy was [who fired at us] and then it clicked with me and I fired into one of the huts … He passed out then, but he had this huge hole … and he was bleeding everywhere."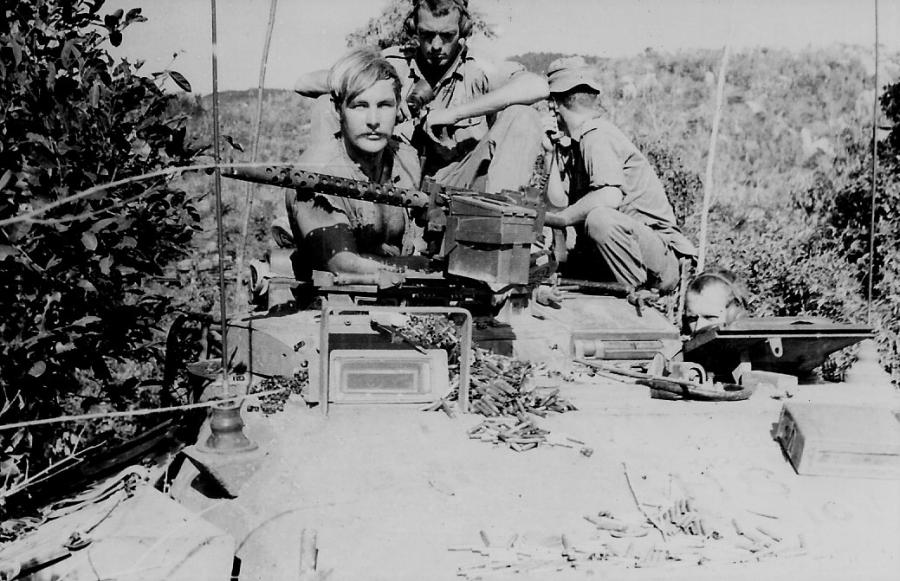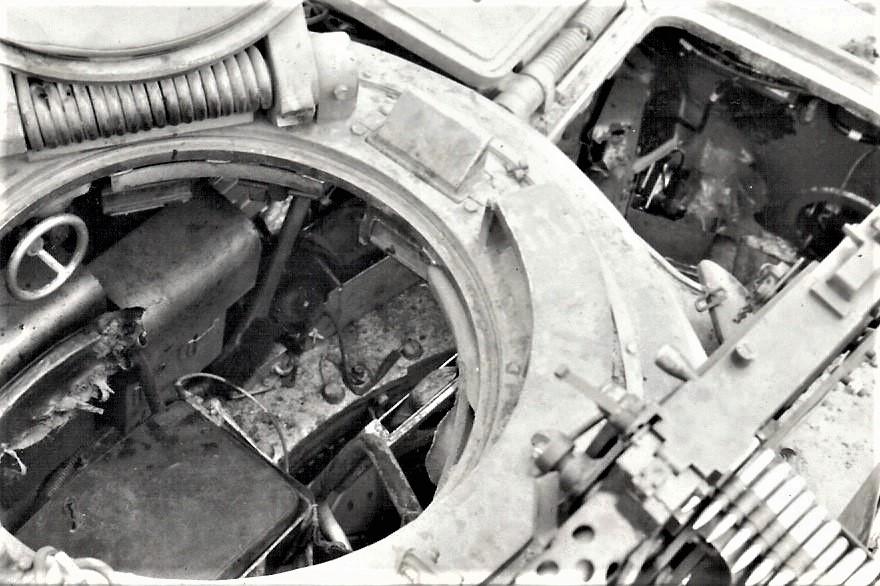 Dodd bandaged him as best he could and fought on.
"We never thought about it," Dodd said. "I was too busy looking after the guy who was unconscious. He'd fallen down on me and I was trying to push him off … so I could help him, and then Ray got out of his thing and came around and lent in, and went, 'Oh!,' and helped me."
The tank turret became jammed by an ammunition box the crew had thrown out earlier, but Dodd continued to fire.
"The gun was stuck," Dodd said. "We had no radio communications and the commander had passed out … and I found I could not traverse … so the gun was aimed at one spot, and I just kept on firing, and the enemy kept on running into the fire.
"Then we run out of ammo and the machine-gun wouldn't fire … and it was time to take Geoff Bennett out."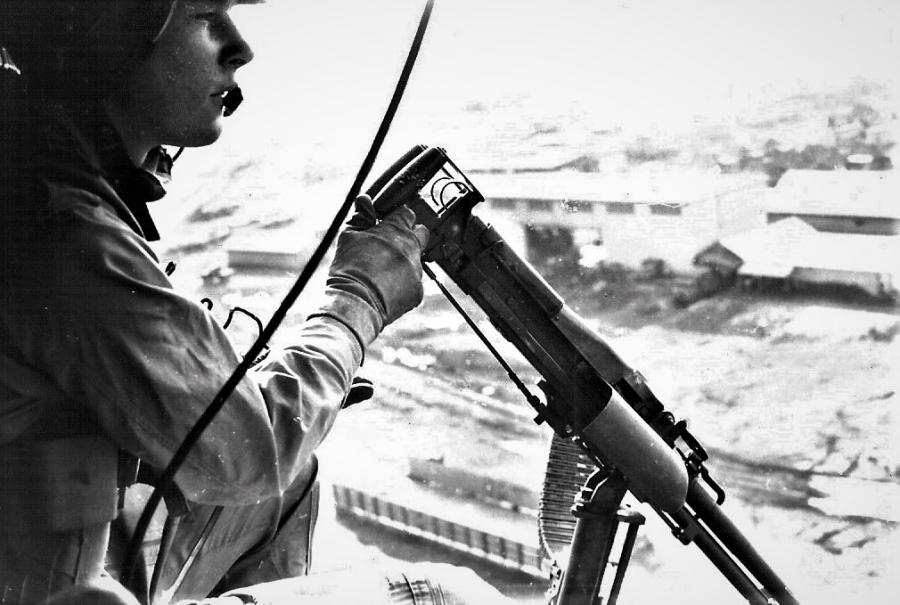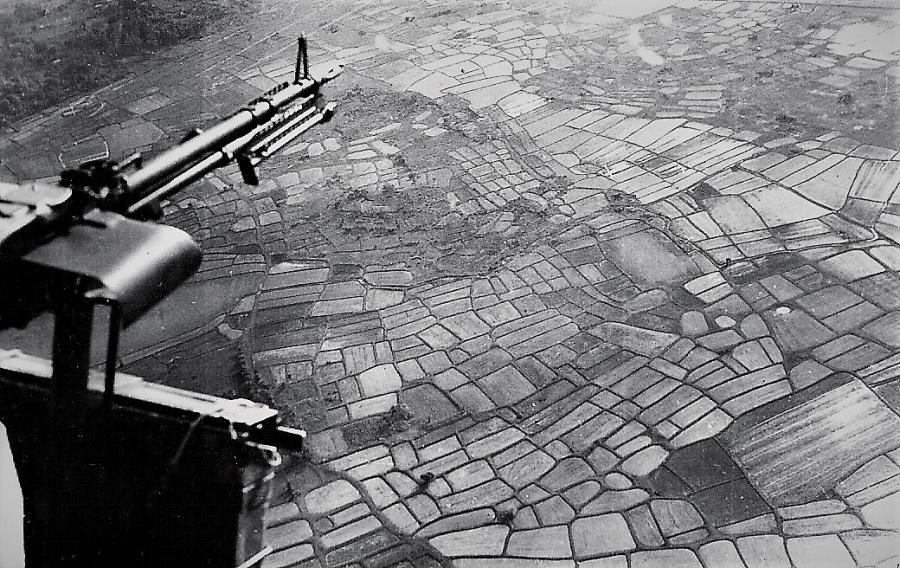 Eventually, they were forced to abandon the tank and seek help from one of the other tank crews.
"You just do it," Collins said. "You didn't have time to think about it …  Geoff said, 'Go and tell the crew commander on the other side,' so I jumped down, and there were shots everywhere, but eventually I got to him, and he came back, and we got a chopper in to take [the crew commander] out."
Dodd and his mate Collins stayed behind, armed with an SLR and an enemy AK-47.
"They took us out of the battle sitting on the back engine rig of their tank," Dodd said. "[The enemy] were shooting at us, and then the carrier came over and picked us up, and we rode around for the rest of it in the back of one of these Armoured Personnel Carriers."
Years later, Dodd met the man who picked them up.
"I came across him and didn't know," he said. "We were just talking about Binh Ba and he said, 'I picked up two tankies and put them in the back of my carrier,' and I said, 'I was one of them,' and we met all those years later."
Today, Dodd and his mate Collins still feel lucky to have survived.
"Yeah," Collins said quietly. "Lucky to still be around."
A National Serviceman from Brisbane, Collins was just 21 at the time.
"I was only young," Collins said. "I was just a boy … but you just were sort of expecting it in those days … and you just expected to go."
His mate Dodd was 23 and had a wife and child at home. He was working in Brisbane and volunteered for two years of National Service in 1968.  
He told his wife he had a "cushy job" in Nui Dat so that she wouldn't worry and wrote to her as often as he could, but he never mentioned what happened at Binh Ba.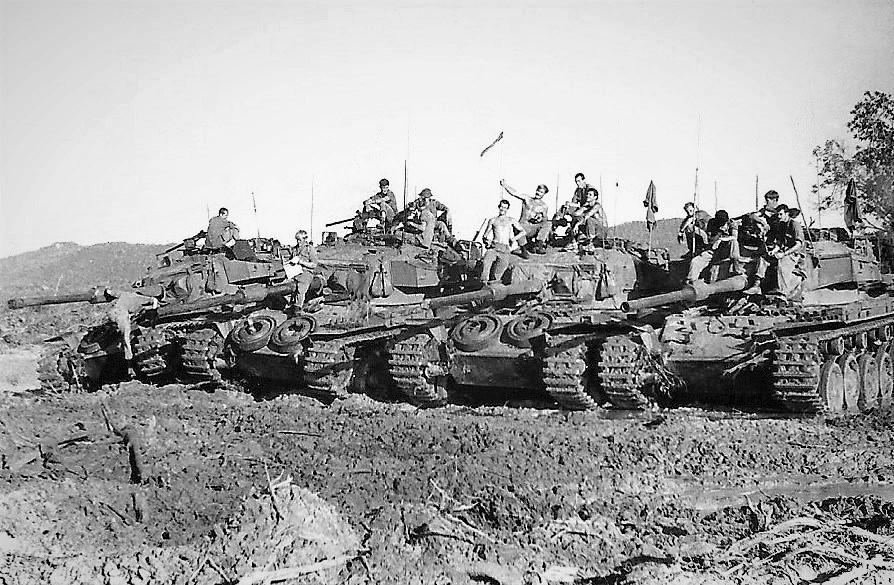 During two days of fighting, the Australians had lost one soldier – Private Wayne Teeling, who was killed in his first action – and 11 wounded. The four tank crews suffered the heaviest casualties.
Their troop commander, Second Lieutenant Brian Sullivan, was awarded a Military Cross for his actions that day.
"He was just like one of the boys," Collins said. "And he was terrific. He was a brilliant man. Someone shot [an RPG] at him and the fin cut his back. He saw it coming … that's how close he was.
"He was a Nasho too, and I tell you what, if he had given an order, I'd have done it."
Dodd felt the same.  
"He pushed his operator down to get him out of the way and the fin cut his shirt open as it went by," Dodd said. "He was a fabulous man … a wonderful man… and I used to say to people … if he'd have come down and said, 'Righto, get on the tanks, we're going to Hanoi up in north Vietnam,' we would have gone with him; we would have just followed … We'd have done anything for him."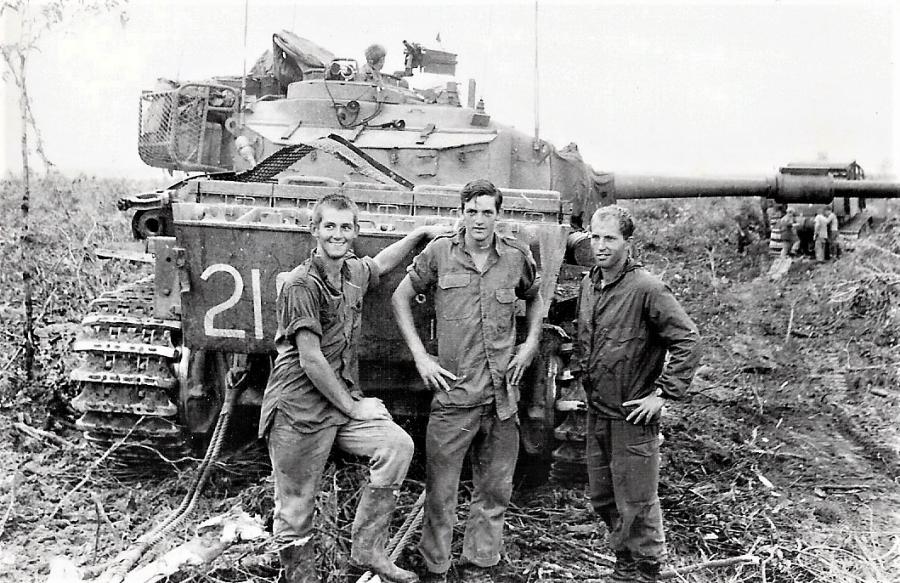 Coming home, they faced another battle.
"I never thought about it for a moment, and then I came home," Dodd said. 
"It was weird as, for all of us. To go into a battle zone and be in combat and then just step out into the normal world … there was no adjustment.
"I would be talking to people, and I would be shaking, and my mouth would be shaking. 
"The post-traumatic stress caught up with me, and then I got back in the army and did 25 years ...
"I'd get up and talk to people officially about it – we did this and we did that – and it didn't worry me, but then I got out…
"I'd had a little hideaway in the army for a bit, but then without that as a shelter, it all came out."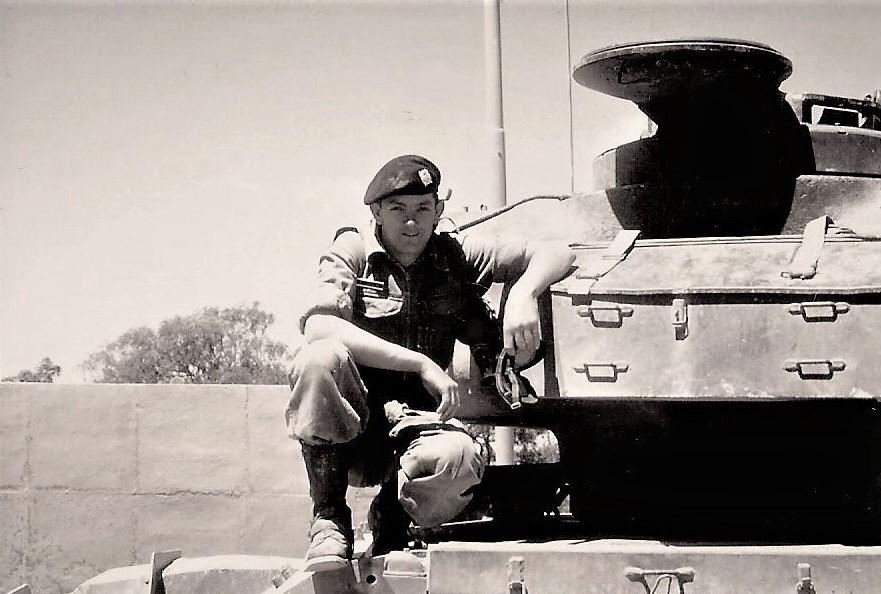 His mate Collins also found it difficult.
"When I left, I came back on a plane on my own, and I went to Sydney," he said.
"I stayed at the Army barracks … and I had to spend the weekend there on my own, and that's how I felt – alone.
"Then two days later … when I came off the plane [at home] there were a whole lot of people to meet me.  I got off the plane onto the tarmac in those days, and it was just me, and I just felt, 'This is weird.' And that was unreal for me …
"I didn't come back the same. You think, 'I'm alright,' but you weren't really.
"I didn't talk about any of it, I didn't go to Anzac parades, and I didn't talk about it for years."
Dodd felt the same.
"None of us did," he said. "I'd changed … and my wife knew I'd changed within a couple of days …  I didn't tell my wife – she was home and I'd write, but I never told her what had happened until I came home.
"I had a daughter when this happened – she was nearly a year old – and whenever she saw someone in a uniform, she would say, 'Daddy, Daddy,' and my wife would have to say, 'No, that's not Daddy,' but she would see them around and think, 'That's my daddy and he's come home for a visit …'
"It was unreal for all of us. I'd try to talk about it, and I'd find I just couldn't; I'd have to stop talking because I would be getting too emotional.
"This woman called me a 'killer' when I was in my uniform walking down the street in Brisbane … She didn't know me, but just because I had a ribbon on, she called me a killer. What if I'd only been the cook, or I was a clerk in the office, why was I a killer? It was really vicious … [and] that was harder than this..."
It would be almost two decades before he got to march with his fellow veterans in the Welcome Home Parade in Sydney in 1987.
"We all put our sunnies on, and we marched through the street, and I cried like a baby," Dodd said. "We all cried – every single guy marching; all in our sunnies, and we were howling."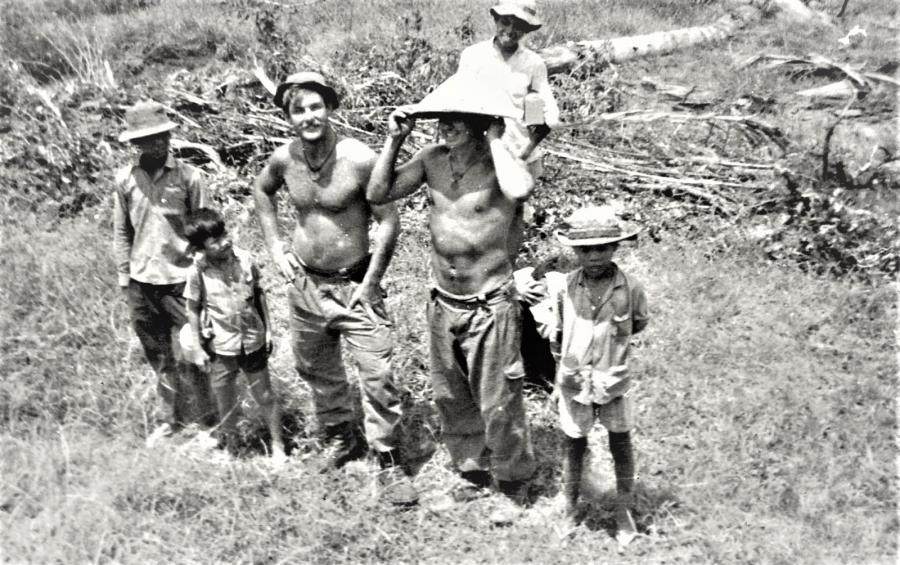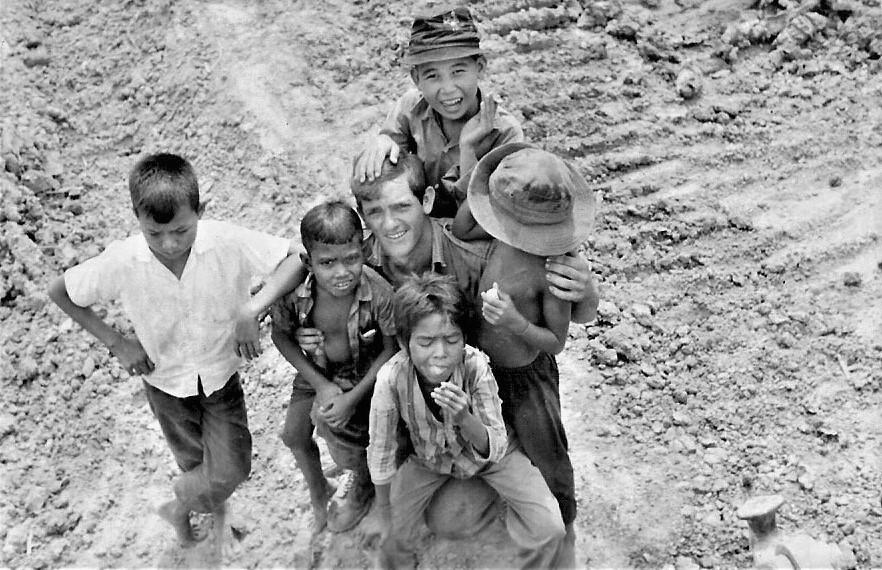 Today, they still remember the battle of Binh Ba as if it was yesterday.
"Oh, God yes, all of it," Dodd said. "It's vivid as in my life … I can remember the smells … and I can still see it all; even now."
Dodd went to see the tank at a farm in country Victoria only a few months ago.
"I thought I was going to cry," he said.
"You don't want to have these things happen in your life … but it's still got the hole in it where the rocket went through.
"Two farming brothers who like to restore things bought it … and they spent over $100,000 doing it up and it's like brand new. It still runs, and I got to sit on it, and they backed it out of the shed and up the hill, and it was like, 'Wow' …
"We were lucky."