Dora Ohlfsen: In eternal remembrance
A grieving woman cradles a fallen soldier in her arms.
Cast in bronze, forever lost in grief, she is Australia, crowning her dead son with laurel.
Even today, more than 100 years after the end of the First World War, it is a compelling image, a powerful reminder of the human cost of war.
But few remember the name of the artist: Australian-born Dora Ohlfsen.
In the early 20th century, Ohlfsen was one of the world's most highly regarded sculptors and designers of medals and medallions. Having forged a career in the male-dominated field of sculpture, she was well-known for her Anzac commemorative medallion, which was created in "eternal remembrance" as Australia marked the first Anzac Day.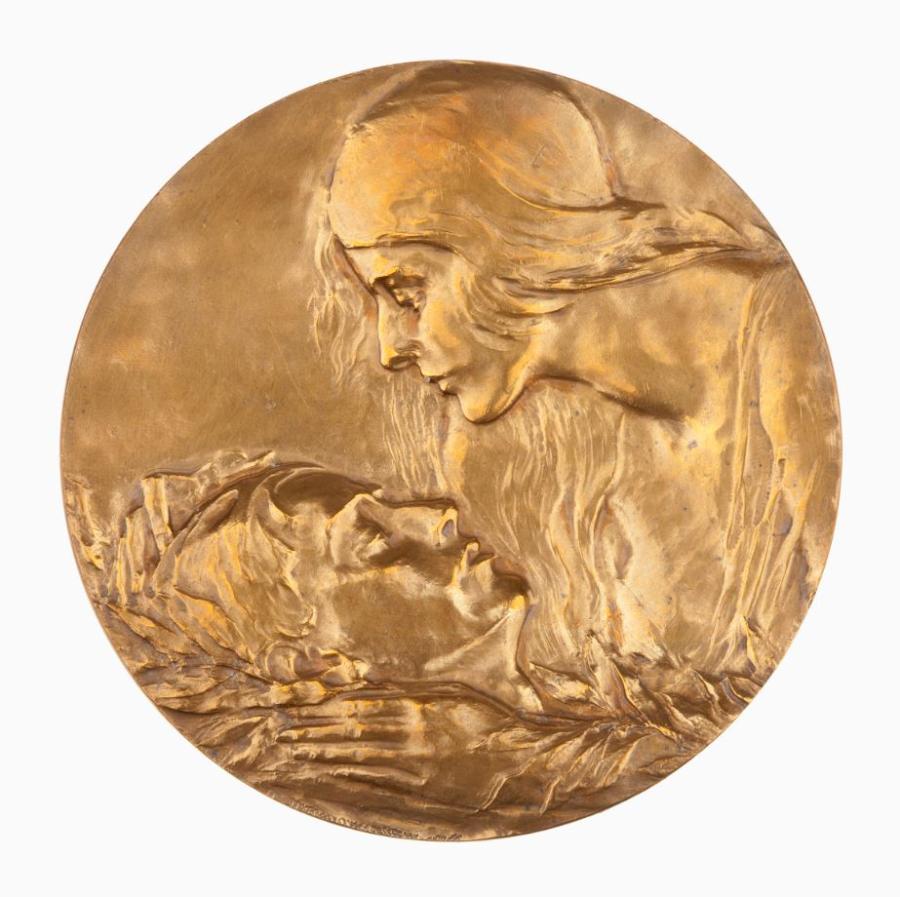 Designed in 1916, it was intended to commemorate Anzacs from the Gallipoli campaign, but was later re-issued in 1919 in honour of all Australians and New Zealanders who had served during the First World War.
For Australian War Memorial art curator Alex Torrens, the medallion is a poignant reminder of the devastation and loss suffered during the war.
"The Anzac medallion is very special," Torrens said.
"It was one of the first pieces of commemorative art dedicated to the Anzacs, but it was unusual as well in that it was one of the first works that showed women's grief and didn't glorify war."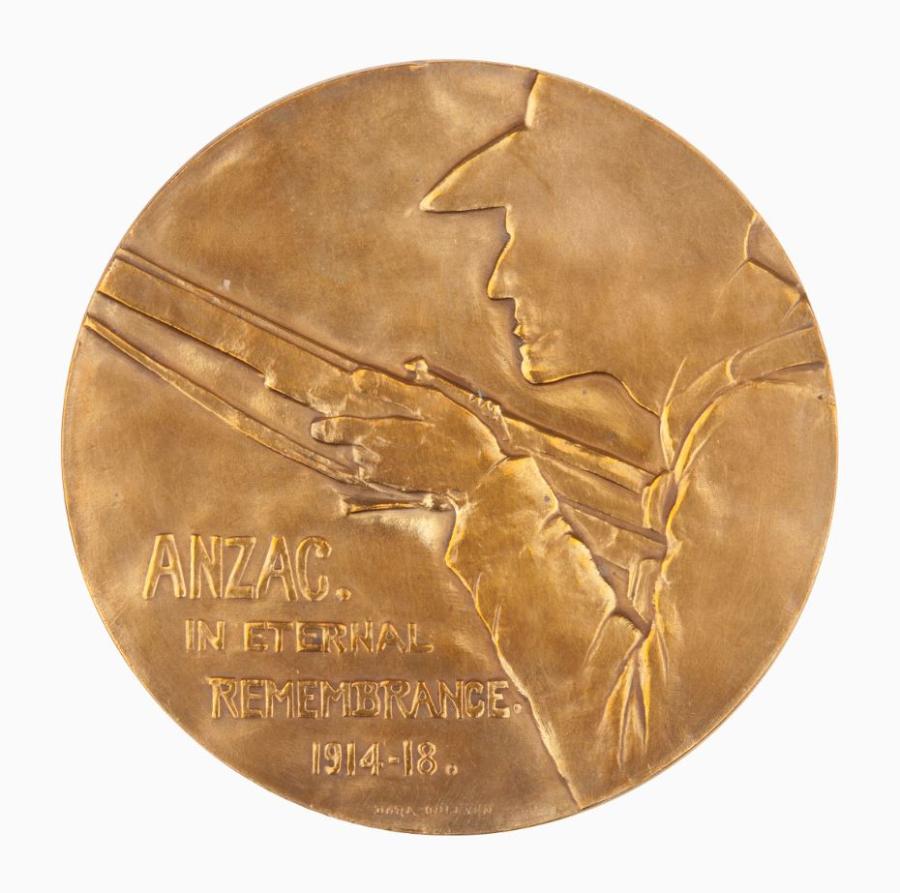 The fourth of seven daughters, Adela Dora Ohlfsen-Bagge was born in Ballarat, Victoria, on 28 August 1869. She retained an affection for the city all her life, donating a number of works to the regional gallery. But it was music that was her first love.
"Ohlfsen's father really encouraged his daughters to become musicians," Torrens said.
"He was born in Poland, but he had Norwegian heritage, and came out to Australia just before the gold rushes. He was an engineer and surveyor, initially in Victoria, and then when Ohlfsen was about 14, they moved to Sydney. They lived at Darling Point, and she went to Sydney Girls High where they really encouraged the girls to aim for university, rather than just preparing them to become wives and mothers."
Having shown a talent for music and languages at school, Ohlfsen travelled to Europe in 1886 to further her studies.
"Dora was a gifted concert pianist and went to Berlin to study music," Torrens said. "She was doing really well [until] neuritis in her arm meant she had to give it away."
Devastated, Ohlfsen told reporters she had suffered a "breakdown... the outcome of overwork... and too little money."
"I was not the same girl anymore," she confided to friends. "I was so ambitious before. I just lived for my ambition ... The shock of that one blow never left me, and it seemed impossible for me to be ever sure of realising anything else as long as I lived."
Unsure of her future, Ohlfsen travelled to the Gulf of Finland to recover. She met her lifelong partner, Russian Countess Elena von Kugelken, there and moved to St Petersburg to be with her. In St Petersburg, Ohlfsen worked for the US Consul-General (with rumours that she was a spy), taught music, wrote newspaper and magazine articles, and took up painting.
It soon became clear though that the couple would have to leave Russia. "One lived under espionage everywhere and did not dare even to utter the word 'Emperor' in the street," Ohlfsen recalled.
Given her growing interest in art, Italy seemed a natural choice. She initially planned to study painting in Rome, but soon discovered her true passion: sculpture.
"Sculpture attracted me most, and I worked at that," she wrote.
Ohlfsen began specialising in medallion art and quickly achieved success, exhibiting regularly and undertaking portrait commissions for well-known European figures, including British prime ministers H.H. Asquith and David Lloyd George, Italian poet Gabrielle D'Annunzio and Fascist leader Benito Mussolini. But it was The awakening of Australian art medallion, produced in 1907, that solidified her reputation. Today, it is still considered one of her best works.
"On the front, Australia is coming out of the ocean with the sun behind her, and on the reverse is a lonely drover looking over a flock of sheep," Torrens said.
"It's all tied into the idea of the newly federated nation of Australia as a young country, and the importance of art and culture in playing a leading role in this new society.
"Commemorative portrait medallions were really fashionable at the time, and it was a natural progression from the sort of work she'd been doing.
"Originally a classical tradition, medallions became popular again in the Renaissance, and then came back into fashion in the late 1800s.
"But in Australia there weren't really many women doing sculpture at all. Women at that time were meant to be doing still lifes and flowers.
"Sculpture was seen as very masculine. You had to get your hands dirty and you had to have a handle on industrial techniques to do the work, so Ohlfsen was a bit of a pioneer in that respect."
The awakening of Australia art was exhibited in France and acquired by the French government for the Parisian art museum, the Petit Palais. The first of her works to enter a public collection, it also received an award at the Franco-British exhibition in London in 1908.
After a 20-year absence, Ohlfsen returned to Australia in 1912 to see family, and encountered such interest in her work that she established a studio and salon in Sydney. She exhibited with the Royal Art Society of New South Wales, and an exhibition of her medallions was held in Melbourne in 1913.
That year, the trustees of the Art Gallery of New South Wales commissioned Ohlfsen to complete a bas-relief bronze panel to be placed above the gallery's entrance. She worked on it until the trustees cancelled the commission in September 1919, citing a shortage of funds. The work was never installed. It would remain the greatest disappointment of her artistic career.
"Dora had returned to Italy in 1913 to work on the friezes, and made drawings and plasters, but I think she felt pretty thwarted," Torrens said.  "And then the war broke out."
Ohlfsen volunteered as a nurse with the Red Cross, assisting in the aftermath of the Avezzano earthquake of January 1915, which killed more than 30,000 people, and then at the Italian Auxilliary Hospital in Rome, almost directly opposite her studio, and later in Venice.
She also began work, at her own expense, on a series of medallions commemorating the war.
"She took it upon herself to start designing the Anzac medallion in 1916, not long after Gallipoli," Torrens said.
"On one side, you have Australia represented as a young mother – shown with her dead son and placing laurels on his brow – and on the reverse, there's a silhouette of an Australian soldier, his rifle at the ready."
The woman representing Australia was modelled on 21-year-old nurse, Alexandra Simpson, who was living and working in Rome at the time.
"Ohlfsen talked about deliberately making the figures look really young because they represented what was considered to be the youngest nation at the time," Torrens said.
"She dedicated it to the Australians who fell on Gallipoli, but as the war progressed, she determined it could also be dedicated to all those who had died and be used as a fundraiser to help soldiers who had been badly wounded."
With the support of generals Birdwood and Monash, Ohlfsen arranged to sell the medal in London under the British War Charities Act to aid permanently disabled Australian and New Zealand veterans. The first medallion was given to the then Prince of Wales, the future Edward VIII, in 1920.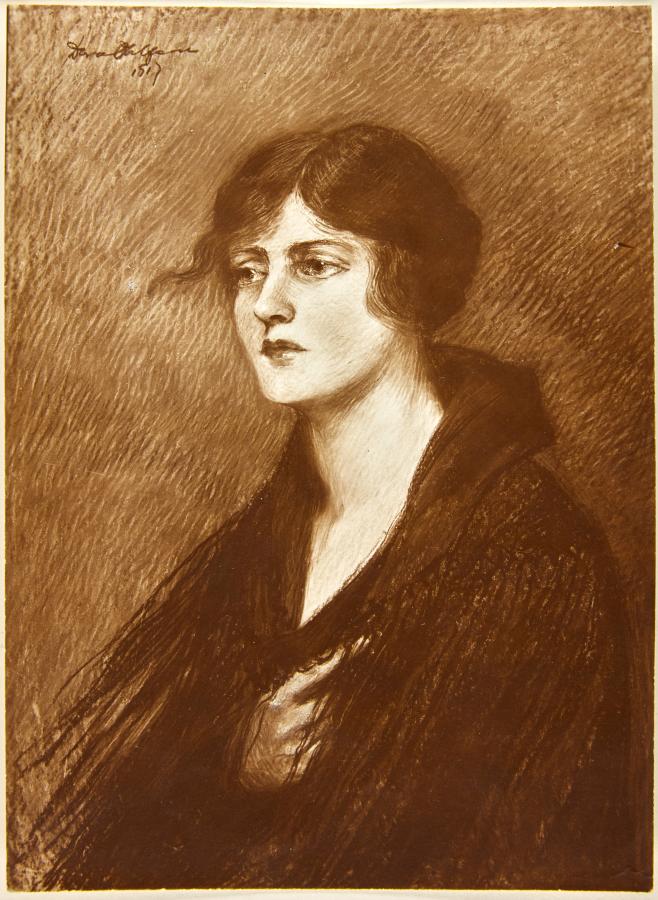 When the Fascist Benito Mussolini came to power in 1922, Ohlfsen was among the crowds who lined the streets of Rome to see him and his followers as they entered the city. She received commissions from, and in support of, the regime, and in 1926, the owners of a bauxite mine commissioned her to make a portrait medallion of Mussolini. She visited Il Duce five times and made detailed studies of him while he worked in his apartment at the Palazzo Chigi.
Through the patronage of her friend, Duke Fulco Tosti di Valminuta, Ohlfsen was also entrusted with the design for a war memorial at the naval base of Formia, which was later reported to be "the only public work to be put up in Europe by a woman and the only war memorial to be executed in Italy by a foreigner". She began the work on the memorial in 1923 and it was dedicated on 18 July 1926. Though she received no payment, the memorial was one of her most important commissions, its central figure representing beauty, youth, strength and sacrifice. She was given the Freedom of the City and was deeply moved when the "peasant women and children came down from the hills to search for the names of their dead on the base of the statue, and to strew flowers upon its steps".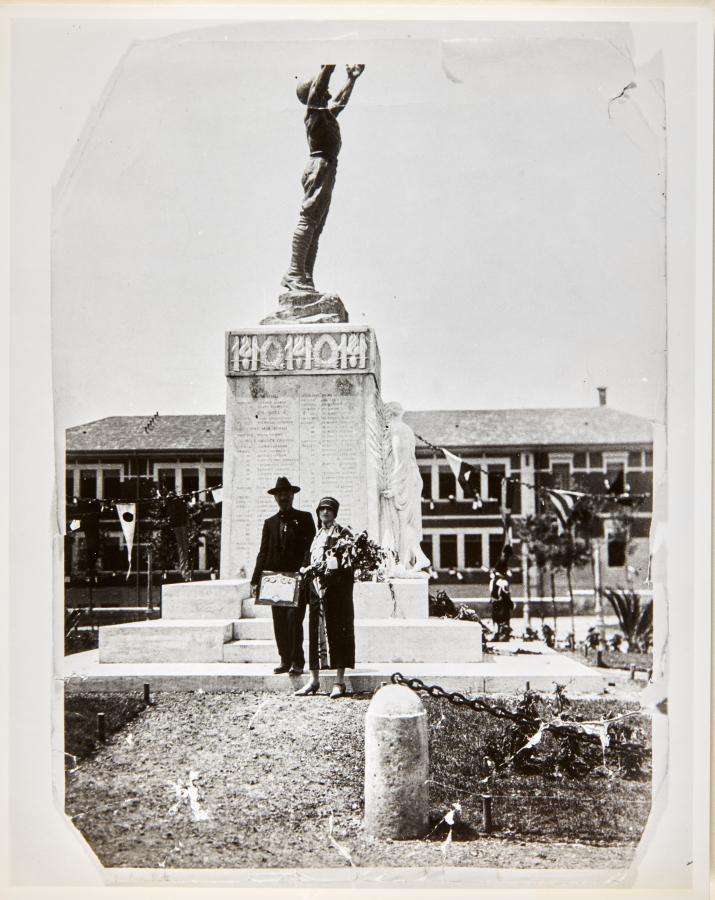 Ohlfsen was found dead in her Rome apartment alongside Elena on 7 February 1948. The coroner's report found their deaths were due to accidental gas poisoning. The epitaph on Ohlfsen's tombstone reads, "Dora Ohlfsen Bagge. Australian by birth, Italian at heart."
Today, the Memorial has three of her Anzac medallions in its collection as well  as one of The Awakening of Australian Art medallions. The first Anzac medallion was donated by Ohlfsen in 1921.
"Ohlfsen was patriotic and she was dedicated to preserving the memory of the Anzacs," Torrens said.
"She always saw herself as very much an Australian, and was passionate about Australia, and it was her 'heart's desire' to have commissions here, but it didn't always pan out that way.
"She'd left Australia with such promise and when she came back in the early 1900s she was feted in the press, but then this huge, horrible tragedy that was the First World War happened.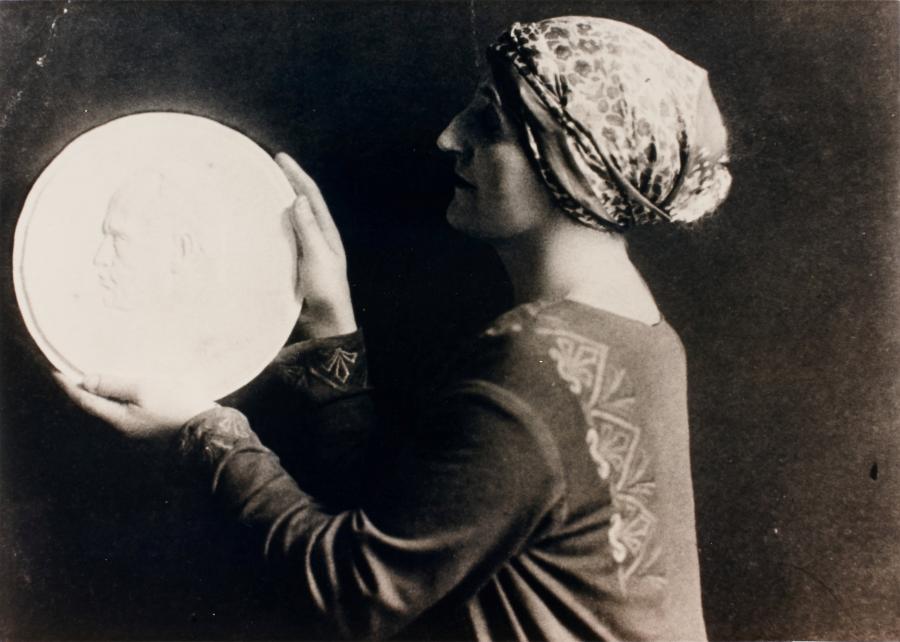 "Australia didn't commission women artists at the time, or even consider their artwork suitable for the Memorial's collection, so it's relatively rare to have these types of works.
"The art works that we do have by women are pretty special because they provide another perspective on how the war impacted and changed people's lives.
"People recognise her today as having been a 'reluctant fascist', but she was seen as a fascist sympathiser in Australia, and that put an end to any kind of hopes for any future commissions and success.
"When she died in 1948, friends gathered up the contents of her studio and home and they've never really been found.
"We don't know what happened to them, and not many of her works survive, so she has almost been lost to history."
Today, more than 100 years after she created it, the Anzac medallion is still considered one of her best works, a haunting reminder of grief and loss during the First World War.