'They were so much more than names on a wall'
Fifteen years ago, Sharon Bown narrowly escaped death in a helicopter crash in East Timor.
She was a young aeromedical evacuation nurse in the Royal Australian Air Force on her way to help save the life of a Timorese woman when the UN helicopter she was in crashed as it tried to land near the remote village of Same.
"I remember very clearly the mayday call," she said in an interview about the crash. "That realisation that, sitting in the back of this helicopter, I have absolutely no control over what is about to happen, and again, the realisation that whatever is about to happen is either going to hurt – a lot – or, this is it. This was going to be the day that I would die."
Sharon was pushed from the wreck, soaked in aviation fuel. She had suffered a severe spinal injury, multiple facial fractures and chemical burns to her shoulders and back.
"Within a split second my life had changed," she said. "I didn't lose my life on that day, but I lost the life that I knew and everything from there would change."
She spent weeks in hospital learning to walk again, but it was the unseen scars of chronic pain and post-traumatic stress disorder that would continue to test her resilience.
Determined to be a survivor, not a victim, she made a conscious decision to not only survive, but to continue to live.
A year later, Sharon deployed to Bali, providing immediate healthcare and aeromedical evacuation to victims of the second Bali bombings.
Within four years of the crash that almost ended her life, Sharon was leading a surgical team in Afghanistan, delivering lifesaving care to Australian soldiers at war.
She hung an Australian flag in the operating theatre so that it was the first and last thing Australian soldiers saw when they fell asleep and woke up on the operating table.
Today, the retired wing commander is a member of the Australian War Memorial Council and a passionate advocate for younger veterans.
She shared her story as the Memorial unveiled the next chapter in its continuing story.
"I am here today to welcome you to our home – the Australian War Memorial," she said. "The place in which we feel valued, respected and somewhat understood; the place in which we now know that our continuing story of service will be told; the place to which we return alongside our fellow Australians to honour, to learn and to heal."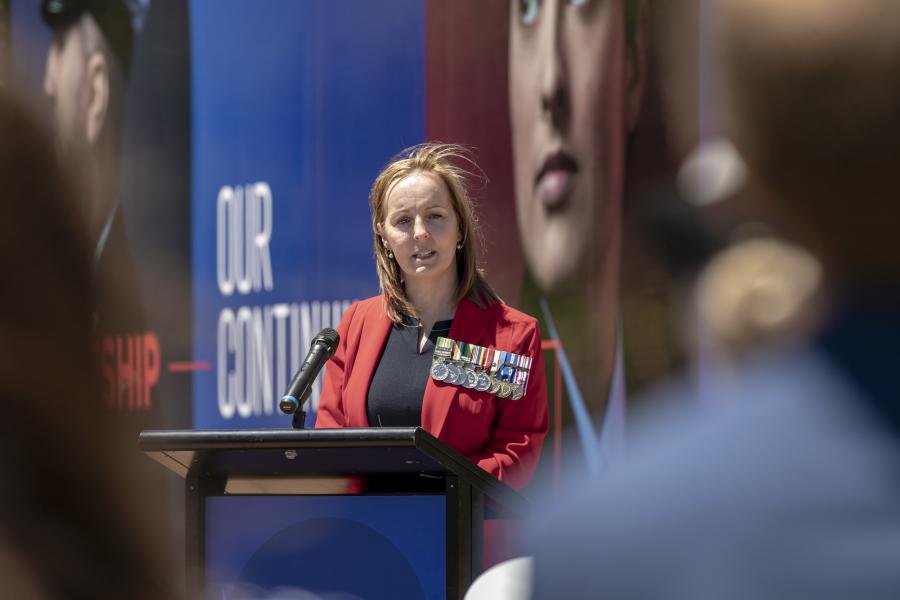 She spoke of friends and family who are listed on the Memorial's Roll of Honour and the importance of telling their stories.
"Ancestors I never knew are listed opposite friends whom I did know and with whom I trained and served," she said.  "At bronze panel No. 67 I honour my great uncle, Private Albert Arthur Reader. I speak to visitors of his service as a stretcher bearer in the First World War … How he landed at Gallipoli, was Mentioned in Despatches at Pozières, and awarded a Military Medal at Boursies for 'courage in rescuing wounded under heavy fire'; how at just 28 years of age he was killed in action in the battle of Lagnicourt.
"In the galleries below, those same visitors can learn the story of his battalion and of the battles in which he served. They can begin to gain an understanding of his service."
She looks forward to the day when the Memorial can do the same for more recent conflicts and the men and women who serve in them.
"At bronze panel No. 3, I honour my friends, Wendy, Lynne and Paul, who died in a helicopter crash, delivering humanitarian aid to the Indonesian Island of Nias on 2 April 2005," she said.
"Even after 14 years, it's hard for me to share details of their stories. But I know that the galleries below cannot yet do that for me, so, with a lump in my throat, I try.
"I don't want visitors to only feel the tragic loss of their deaths, I want them to learn of their stories of service, to learn of our nation's continuing story of service, and to be inspired and ever thankful that my three friends had lived.
"They were so much more than names on a wall and their lives were so much more than the circumstances in which they died. They deserve to have their story told."
Sharon's husband, Major Conway Bown, is a helicopter pilot in the Australian Army, who has served in Papua New Guinea, East Timor, the Middle East and Afghanistan.
"He has served our country in times of peace and war for most of his adult life," she said.  "Our two sons, Ty and Austin, have known no other life than that in which their parents have served Australia.
"We are members of Prince Harry's Invictus Generation: the generation of Australian veterans whose story of service exists, but which largely remains untold.
"It is time for the story of our generation and our continuing service to be told here.
"The Australian War Memorial is a place where veterans, families and all Australians can begin to understand our continuing story of service; a place where we can honour, learn and heal."
For more information about the Memorial's continuing story visit www.awm.gov.au/ourcontinuingstory