During the Second World War a type of trench art known as "Tek art" began to be produced by servicemen, civilians, and prisoners of war. It involved the incorporation of colourful plastics into trench art designs.
The term was derived from the "Tek" brand toothbrushes issued to Australian service personnel from late 1941. Made by Johnson & Johnson, it was first produced in the United States in the late 1920s, and went on sale in Australia in the early 1930s. They were the first toothbrushes to have coloured plastic handles instead of wood.
Johnson & Johnson was the major contractor to the armed forces for dressings and plasters during the Second World War, but its toothbrushes also proved to be immensely popular. Apart from their practical use, the brightly coloured plastic was cut up, polished, or melted down by would-be artists for incorporation into trench art souvenirs.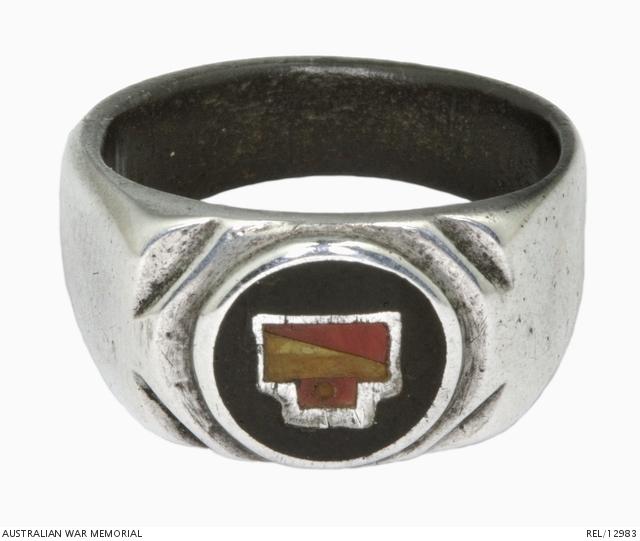 Tek art souvenirs were made by soldiers in the field or purchased and sent home to families as personal gifts. Cottage industries, sometimes called the "foreigner trade" were developed behind the lines by those with access to specialist equipment such as drills, vices, and metal-cutting equipment – often engineers, dentists, workshop personnel, and Royal Australian Air Force ground crew. Small two-or-three-man "factories" could produce a variety of jewellery which was then sold by a salesman, also known as a "strafer". The strafer would take orders for items, some of which were custom made.
Sweetheart jewellery
Sweetheart jewellery was among the most commonly produced type of Tek art, and included rings, brooches, bracelets, and the occasional pendant. They often featured the colour patch of the serviceman who made or purchased them, and were sent home for a loved one to wear.
Rings were a popular Tek art item. A particularly lucrative market was developed among United States servicemen, as the plastic could be inserted into a ring setting as a transparent "stone". On 4 May 1944 an article entitled "Tekstone" gems appeared in the Western Mail detailing one such successful enterprise established in New Guinea. An Australian soldier had developed a strong clientele for rings containing the expensive Australian "Tekstone" gem, and was taking orders for custom-made items. The rings were completed with the help of the maker's brother, who would send additional toothbrushes "in a sufficient ruby-red lustre" from Melbourne. The finished products were then sold for 30 shillings each.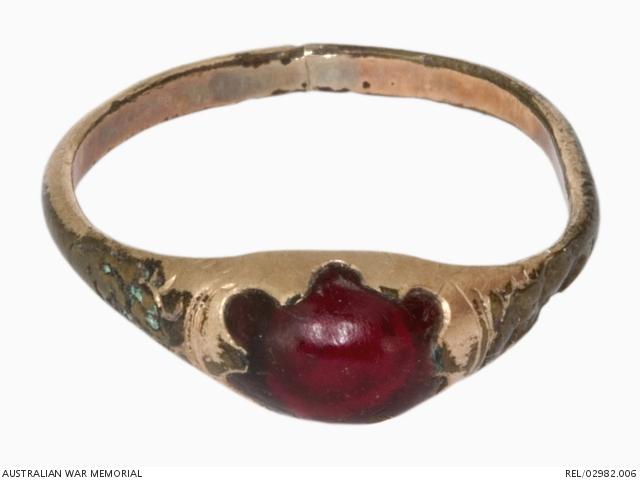 Other Tek art
Although not as common, Tek plastics were also incorporated into other more unusual types of trench art.