"A queer business this taking off in the dark": The diaries of Lieutenant William Palstra
A pioneer of night flying over front lines credited with shooting down six enemy planes, Lieutenant Palstra survived the First World War but died when an airship the British press dubbed "The Titanic of the Skies" crashed on its maiden flight to India in 1930.
Born in Holland in 1891, Palstra arrived in Australia in October 1914. Two years later he sailed back to Europe to serve with the 39th Battalion. Awarded the Military Cross in 1917, he was seconded to train with the Australian Flying Corps in December 1917. He joined 3 Squadron as a flying officer in May 1918, supporting Australian forces by locating enemy guns, bombing patrols, dropping smoke bombs and undertaking reconnaissance during the allied advance to the Hindenburg Line.
Lieutenant Palstra describes his first night flight, with an officer holding an electric flash lamp to guide the take-off:
"A black object roars across the Drome with engine glowing red and sparks flying from the exhaust and disappears into the darkness. I am to take off third …I make for the flash light and open up slowly. The weight of the bombs (4) and ammunition make the machine very heavy but finally I am assured that she is in the air and mounting slowly. None of us have done any night flying before ... The engine looks red hot but this is only a result of the surrounding dark. Skim some blurry tree tops and head East climbing. Do a few turns and find night flying quite easy. The Amiens­–Vermand road is visible like a silver ribbon and I fly along it."
During the flight bombed enemy trenches, supporting the English corps in front of the Hindenburg Line. Ground mist and smoke from artillery hindered visibility.
"Shells screaming all round in the dark, bursting on the ground in geyzers of flame and smoke, a wonderful sight. Find it pretty difficult to locate target, but do so eventually thanks mainly to Very lights fired by the frightened Hun."
Palstra decided to take out the German Very lights: "shut off my engine for a moment and yell to (observer) Fenwicke 'Shall we towel up those beggars. Answer 'Right'. Get warmed to the job, fly around whilst Fenwicke snuffs Very lights with a Lewis gun."
"How they failed to bring us down is a marvel to me."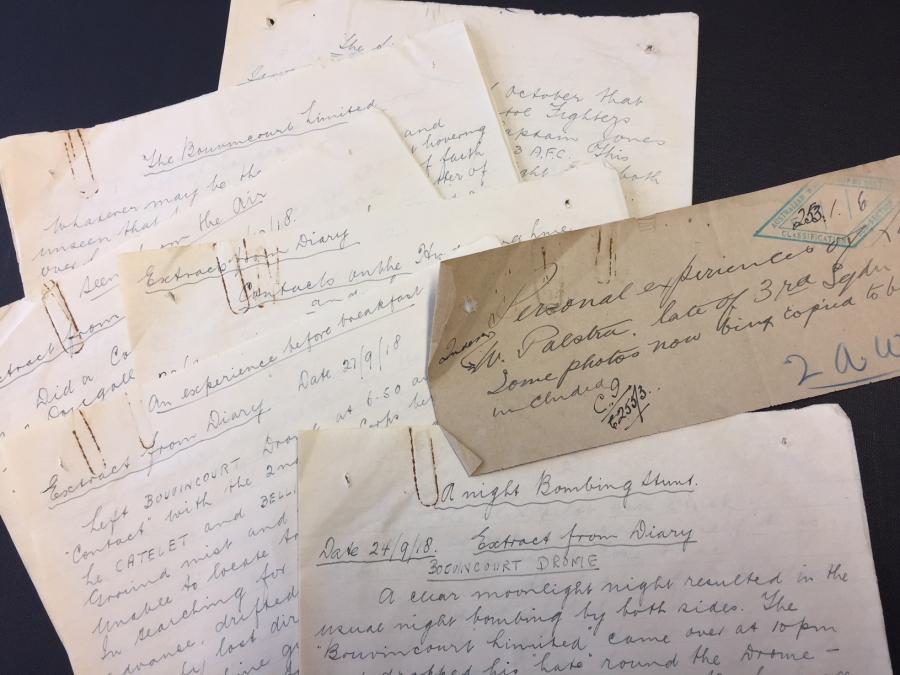 Another diary entry relates Palstra flying through clouds, ground mist and barrage smoke while being fired on from air and ground, before losing direction and finding himself over German territory, twisting and turning to avoid machine-guns "firing Buckinghams , flaming onions in strings, field guns, archie and a kind of mitrailleuse sending up a spray of incendiary bullets like a shower from a watering can."
Hit through the propeller, exhaust, tail, wings and fuselage, Palstra felt certain the end was a matter of seconds away, but kept going in desperation. When a German scout came through the mist, his observer, Hamilton "who like myself had been in more or less of a blue funk up to now, rose to the occasion and rattled a drum of Lewis fair into him".
Palstra's viewpoint over front lines and allied positions enabled him to spot potential counterattacks, and drop warning parachute flares and wireless SOS: "Descended to 500 ft and fired 700 rounds into advancing enemy, doing good damage. Counter attack was broken and Yanks attacking in turn took Busigny."
The risk for planes and personnel on the ground increased as the conflict progressed with more frequent moves to open, improvised airfields. One of Palstra's diary extracts gives an account of a low gliding German plane harassing the Bouvincourt aerodrome.
As news of the armistice reached Palstra at an improvised aerodrome in front of Flaumont, he reflected that his part of 3 Squadron was "perhaps the most forward position of any squadron in France or Belgium - actually in front of the Infantry."
After the war, William Palstra graduated from the University of Melbourne with a Bachelor of Arts degree. In 1926, he was recommended for promotion over all flying officers senior to him because of his distinguished exam results.
In 1928, he sailed to England with his wife, two daughters and son to take up two years' duty with the Royal Air Force staff college at Andover. He stayed on as a liaison officer in London and was due to return to Australia in 1930 before being offered an opportunity to replace Australian Flight Lieutenant Charles Harman, on board British Airship R101 – then the largest flying aircraft ever made ­– on its maiden flight to Karachi. The flight was to be a step in establishing flights from Britain to its colonies, with Palstra to report to the Australian government, a keen supporter of the scheme.
Flight Lieutenant Harman had been on R101 test flights and later admitted thinking the airship "looked dreadfully inflammable". Squadron Leader Palstra reportedly told a fellow officer he "didn't like the idea of that 5 million cubic feet of gas above me", but was on board the R101 with 53 others as it departed Cardington on October 4, 1930.
The airship crashed on a hill in fierce wind and turbulence at Allone, near Beauvais, France. While the impact may have been survivable, the airship was inflated with hydrogen; the resulting fire killed 46 of the 54 passengers and crew, now buried in a mass grave at Cardington.
There were reports that the ship's officers may have been pressed to make a flight for which the airship was not ready, without regard for weather, and with a load of fuel and unnecessary cargo that exceeded the ship's abilities.
Acting Prime Minister James Fenton said of Lieutenant Palstra:
"To know him was to know his worth, and we grieve for his sorrowing widow and family."
The member for Kooyong, John Latham, also lamented the loss of the airship and its crew, but told his fellow MPs that "this calamity, however, will be but a temporary setback; others of our race will press on to secure the mastery of the air". The Imperial Airship Scheme was abandoned the following year.
The diaries of Lieutenant William Palstra, now online, were digitised as part of the Memorial's major digitisation project, made possible by funding provided by the Commonwealth Government.
On 31 March 2021, the Royal Australian Air Force marks 100 years of service. The Memorial is publishing a selection of historic records related to RAAF service as part of the digitisation project.