The Handkerchief Project: Making Marks Australia and Afghanistan
Handkerchiefs are personal objects, often kept close to the body. They can be mementos from loved ones and can often bring back memories of an elderly parent or relative who always had one on hand.
The Memorial has recently acquired 43 embroidered handkerchiefs exchanged between women in Australia and Afghanistan.
Making Marks: Australia and Afghanistan – Unfolding Projects was an arts exchange project between artists in Australia and women undertaking literacy and vocational classes at the Organisation of Promotion Afghan Women's Capabilities (OPAWC) in Kabul 2018.  Handkerchiefs were selected as easily transportable objects that could support different media, including print making and embroidery.
Making Marks, also known as the Handkerchief Project, was initiated by Australian artists to connect and share with women in Afghanistan.  Each handkerchief is a collaboration between women in both countries, who have combined images and text to form one artwork. The project was initiated by Gali Weiss, an artist and printmaker who contacted 19 Australian artists to join her.  Each was briefed to create three artworks on handkerchiefs in six weeks. As Weiss remarked:
"The objective of the project was to use artistic practice to support women in Afghanistan in their quest to acquire and use literacy skills. As Australian women living in privileged circumstances in a country whose military was involved in Afghanistan, we felt a responsibility to connect to Afghan women living in circumstances of war and immense hardships. By presenting and exchanging our personal worlds of art and text we were creating a meeting place – despite the challenges of difference – in the space of an artwork."
The first marks on the handkerchiefs reflect the Australian artist's environment, including place, nature and history. These handkerchiefs were delivered to OPAWC's Vocational Centre in Kabul, with an offer to Afghan women learning literacy skills to relate to the imagery by writing directly on, over or around the imagery in any medium. The Afghan women embroidered second marks, often in Persian text reflecting on the themes of place, history, reactions to the war in Afghanistan, and their hopes for the future. Forty-three of the 60 handkerchiefs returned to Australia bearing expressions such as: "My aim is to become a judge"; "Our country needs peace"; "I wish to see my family healthy"; "I want to live in freedom forever"; and "I hope that no more Afghan mothers shed tears from the loss of their children".
Created during the Afghanistan War during a period in which women had expanded opportunities for literacy, education and employment, there is an added poignancy knowing what these women are now facing in Afghanistan.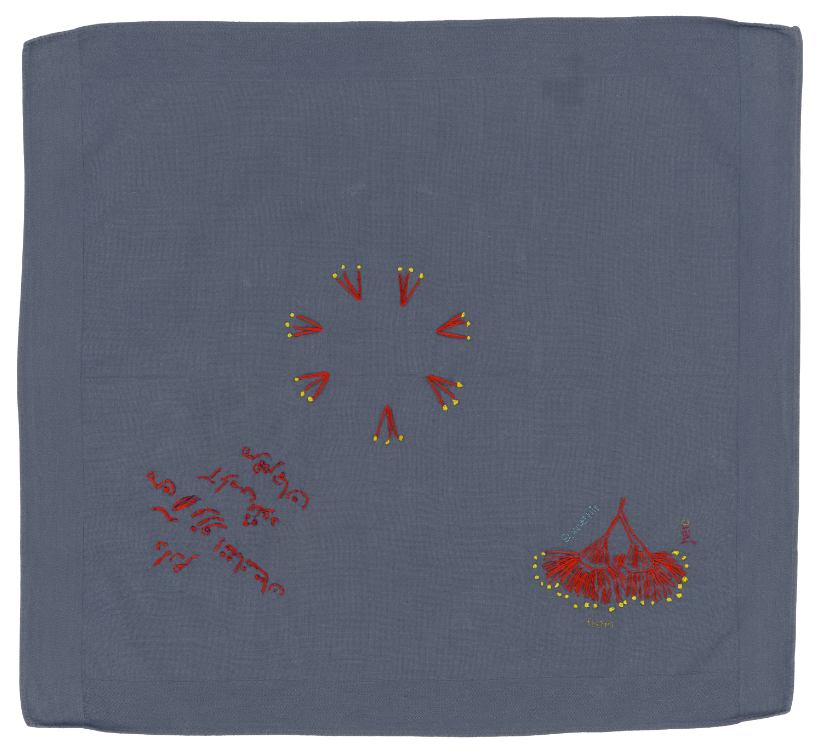 Afghan Persian dialect is embroidered at the bottom left hand corner of the work, when translated into English it reads; 'I hope for a peaceful Afghanistan'. AWM2021.781.16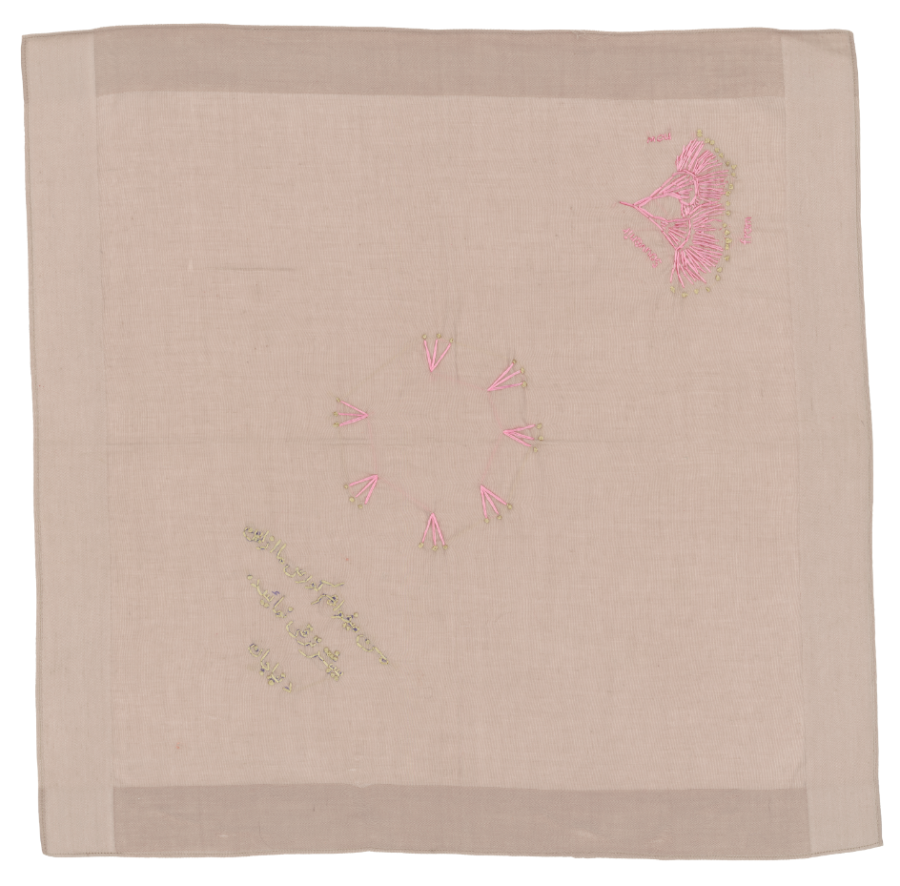 Tracey Avery's artist statement reads: 'For these works, I looked at my great grandmother's three handkerchiefs sent to her from Europe by her husband when he was away from Australia fighting in the First World War ... On my works I have drawn over dressmaker's pattern tracing paper to represent Australian eucalyptus flowers." AWM2021.781.15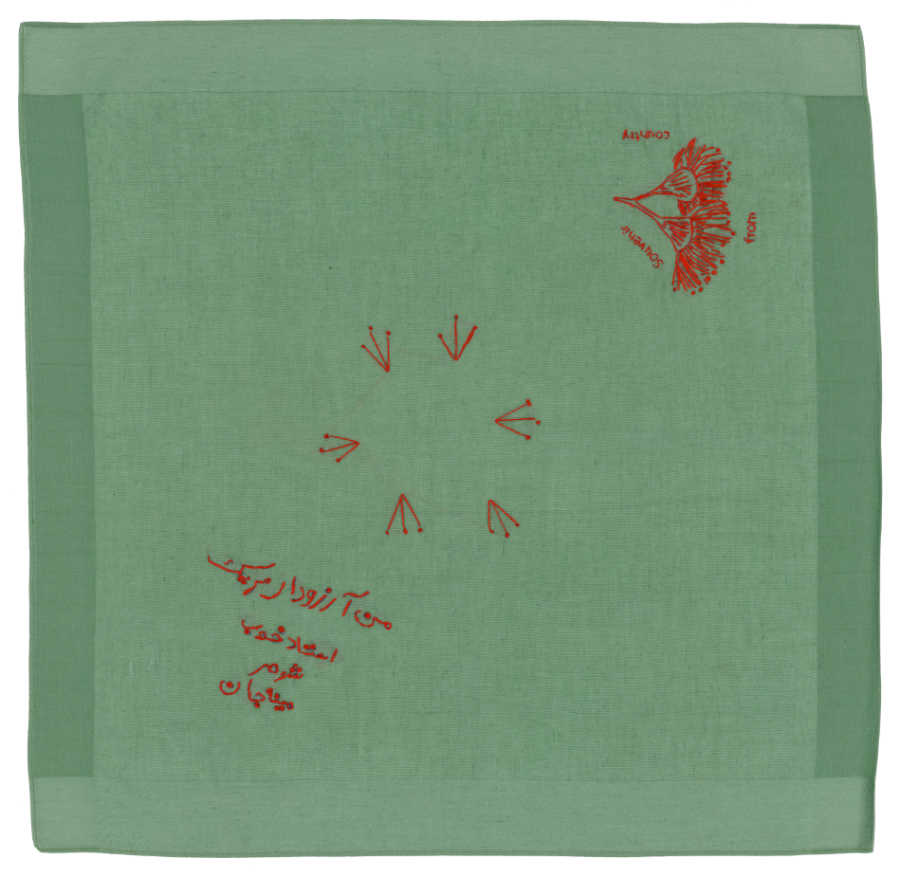 Afghan Persian dialect is embroidered at the bottom left hand corner of the work, when translated into English it reads; 'I hope that I become a good teacher'. AWM2021.781.14
The above works were sent to Australia, with the handkerchiefs expressing the views of three Afghan women. (The full names of these women cannot be published for safety reasons.)
Avery recalled her response:
"Some areas of my work were embroidery and not print, and others I partially embroidered so in some ways I was expecting to see a continuation of my work, completion or further development of my work. What I wasn't expecting was the field pattern that I created was gone and a new field with the same ideas of stamen was created. Initially I was a little surprised and thought, 'Oh where is my work?' … I realised I was having an attachment to something that was created long ago and when I looked properly at what had been created I was thrilled in a way that the message I had sent, which was very much sadness and loss, had come back as something joyful, and all the stamens were lined up in a circle and the messages on my handkerchiefs were all about hope".
When the 43 handkerchiefs arrived at the Australian War Memorial we were initially struck by the fragility, intimacy and beauty of these works. But as we got to know each work, photographing and describing it for our catalogue, the connection the artwork created between women from Australia and Afghanistan made a deeper impression. The shared messages of hope, the pain of war, and the resilience of women are a treasured addition to our collection. The collection has found the right home to share this important message with Australia, messages of connection and friendship, but most importantly, solidarity between two cultures.
Making Marks: Australia to Afghanistan - 'The Handkerchief Project'