Tens of thousands of British and Empire troops remain 'missing' in France and Belgium. Some lie in nameless graves while the remains of others have never been found. The Menin Gate at Ypres records the names of 55,000 of the missing in Belgium and a similar number are recorded elsewhere; there are 35,000 names on the Tyne Cot memorial.
The names of Australia's 6,000 missing in Belgium are engraved on the walls of the Menin Gate.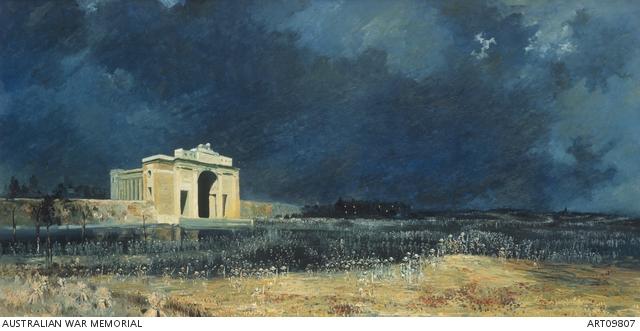 Menin Gate Memorial
The Menin Gate was so named because here the road out of Ypres passed through the old wall defences going in the direction of Menin. During the war the two stone lions standing on each side of the Menin Gate were seen by tens of thousands of troops as they went towards the front line. The gate, beyond which these men's fate lay, became highly symbolic. Afterwards it was decided that on this site a huge monument, designed by the architect Sir Reginald Blomfield, would commemorate those of the Empire who were killed in Belgium but have no known grave. The memorial was unveiled by Field Marshal Lord Plumer on 24 July 1927. Although it bears the names of 55,000 soldiers including 6,000 Australians, so great were the casualties that not all the names of "the missing" are here. Every evening the Last Post is sounded under the memorial's great arch.
Acclaimed British author and poet Rudyard Kipling contributed the following words which were inscribed on both the eastern and western facades of the memorial.
TO THE ARMIES OF THE BRITISH EMPIRE WHO STOOD HERE
FROM 1914 TO 1918
AND TO THOSE OF THEIR DEAD
WHO HAVE NO KNOWN GRAVE
And above the staircase arches, the following:
IN MAJOREM DEI GLORIAM
HERE ARE RECORDED NAMES
OF OFFICERS AND MEN WHO FELL
IN YPRES SALIENT, BUT TO WHOM
THE FORTUNES OF WAR DENIED
THE KNOWN AND HONOURED BURIAL
GIVEN TO THEIR COMRADES IN DEATH
- Kipling
More information on the Menin Gate Memorial to the Missing: www.greatwar.co.uk/westfront/ypsalient/meningate/meningate.htm