The search for 'Curly' Dawes
Warning: this article contains images of deceased persons. It also contain racist terms and descriptions, the use of which reflects language and attitudes of the time.
The Australian War Memorial is asking for help to identify an Indigenous soldier called "Curly" who served on Gallipoli and was arrested as a spy three times.
Curly's story is described in a letter written in February 1916 by Company Sergeant Major Laurence Reginald MacBrair.
An engineer from Charters Towers in Queensland, MacBrair enlisted in January 1915 and served with the 25th Battalion on Gallipoli and the Western Front.
"Amongst our troops there are one or two darkies, half-castes but good soldiers all the same," he wrote from Egypt after the evacuation from Gallipoli.
"One chap was a bit darker and had curly hair. Curly Dawes, he was called.
"Three times he was arrested on the peninsula as a spy by those who did not know him. He happened to have been away sick and just before a charge he returned to his unit…
"Where his unit was when he left, he found a strange unit, then he passed along and one or two chaps drew attention to him and he was arrested however and put in charge of an armed guard.
"He told them what his unit was and where he had been but they thought it was a bit stretched so they put him in a sort of guard house which had been built by the Turks and the charge proceeded and lasted about three days.
"Everyone who passed by would have a stare at him and pass some scathing remarks, as Australians will. He took everything smilingly.
"After the three days, he was sent under escort to the unit he said he belonged to.
"Along the way they came to a fatigue party repairing a road-way. One of the boys saw him and called out, 'Hello! Curly, nabbed again.'
"It was the third time he had been in a similar position, so now it is a standing joke."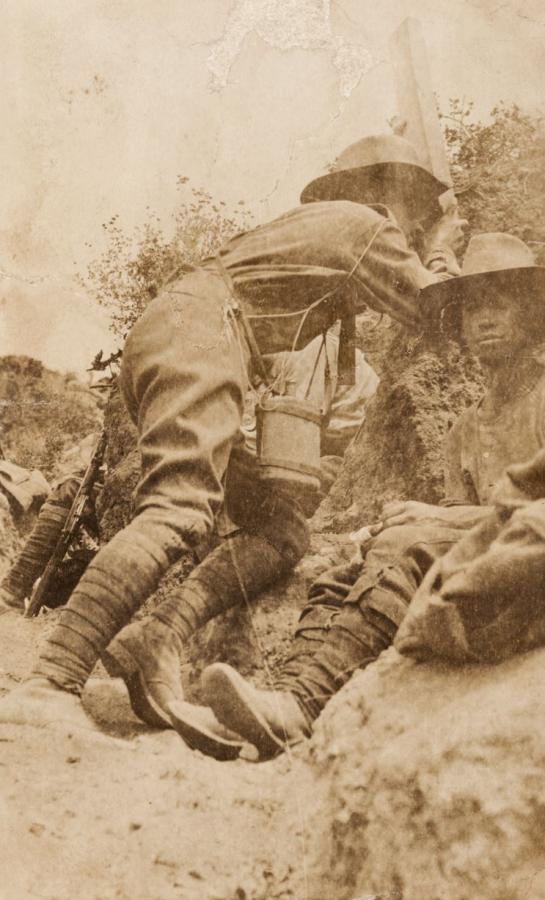 More than 100 years later, the Memorial's Indigenous Liaison Officer, Michael Bell, is trying to learn more about the story and identify who 'Curly' is.
"We are hoping to find others who may have heard of the story, or who might know who Curly is, and what happened to him," Bell said.  
"We've looked into the surname Dawes, and a range of other possibilities, but have now exhausted that line of inquiry.
"There is a newspaper reference to a 'Curley' Dawes, a deep-sea fisherman from Liverpool who took part in a fishing competition at Port Kembla in 1937. The Hotel Liverpool donated a cup to the winner, but Liverpool, of course, is significant because it was also the site of the main camp for the reception and basic training of recruits for the AIF in New South Wales during the First World War.
"Whether these two men are the same person, we just don't know. The surname might have been transcribed incorrectly, so we are looking to hear from anyone who may have heard the story from their grandparents, or read about it in a diary or letter … and can give us any additional leads to go on.
"His family may well have passed the story down, or there might be someone out there who remembers their grandfather or great-uncle telling them the story of how they arrested him."
A proud Ngunnawal/Gomeroi man, Bell is researching the extent of the contribution and service of people of Aboriginal and Torres Strait Islander descent. He is working to identify Indigenous Australian soldiers who have served or are currently serving.
"Despite lack of recognition of rights, denial of citizenship, and concerted efforts at exclusion, Aboriginal and Torres Strait Islander people have served in conflicts involving Australian defence contingents since Federation," Bell said.
"When the First World War broke out in 1914, many who tried to enlist were rejected on the grounds of race; but many slipped through the net.
"They served on equal terms and were paid the same rate as non-Indigenous soldiers, but when they returned home, they found that discrimination had worsened.
"We're trying to encourage people to come forward and tell their stories, to help us tell the broader story of the Aboriginal and Torres Strait Islander experience.
"Because no one saw them, perception of their service was skewed, and for a long time it appeared as if they had never existed.
"Hopefully someone out there can help us identify who Curly is so that we can learn more about his remarkable story."
Michael Bell is also looking to identify an unknown Indigenous soldier who served with the 17th Battalion and was pictured on Gallipoli. He believes the soldier, pictured above, may have been the Batman for Major Francis Joseph Patrick Murphy.
Michael Bell can be contacted via Michael.Bell@awm.gov.au