When Lynn Berry and her sister-in-law Margaret Knight began knitting poppies to honour their fathers' service during the Second World War, they had no idea it would capture the public imagination and inspire tens of thousands of people around the world.
Little did they know that what began as their small personal tribute five years ago would grow into a massive community tribute of respect and remembrance that would take them to the battlefields of France, lead them to meeting the Queen, and culminate in a moving display of 62,000 poppies as part of a five-week commemorative program at the Australian War Memorial to mark the centenary of the Armistice that ended the First World War.
In 2013, Lynn and Margaret set out to make a modest 120 woollen poppies to "plant" at the Shrine of Remembrance in Melbourne for Remembrance Day to honour their fathers: Wal Beasley, of the 14/32nd Battalion, Second Australian Imperial Force; and Stan Knight, of the Queen's Own West Kent Regiment in the British Army.
For Lynn, a fabric and textile artist from Melbourne whose grandmother taught her to knit when she was five years old, it was a deeply personal project to pay tribute to her late father.
"He never talked about the war," Lynn said. "He had malaria during the war, so he came back very unwell, and he had bouts of malaria through his life, but as children we never knew that. We knew Dad might have been a little ill, but we didn't really know why … He thought it was just better to get on with it [so] he came home, got married, had a large family and contributed to society in the way that men did, and he just got on with it, and he was a wonderful man, so for me to be able to honour his service in this way, was pretty special."
When people saw Lynn and Margaret making their poppies, they became intrigued and wanted to know more.
"People started to say to us: 'We'd love to join you. Can my mum make some? Can my sister make some? Can my grandmother make some?' And I said to Margaret, 'This could be a much bigger project if we wanted it to be.'
"She told me that I was mad, and that it was going to be bigger than Ben Hur."
The pair set themselves a new goal of 5,000 poppies, and in June 2013, the 5,000 Poppies project was born. They thought it might be "a bit of a stretch", but that with a little bit of help they would probably be able to manage it.
"We thought we could make 5,000 poppies and do a really lovely installation in Federation Square in the heart of Melbourne for Remembrance Day," Lynn said. "But I was interviewed on Radio National … and it went viral – immediately. People started sending us poppies, and we had our first 5,000 poppies by Remembrance Day 2013."
It was then that Ted Ballieau, former premier of Victoria and chairman of the Anzac Centenary Committee in Melbourne, asked Lynn and Margaret if they would be interested in putting together a display for the 100th anniversary of the Gallipoli landings. He introduced the pair to award-winning landscape designer Phillip Johnson, and together they created a stunning tribute garden at the Melbourne Flower and Garden Show in March 2015.
But in the meantime, the poppies kept rolling in, and a month later they unveiled a massive community tribute honouring the original Anzacs in the heart of Melbourne.
"It was going to be a very small installation for Anzac Day, [but] we had no idea what impact it would have on the community at large," Lynn said.  "Sometimes we would open the mail, and we would have 5,000 poppies in one mail, so you can imagine the size of it: it used to cover the floor … and we ended up with nearly 260,000 poppies, and we covered the steps of Federation Square."
On the morning of Anzac Day 2015, they moved the entire installation onto Princes Bridge, providing an emotional backdrop for Melbourne's Centenary of Anzac commemorations.  "It was the most amazing experience of my life to see those marchers, marching through," Lynn said. "But it didn't end there."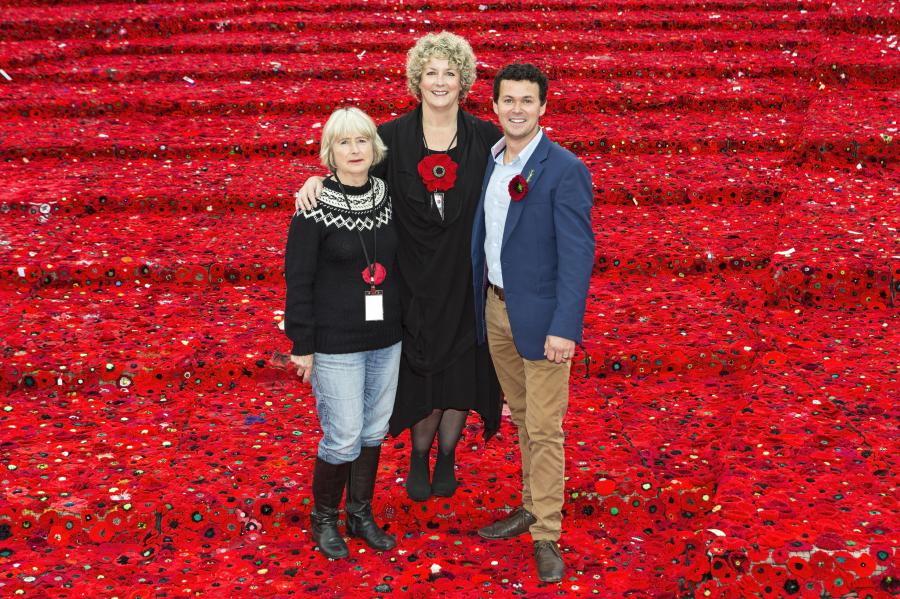 In May 2016, they took the tribute to the Chelsea Flower Show in London, where thousands of people flocked to see the installation in the grounds of Royal Hospital. Among them were the Queen, the Duke and Duchess of Cambridge, Prince Harry and the future British Prime Minister Theresa May.
From there, the 5,000 Poppies project travelled to the battlefields of France in July 2016, where 26,000 handmade poppies were placed at the foot of the "Cobbers" sculpture in the Australian Memorial Park to commemorate the centenary of the battle of Fromelles.
For Lynn, planting the poppies "where our boys fought" was particularly special. "The most amazing thing for me was to be at Fromelles," she said. "It was very emotional, and that installation really brought home for me what it all means."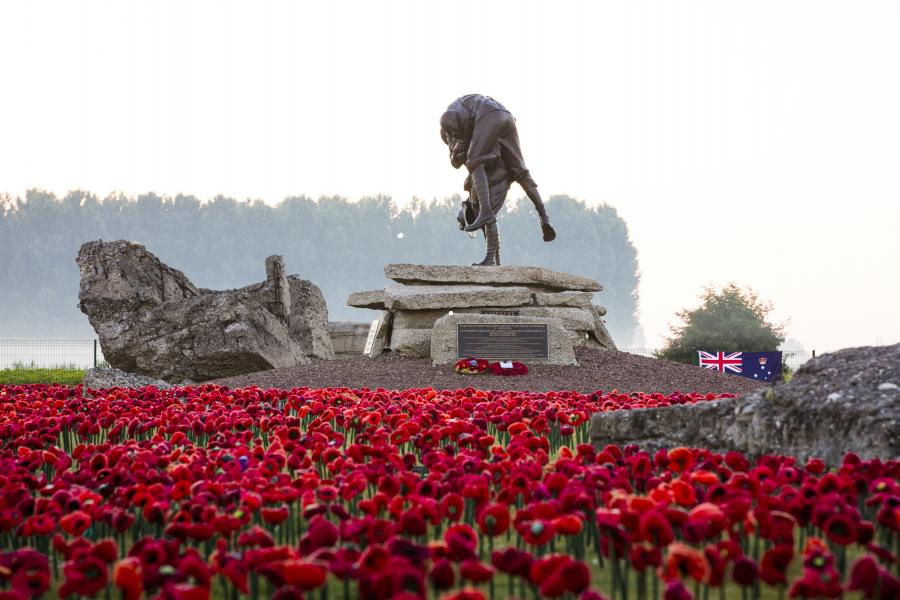 Five years on, and hundreds of thousands of poppies later, the 5,000 Poppies project is now busily preparing for the group's final tribute.
At the end of the month, an army of dedicated volunteers will begin planting 62,000 handmade poppies across some 4,000 square metres of the Memorial grounds as part of a five-week program to commemorate the centenary of the Armistice. Each poppy will symbolise one of the 62,000 Australians who died during the First World War, transforming the Memorial's gardens in to a field of red around the Flanders' Garden and the Lone Pine tree.
"The Australian War Memorial installation is our grand finale," Lynn said. "The Memorial is our spiritual home, and right from the very start, we said the Memorial was where we were going to end up … That's the heart and soul of memorial for our country [and] it will probably be the most special thing we've done … We want to make sure that each of the poppies that we plant at the Memorial represents those people that lost their lives in the First World War … [and] I think it's important to remember every single one of those people."
For Lynn, the tribute is a fitting end to the project to which she and countless others have dedicated the past five years.
"It's been an amazing privilege to be able to do this work in honour of those who have served, but also for their families, and their communities, and for everyone that's been affected by war," she said. "This installation is specifically targeted at a memorial for the First World War [but] the entire project is about all wars … And I feel that this is really important work, and I feel that the work that we put into it reflects that. And it's not just me, it's everybody – you couldn't not do it."
Lynn admits though that she never dreamt the project would become as big as it did. Over the past five years, more than 50,000 volunteers – from kindergarten children to centenarians – have lovingly created more than 300,000 poppies to honour those who have served and died in war. Each poppy is as unique as the story behind it and the person who made it.
"For some people it's important for them to tell their stories as they hand over their poppies, and for others, they just hand over their poppies, their stories are very personal," Lynn said.
"When we open the mail, if there's something particularly poignant, that somebody has written, somebody will read it out and the group will stop and listen to it … And in many ways that keeps us connected with the reality of what we are doing and the importance of what we are doing, so I think that that 'connectiveness' has been really important – our connectedness to one another, and our connectedness with the project."
She remembers typing the dedications that people had written and posting them on the 5,000 Poppies website as the poppies, and the stories behind them, flowed in. 
"Some nights you'd be sitting there with tears streaming down your face, but you wouldn't not do it," she said. "It's exceedingly important, and I'm proud of what we've done, and feel really privileged to have been able to do it …
"All this work you see going on around us, every single one of these people has a reason for being here – their story is their story – but I still see this whole project about my father, Margie sees it about her father, [another volunteer] Kate sees it about her family's military history … so we all do it for our own reasons, and then we come together as a community, and do it as a whole. It's massive and it's beautiful … [but] I think [my father] would be quite bemused by what we've done…
"For me, this project was always about my dad's service. He would wonder what all the fuss was about, and he'd look at it and say, 'That's lovely, love,' and he would be chuffed on the inside, but he wasn't an overly demonstrative man, so he would kind of go, 'Oh, what a fuss really.' He would. But it is such a lovely fuss…
"Marg said it was going to be bigger than Ben Hur, but I'm not sorry … It's been amazing, and it's been a real labour of love – it's been a labour of love for all of us."
The 62,000 Poppies display will be open from 9am to 10pm daily from October 5 to November 11 as part of the Memorial's five-week Honour Their Spirit commemorative program marking the centenary of the Armistice.