Tourist souvenirs - Crested China and the First World War
Most people like to bring home a souvenir from their travels and soldiers in the First World War were no exceptions. The First World War led to great movements of people across the world, but especially through Europe. Many of these people ended up in Great Britain at one time or another. Despite difficulties in wartime, British companies still managed to produce a myriad of souvenirs for the visitors as reminders of their time in Britain, or as a gift for a loved one.
One type of souvenir that was popular during the war was military themed crested china. Crested china gained popularity during the Victorian era. As the railways provided affordable and convenient travel for the middle classes, they wanted to bring home a souvenir of where they had been. Before the First World War companies (the most famous and the original being Goss crested china) made collectibles such as vases, famous houses and public buildings, cars and replicas of visitor attractions.
These collectibles were generally white, often with gilded edges or highlights. Each item was decorated with the coat of arms from a village, town or city.
The advantage for the companies was there were many ways these items could be collected and so many opportunities to sell souvenirs. A person could purchase a variety of ceramics all with the same coat of arms, or could select a subject - such as cats - and collect just those.
The increased numbers of men and women travelling through or in Britain, for training or leave, led to the companies developing military themed crested china. Different figures were popular, such as nurses, sailors and soldiers.

Examples of the latest technologies, such as tanks, and different types of armoured cars were a popular souvenir, as were ambulances and dirigibles (air ships, such as Zeppelins).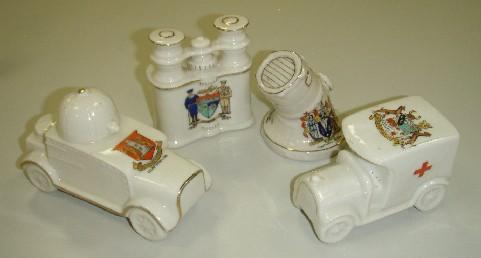 Crested china could also be used as propaganda. Figures were produced of Edith Cavell, the famous British nurse executed by the Germans after she helped Allied soldiers escape occupied Belgium. Her image was used extensively through the war as a rallying cry for men to enlist. After its sinking in 1915, crested china models of RMS Lusitania were produced. Again the Lusitania was a powerful propaganda tool, used to encourage support for the war effort in countries already at war, as well as to try and convince America to enter the war.