The story of William Charles Westbury Aboriginal Soldier, The Boer War and First World War
William was born in Mount Gambier, South Australia, in 1878. He was one of three children with his siblings John James A.I.F. 2206 and Sarah also in the family of James Westbury and Ellen Baker, with Ellen being of the local Boandik people. Ellen was the cook and lived at Benara Creek part of Schanck outstation, near Lake Bonney West of Kongorong SA. The family moved often between Beachport and Port MacDonnell, following work and visiting family. It was however Boandik coastal country that the family called home and where many of William's family still live today.
William attended MacDonnell Bay School. He enjoyed his school days but the outdoors was where his heart was. He won several prestigious foot races prior to and after his service.  He was strongly built and a good athlete, his complexion was listed as Grey, Eyes Brown with Hair Grey; he had a scar on his left shin, and perfect vision in both eyes.  Like many of his family was a skilled horseman and these skills enabled him to be widely known and respected as a reliable stockman and labourer throughout the district.
William was working as labourer in Pinnaroo prior to enlisting there 1914. This was to follow on from his service in the Boer war. He was very proud to be serving his country as an Australian soldier and as an Aboriginal man. During his attestation, he listed 1 years' experience with the Lameroo Rifle Club and 18 months in the 5th and 6th South Australian Imperial Bushman, William's Boer war unit.
He enlisted in the AIF on 25th August 1914 and after his initial training, he was posted to the 10th Infantry Battalion, A Company. The 10th Battalion was among the first infantry units raised for the AIF during the First World War. The battalion was recruited in South Australia, and together with the 9th, 11th and 12th Battalions, formed the 3rd Brigade.
He embarked from Fremantle on 25 October 1914 aboard the HMAT Ascanius.
Near Pinnaroo, he had been working as a labourer for M. J. O'Loughlan, who gave William a young kangaroo as a parting gift which sailed with the troops and was a welcome distraction for the men.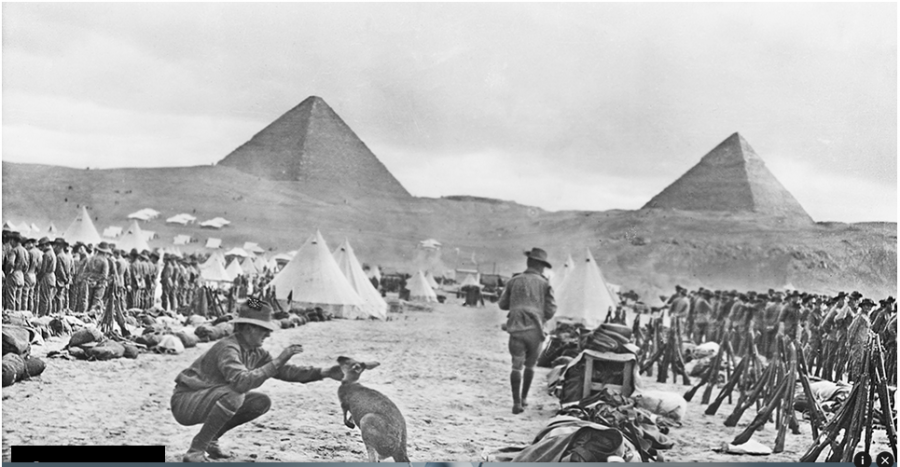 HMAT Ascanius arrived at the port of Suez in Egypt in December that year. After a brief stint in the Moascar isolation camp, William's battalion underwent further training in Egypt in preparation to take part in the first wave of the landing at Gallipoli.  On Christmas Day during Church Parade at Mena Camp each man received a brass tin containing chocolates and cigarettes from Princess Mary. He embarked to join the Mediterranean Expeditionary Forces on the 2nd March 1915 aboard the Ionian. The 3rd Brigade was the covering force for the ANZAC landing on 25 April 1915 and so was the first ashore at around 4:30 am. The 10th Battalion was heavily involved in establishing and defending the front line of the ANZAC position, and the 10th Battalion continued to serve at Gallipoli until the evacuation in December 1915.
William survived the chaos of the initial landing and was promoted to Corporal on the 28th April 1915. William's unit was heavily involved in numerous actions during the first month of the campaign. He unfortunately was wounded in action on the 9th May 1915 with a gunshot wound to the left ankle and he was eventually evacuated to the Harefield Auxiliary Hospital in England on the 8th June 1915 and returned to duty on the 30th June.
Members of the 10th Battalion waiting to embark on the transport ship Ionian for the Gallipoli Peninsula
William's active service in Dardanelles as with many others suffered with the harsh conditions, he was diagnosed with gastro-enteritis on five occasions and dysentery on two occasions, this cycle continued until the Australian withdrawal from Gallipoli in December 1915.
Following the evacuation from Gallipoli, as part of the reorganisation and expansion of the AIF, the 10th Battalion was split and Westbury became part of the newly-formed 50th Australian Infantry Battalion. After training in Alexandria, the battalion boarded the troopship Arcadian, arriving in Marseilles on 11 June 1916. The 50th Battalion fought in its first major battle at Mouquet Farm between 13 and 15 August, suffering heavy casualties. It later took part in another assault launched there on 3 September.
The battalion saw out the rest of the year alternating between front-line duty, and training and labouring behind the line. Westbury, however, was transferred to the 13th Infantry Training Battalion on 29 October 1916, returning to England on 6 November 1916. After taking some much needed leave in London, he was promoted to lance sergeant and assigned to 10th Infantry Training Battalion in Codford.
Westbury was a sociable person who got on well with others, which was the likely reason that he was only mildly reprimanded for the misdemeanours of returning late from leave, and leaving his equipment and rifle unattended at Salisbury train station.
Afflicted by rheumatism, Westbury was returned to Australia on 10 May 1917 for home service and was discharged as being medically unfit with good conduct on 27 August 1917. He was awarded the 1914/15 Star, the British Service Medal, and the Victory Medal.
Returning home, William Westbury reunited with his family, who welcomed him back to Port MacDonnell.  He was particularly keen to see his sister, Sarah Jones, her husband, Francis, and their newly-adopted five-year-old son, William Charles Jones.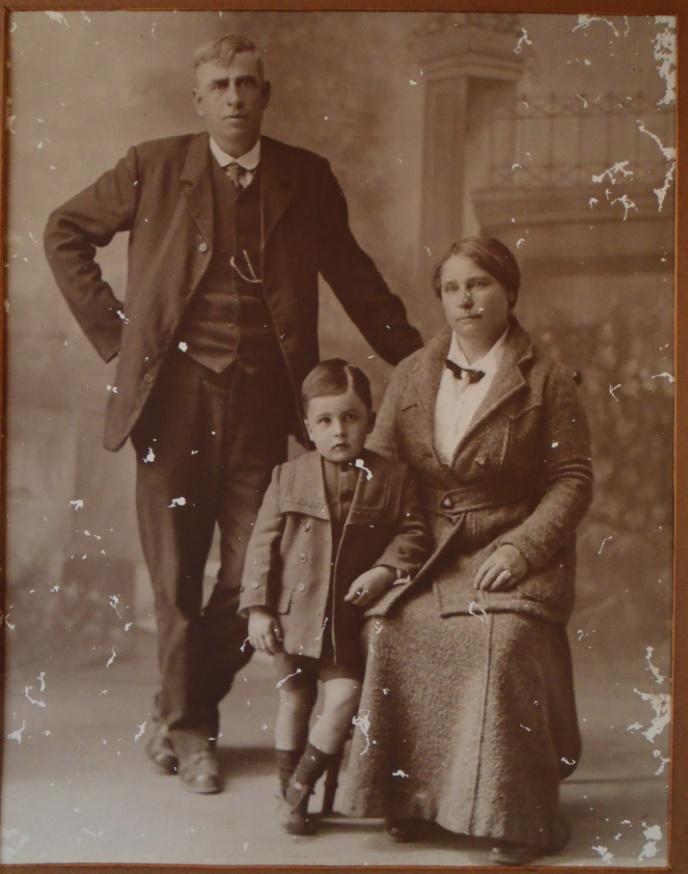 Westbury would take young William out rabbit trapping, fishing, and shooting along the coast and lakes. Westbury reacclimatised to civilian life, finding employment on building jobs and engaged in net fishing, cave guiding, potato digging, supervising work on the Heywood railway, and using his innate abilities and local knowledge to make the most of regular hunting trips.
Westbury joined the Returned Sailors and Soldiers Imperial League of Australia (RSSILA) and his RSSILA badge was among his prized possessions. He would often tell stories of his experiences – of snipers, trenches and suffering – and be grateful to be safe at home.
Many years later, in the 1960s, Westbury's grandson, Ken Jones, found his grandfather's favourite rabbit setter hoe. Well-worn and rusty, with the handle completely rotted away, it had been unearthed from the surface of one of the family's best known and most reliable rabbit warrens. The setter has since been rebuilt with a new handle and is used to this day, along with Willy's battered slouch hat and army-issue pocket knife.
Westbury's ongoing health issues – lumbago, rheumatism, and other war-related ailments – were taking their toll. After suffering through the cold, wet winters of the drizzly south-east coast of South Australia, Westbury realised that relocation to a warmer climate was required. His friend Mr Lock, the publican at Pinnaroo, helped him with short term accommodation and job recommendations, and he finally ventured back inland to the warmer Mallee sands.
Westbury again found work in Pinnaroo, where he was well-known and respected by the townsfolk, and was reunited with some of his old war mates. He picked up work on the railways, digging potatoes, and rabbit trapping. With the change of climate his health improved to the extent that he re-joined the football and cricket teams and even had a few wins in the boxing ring. He often left for the coast during summer in order to avoid the extreme heat, heading to the sea to "scruff a butt of crays", pick a bucket of mussels and periwinkles, dragnet a feed of mullet, and visit Sarah's family on the farm.
Newspaper articles at the time mention him sorting out punch ups near the local pub around 6 o'clock closing time. In February and March 1919, Westbury entered a 3 and half mile running race, which he won in the scorching Mallee heat, and was presented with gold medals for each of his victories. This incredible recovery of health, despite bayonet and bullet wounds and associated aches and pains, (not to mention that he was missing three toes), is testament to his tenacity and resilience.
In 2015 a Pinnaroo charity event was held that recreated the 1919 races, and Westbury's grandson, Ken, and granddaughter, Heather and Great Grandson's Flint and Lincoln, were honorary guests of the Pinnaroo community. The family participated and Ken presented the prizes to the winner of the men's race. Willy's original gold medals were proudly worn by Ken and his two young sons, who also took part in the race.
But an old war injury finally caught up with Westbury, who endured the agonies of a varicose ulcer on his left leg. Tetanus was the final straw, and on 20 February 1936 he died at the age of 58. He was buried at Pinnaroo, mourned by family and friends of Port MacDonnell.
"The deceased was resident in this district for very many years and his kindly and unassuming nature appealed to all of those whom he came in contact with.  He was prominently associated with most of the sporting bodies of the district as one of the keenest and best playing members of the old original Pinnaroo Football Club." Extract from obituary published 24 April 1936, Pinnaroo and Border Times.
Westbury's descendants still regularly visit his graveside, are grateful for the well-kept condition of his marble headstone. When they meet to pass on their appreciation to the Pinnaroo community – who continue to remember and care for Willy's resting place – reminiscences, stories, generational connection, and naturally a few tears are shared in memory of their love and respect for a brave man.
About the author:
Written by Michael Bell, in consultation with Ken Jones, grandson of William Charles Westbury.
Michael Bell is Ngunnawal/Gomeroi man and is the Indigenous Liaison Officer with the Australian War Memorial, he is trying to identify and research the extent of the contribution and service of any person of Aboriginal and Torres Strait Islander descent that has served, or is currently serving or has any military experience and or contributed to the war effort.  
He would like to get further details of the military history of all of these people and their families.
Michael can be contacted on Michael.Bell@awm.gov.au