1918: Friends and Foe - Australian Soldiers' Relations with the French
In France in 1918, Australian soldiers had many opportunities to mix with French troops as well as civilians, and despite language barriers, great friendships were often formed. Many legends abound of French people preparing to evacuate their towns, but upon seeing Australian soldiers coming into the area, calling off the evacuation! One such story was told by Gunner J.R. Armitage:
Strictly no civilian was allowed within 12 miles of the front line but, in spite of this, one old peasant and his middle-aged daughter continued to live and work their fields near our waggon lines. I was talking to our brigade interpreter, a Frenchman, one evening as we passed them. The interpreter stopped them and started yarning. He questioned him about being allowed to stay so close to the line and was he not afraid of being overrun by the Germans? He replied that everyone knew he was an honest and loyal Frenchman and there was no need to worry about the Germans getting through with Australian infantry in front of him ... "I know in my heart they will never cross this ground again. I know because a German Uhlan officer who billeted himself and his men on us told me laughingly that two battalions of Australian infantry were then marching through Amiens to drive back the whole German Imperial Army! We buried him that afternoon with several of his men while the Germans were being driven back through Villers-Bretonneux."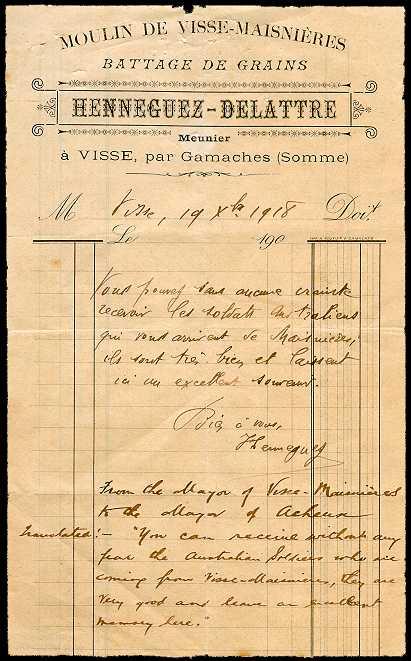 The text, translated into English, reads:
"You can receive without any fear the Australian Soldiers who are coming from Visse-Maisniers, they are very good and leave an excellent memory here."
Although these stories are no doubt exaggerated, there is much evidence that there was a great mutual respect and friendship between the Australians and the French. When Pte Armitage and some friends contracted the flu after the war while still in France, they were nursed back to health
by the old old woman who owned our billet and who was so good to us. She dosed us on herbs she collected from the countryside and we made a remarkable recovery.
Many Australian soldiers took leave in Paris and other parts of the country, and were always welcomed and treated very hospitably, often by people whose homes had been destroyed and had little themselves. Many soldiers remembered enjoying pleasant nights in "estaminets"- small caf/bars in French towns and villages.
In 1918, Australian and French troops often took part in operations together. Their working relationship seemed very harmonious.
For example, in February 1919, an Australian officer, Lieutenant Biphos, was awarded the "Croix de Chevalier de la Lgion d'honneur" by the French army, for services rendered when the two nations fought together. He was made an Honorary Corporal of the 6th Battalion of Alpine Chasseurs.
DIVISION
The friends are wrangling where the ways divide;
One eastwards turns- and swift the other cries:
"Not there! This way our path, together, lies."
"Not so." The first gives back, "Behold my pride!
I follow not." Thus each denies a friend;
While in their stubborn hearts they know
Both roads wind onward to a common end;
For fate had willed it so ...

The little fields of England and of France,
Fill with a moving mist of idle dreams;
And sly Suspicion wanders, weaving schemes
For listening Pride and watchful Arrogance;
Yet such are only shadows in the mind
Of Man, whose errors may not part
The magic spell, the scarlet threads that bind
French heart and British heart.

They wrangle and they fret: But there's a flare
Of scarlet poppies on a quiet hill
Where crosses mark the heritage we share,
Of France and England, still.

Henry Weston Pryce, 1918.