Australians in France: 1918 - Friends and Foe - Australian soldiers' relations with their superiors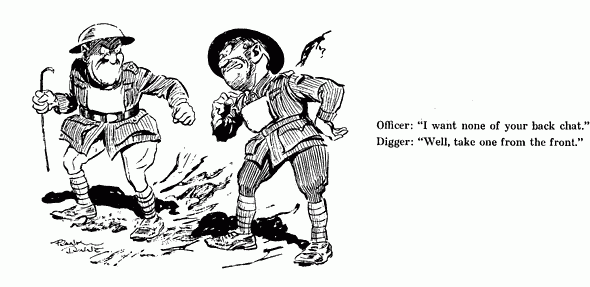 Human life is the least prized of all things in a war of this magnitude, the masses manure the soil of a foreign land, and the Military heads get D.S.O.'s, V.C.'s, and the other rewards, never honestly won, while never once risking their precious skins.
- Letter, A.H. McKibbin, 15 October 1918.
Australian troops, while known for their skill and spirit on the battlefields, also gained the reputation for not always being deferential to their superiors - whether Australian or another nationality. Much of their dissatisfaction was due to the harsh living conditions they endured on the front lines, while higher ranks often had more comfortable surroundings:
One loaf between four and no porridge ... Would like to feel as happy as the Sgt Major
- Diary entry, Private A. Golding, 10 September 1918.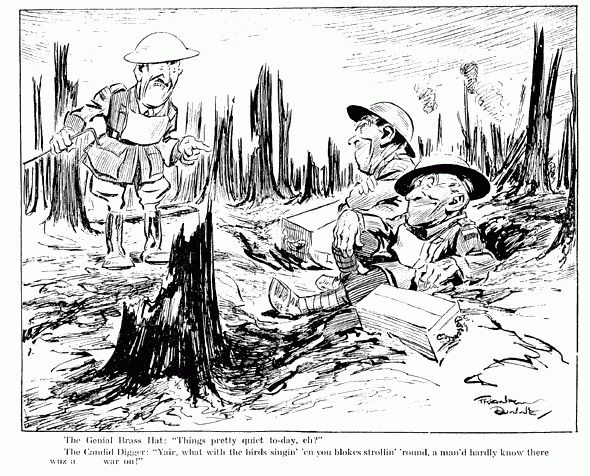 Caption Reads:
The Genial Brass Hat: Things pretty quiet today, eh?
The Candid Digger: Yair, what with the birds singin' 'en you blokes strollin' 'round, a man'd hardly know there wuz a ____ war on!"
Many lost faith in the high commands that led thousands to their death:
I am fed up ... With our dopes of Officers they are the biggest curs ... Some of them they get decorations by getting men killed for nothing ... little wonder the men go mad at times.
- Letter, Private Ronald Simpson, 29 July 1918.
Mistakes were often made when orders were mixed up:
He asked what the hell was I doing there? When I told him he let off steam and told me John Roxburgh had already been sent up as guide for the guns. So, after exchanging mutual opinions on the ruling powers, I made for the road, jumping a passing limber and made for home.
- Diary entry, Gunner J.R. Armitage, late July 1918.
Sometimes loyalty to each other overrode loyalty to superiors or their orders:
I made a couple of trips to the guns in daylight with Tommy Hannar (M.M.), "the water-cart king". Tommy refused medals twice and was finally ordered to take one ... On one of our trips we were stopped outside Bray by a military police patrol who said "You can't go past here with that thing, it is not safe." I inwardly agreed but Tommy just quietly told those police where they could go, nudged on his two donks "This and That" and went on his way. He said "the boys gotter have water."
- Diary entry, Gunner J.R. Armitage, 23 August 1918.
The Australian troops were often led by British officers, and the cultural clash that occurred did not always make for smooth relations.
The following poem illustrates that Australian soldiers had some ill feeling for Australian officers as well- especially those of Horseferry Road in London- the AIF headquarters:
BLANK FIRE
I landed in London and straight away rode
Direct to Headquarters in Horseferry Road;
A bucksheesh Lance Corporal said, "Pardon me, please,
You have dust on your tunic and dirt on your knees,
You look such a sight that people will laugh,
Said the cold-footed --- of Horseferry Staff.

"Your hat should be turned up at the side like mine
Your boots, I might state, are in want of a shine,
Your puttees are falling away from your calf;
Said the cold-footed --- of Horseferry Staff.

The soldier gave him a murderous glance,
"Remember I'm just home from the trenches in France,
Where shrapnel is flying and comforts are few,
Where the soldiers are dying for --- like you.

"You bully the soldier you meet in the street,
And tell them you suffer from frost-bitten feet,
While your mates in the trenches fight on behalf
Of you cold-footed --- of Horseferry Staff.

"You speak to a soldier you cold-footed cur.
What of your Mother, did it ever strike her,
That her son was a waster and afraid of a strafe,
Who hangs on to his job at Horseferry Staff."
- Lieutenant W. T. Barnes
It would not be unusual for lower ranks to be critical of their superiors, and to express feelings of resentment. However, there are also many examples of Australians soldiers praising their superiors, being wholly loyal to them, and committing themselves to their given commands.