1918: Final Victory and Armistice
Through October 1918, Allied troops advanced quickly through a sequence of successful offensives, and threatened the last German line of retreat. In the first week of November, the British broke through German lines between the Schelde and the Sambre, taking 20,000 prisoners and 450 guns. Having suffered a series of setbacks and defeats, the German forces finally collapsed and agreed to an armistice.
The Armistice
SILENCE FALLS
The echoes die, the smoke-clouds thin and pass,
The cannons are, like statues, dumb and cold:
Silent the crosses wait, and in the grass
The spent shells gleam like gold.

All spent he lay and dreamed till the moment came:
Now, waking with a cry, he looks, all wonder
To see the empty sky hurl down no flame:
To hear no crack of thunder.
- Henry Weston Pryce, 11 November 1918.

Henry Weston Pryce, 11 November 1918.
Germany signed armistice no more shooting.

Diary entry, Sapper Harold Grant, 11 November 1918.
At 11 am on 11 November 1918, the armistice, signed by Germany earlier that morning, came into effect, finally signifying the long-awaited end to the war. As soon as the news was known, cities and towns around Australia erupted into celebrations.
However, for those troops still on active duty in France, the cause for celebration was harder to enjoy, as they were still surrounded by the devastation caused by the war and the memories of all they had been through, and of those who would not be returning.
Colonel Percy Dobson wrote:
It was hard to believe the war was over. Everything was just the same, tired troops everywhere and cold drizzly winter weather- just the same as if the war were still on.
Many soldiers wrote of a sense of numbness. It took several days for the implications of the armistice to sink in, to believe fully that this war was over, and that they had survived, and would soon be returning home to Australia.
Cablegram notifying the Australian Governor-General of the signing of the Armistice with Germany in November, 1918. AWMEXDOC60 Text reads:
"Governor General Melbourne
Most urgent armistice signed 5 AM this morning
Long"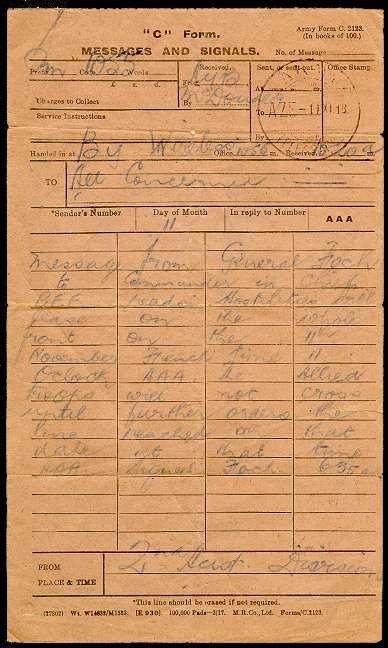 Wireless signal (PDF) sent by 2nd Australian Division regarding the ceasefire 1918 AWM EXDOC 176 Text reads: "Message from General Foch to Commander in Chief BEF reads Hostilities will cease on the whole front on the 11th November French Time 11 Oclock AAA. The Allied troops will not cross until further orders the line reached on that date at that time AAA. Signed Foch 6.35 am"