Australia under attack 1942-1943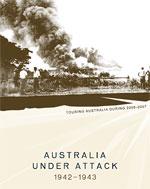 Australia under Attack 1942-1943 illustrates the nature of life in wartime Australia as the nation came together for the war effort. It tells how ordinary Australians coped as everyday items such as food, clothing and fuel became scarce, rationing was introduced and Australians were encouraged to conserve, reuse and recycle.
The exhibition also deals with the frightening episodes in which Australians endured air and sea attacks. Those who lived through the attacks still recall the harrowing sights and sounds as the Japanese attacked. The exhibition outlines the breadth, magnitude and location of these attacks and puts the attacks into a context that younger Australians can understand.
Online Exhibition
An online exhibition has been developed to compliment the exhibition.
Australia under attack 1942-1943

| Gallery | City | State | Start | Finish |
| --- | --- | --- | --- | --- |
| The Workshops Rail Museum | Ipswich | QLD | 03 June 2005 | 28 August 2005 |
| Museum of Tropical Queensland | Townsville | QLD | 14 October 2005 | 26 February 2006 |
| Australian National Maritime Museum | Sydney | NSW | 17 March 2006 | 11 June 2006 |
| South Australian Maritime Museum | Port Adelaide | SA | 30 June 2006 | 15 October 2006 |
| Western Australian Museum Maritime | Fremantle | WA | 01 December 2006 | 28 January 2007 |
| Museum and Gallery of the Northern Territory | Darwin | NT | 16 February 2007 | 08 July 2007 |