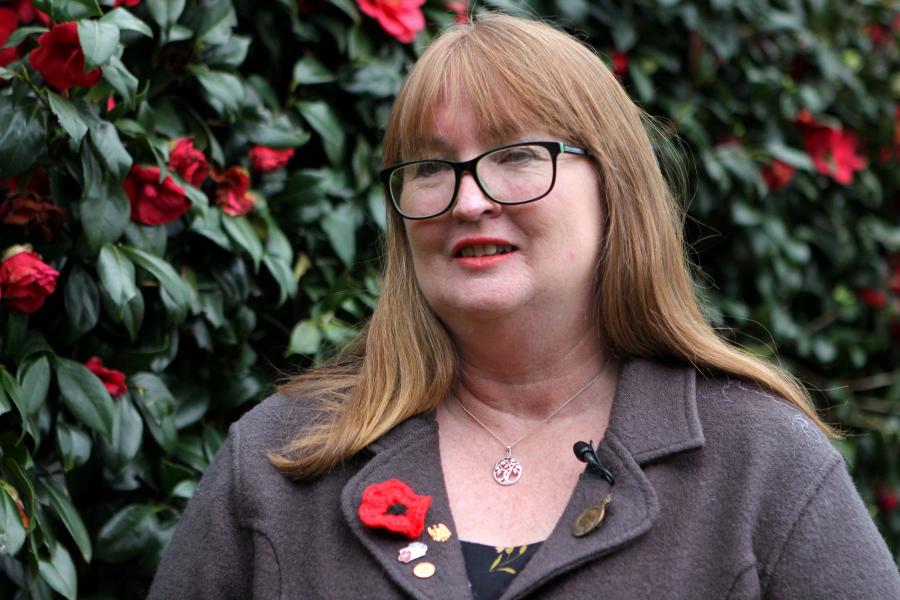 Debra Lewis has spent many afternoons typing at her computer with tears in her eyes and a tissue box close at hand. 
She is one of 50,000 volunteers from around the world who have been lovingly knitting and crocheting poppies as part of the 5,000 Poppies project, and has dedicated countless hours of her time to recording the stories and dedications behind them.
Her good friend Lynn Berry started the project with Margaret Knight in 2012 as a small personal tribute of 120 poppies for Remembrance Day to commemorate their fathers' service during the Second World War.
Their handcrafted poppies soon captured the public imagination and grew into a world-wide community tribute of respect and remembrance, culminating in a moving display of 62,000 poppies at the Australian War Memorial with each poppy symbolising an Australian life lost during the First World War.
More than 4,000 square metres of the Memorial grounds have now been transformed into a field of red, as part of the Memorial's five-week commemorative program for Remembrance Day 2018 to mark the centenary of the Armistice that ended of the First World War.
"When Lynn decided to tell us about her poppy project, we all thought she was mad," Debra said with a laugh. "We told her that she was stupid, we told her that she was crazy, and we told her that she'd never get 5,000, but I came on board … because she was an old friend of mine. I had the privilege to start opening the mail as it came in, and it wasn't one parcel, it was 10, it was 20, it was hundreds. I've been a part of it ever since."
Debra admits she has made "quite a few poppies over the last five to six years" and says that it has been a privilege to be involved in the project. It has taken her from the Shrine of Remembrance in Melbourne to the battlefield of Fromelles in northern France, and now to the Australian War Memorial in Canberra. And she wouldn't have it any other way.
"If she calls me, I'm there," Debra said simply. "I've been commemorating and remembering ever since I was small. I think I went to my first Melbourne Dawn Service when I was three years old, and I go every year now to the dawn service. I take my two sons, and they take their girlfriends, and we get up at five o'clock in the morning and we take the same little trip into the Shrine each year … so it's very, very important to me."
Her grandfather, William Irving, enlisted with the Australians during the First World War and her father, Robert Irving, served during the Second World War.
"Sadly, grandfather never spoke about it," she said. "Like most of them, they kept it to themselves. They didn't talk about what they did. They just got on with life."
Her grandfather enlisted in 1916 and was later wounded on the Western Front in northern France.
"He'd just turned 18," Debra said. "His mother actually wrote a letter saying, 'We do not want him to leave Australia until he's 19,' but grandpa actually left Australia at the age of 18 and six months.
"This was 1917 … so he was in the section where the bloody fighting really started with the heavy mud and everything else. He was on the front line for a month before he was shot in the thigh. He then spent the next three to four weeks convalescing, and then he went back to the front and was gassed. Luckily enough, he came back, but he never spoke about what he did."
Today, she proudly wears his returned soldier's badge in his honour.
"My father was a bit of a different story," she said. "He was very proud when he signed up at 18. He gave the wrong age, like a lot of them did, and I was from a generation where I was very proud to wear his medals for Anzac Day at school. He served in New Guinea, and was stationed at New Britain, serving at Lae, Milne Bay and Rabaul. He was part of the first heavy ack-ack gun and radar installation, and was very proud that he was able to work on something that was very new in the last years of the war."
It was her father who was often uppermost in her thoughts as she lovingly handcrafted her poppies.
"During this time, my dad went into a nursing home, so it was very, very, close to home when I was knitting and crocheting poppies," she said. "It was dad that was on my mind constantly: every poppy, every stitch, every bit of beading, was reminding me of dad."
When her father passed away in 2015, making the poppies helped her deal with her grief.
"It gave me that connection, and I think that's what the project has given to a lot of people," she said. "It's given people the opportunity to start talking about their family in a way they have probably never done before."
For her, the chance to see the grounds of the Memorial, transformed into a field of red poppies in memory of those who died during the First World War, has been particularly moving.
"It's the end of the journey in some way, just like it was for the boys when they came back," she said.
"One hundred years is a long time, and the dedications behind the poppies have been very moving.  They've given people the opportunity to write down how they are feeling, and sometimes what people can say face-to-face is not the same as what they can say when they write it down.
"I have spent many afternoons typing away with tears and the tissue box – the war affected so many families in so many ways, and to read about the suffering is just incredible.
"It's been a privilege for me to have been able to do it."
The 62,000 Poppies display will be open from 9 am to 10 pm daily from now to 11 November as part of the Memorial's five-week Honour their Spirit commemorative program marking the centenary of the Armistice on Remembrance Day 2018.
Read the story behind the 5,000 Poppies project.