'There was no colour bar, no animosity between us … We were all brothers'
Graham Taylor was 19 years old when his platoon was attacked in Vietnam.
"All of a sudden they were firing at us, and we went to ground," he said.
"And then we heard these mortars. We could hear them coming out of their tubes, like a pop …
"And then, 'bang,' they were landing all around us.
"I saw a lot of my friends getting wounded … through the arms, through the back, across the buttocks … everywhere, even through the wrists, with shrapnel and bullet wounds. 
"Out of the 24 men in our platoon, 16 got wounded … thankfully they all survived.
"Only eight blokes didn't get injured, and I was lucky to be one of them …
"It was [terrifying] at the time, you know, with the bullets and the shrapnel …  
"I was just lying there with my head buried for a little while, saying, 'Oh, goodness me, this is it.' But luckily I survived, and I patched up half a dozen or more of our soldiers …
"Years after, I'm still in touch with them.
"They said, 'Oh, you saved my life … I've been trying to put you in for a medal and everything, but nothing has happened yet,' and I said, 'Oh, well, I don't really care about all that; as long as the blokes in my platoon survived."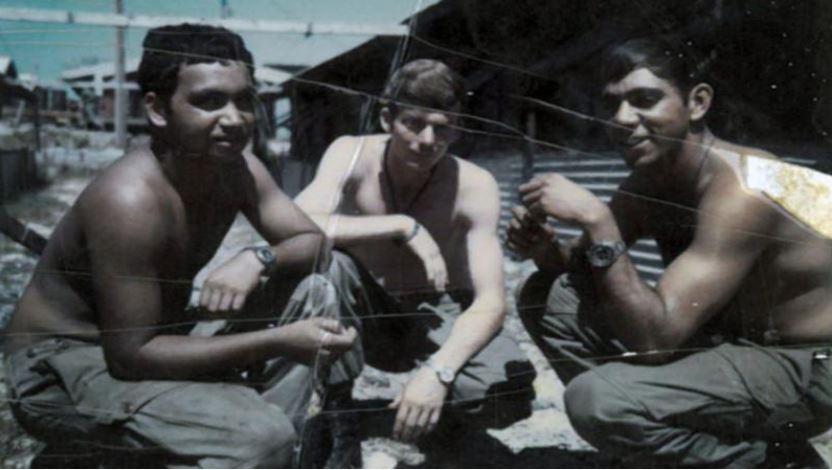 A proud Budimaya-Amangu and Yamaji Elder, Graham is one of more than 250 Indigenous Australians who served during the Vietnam War.
The second eldest of eight children, he was born in Three Springs in the mid-west region of Western Australia in 1952.
He remembers a happy childhood, growing up in Coorow and the Waddy Forest area, living in a tiny four-room house on the farm where his father worked.
After attending agricultural school at the Pallottine Mission at Tardun in 1969, Graham and his cousin, Gary Morrison Taylor, decided to join the army.
"We didn't know what we were going to do for the rest of our life," he said.
"We thought we'd probably go back and be a shearer like our fathers or work on the farm.
"But I didn't want to be a shearer or work on the farm; I wanted to do something different.
"We just thought, 'Oh, we'd like to see the rest of Australia too,' and then he said, 'What about the army?' So we signed up.
"We were just fresh from leaving school, and that was the only way we were going to see the other side of Australia.
"I didn't even think about why. I was just ready for the big adventures."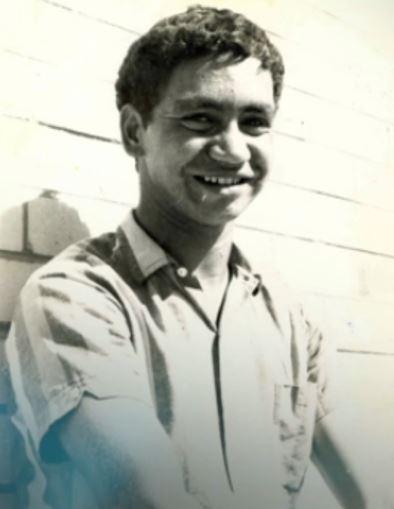 Graham travelled to Perth to join the army and was sent to Kapooka for recruit training in early 1970.
"I was just 17, so I was still a teenager, and I spent about two or three months in Kapooka," he said.
"There was an army truck driver. He was about six-foot-six, built like a brick toilet, and he said, 'Oh, you're a little n***** boy.'
"I just looked at him and shrugged my shoulders and the other blokes just more or less laughed sort of thing."
Shocked, Graham didn't know what to do.
Thankfully, he never experienced such blatant racism in the military again.
"The boys in our platoon all came from various backgrounds," he said.
"In our section, we had a couple of Dutch blokes, a couple of white Australians, an Irishman, and two Aboriginals. It was like the United Nations.
"We had all different nationalities, but when we there in Vietnam, we were all the same because we all had the same colour uniform on.
"There was no colour bar, no animosity between us … We were all brothers, from that day until now. And we still are to this day.
"We were all one unit, and we're mates forever."
When Graham enlisted, Australians were still fighting in Vietnam, with 20-year-old men conscripted into National Service through a "birthday ballot" scheme. Birth dates were chosen at random in a lottery-style draw that was broadcast live on national television; if your birthdate was selected, you had to present yourself for full-time service in the army. While Indigenous Australians were exempt, Graham volunteered to fight for his country.
Selected for infantry training, he remembers travelling to Sydney for the first time.
"They said you're going to infantry, and they sent half a dozen of us bokes to Ingleburn for training, and that's where I turned 18," he said.
"I was happy to be over east, especially in a big city like Sydney. I went to Kings Cross, walked across the Sydney Harbour Bridge and went to Luna Park. It was a new experience for me, coming all the way across from the farming area in WA to the big city."
He was serving with the 4th Battalion, Royal Australian Regiment, in Townsville, when the men were told they were going to Vietnam.
"We were excited for the big trip to get there," he said.
"We'd done all our training – jungle warfare and everything. And we just thought, 'Oh well, here we go, we're going to a war.' What will it be like? What's going to happen?"
Four days after his 19th birthday, Graham left for Vietnam, where he saw out the last seven months of Australia's involvement in the Vietnam War.
"You had to be 19 before you could go overseas" he said. "And I turned 19 on the 9th of May, and we left on HMAS Sydney on the 13th.
"We got to our base camp, Nui Dat, and it was then, when we got our rations and our packs and our ammunition and everything, you know, your rifle, and your bullets, getting ready to go out, that's when we realised, gee, you know, we're actually here and it's going to be a full-scale war.
"We just looked at each other, me and my friends, and went, 'Wow, we're at war now.'
"That was in the May and by December we were all back home. We would usually spend a year's tour of duty in Vietnam, but luckily we were brought home early, because anything could have happened in between.
"We used to spend about three to four weeks in the jungle, and we used to get resupplied every week. We could only carry five days of rations with us and when we stocked up and got resupplied, we were like turtles. If we fell over, we couldn't get back up; someone had to come and help us…
"I was being trained to be a forward scout, which is the person up front …
"You're the first person the enemy sees.
"And it was very daunting. You didn't know where the enemy was … and we had to focus right through the jungle and try and see if there was any movement …
"I did come across a brand new bunker system they'd just built. We thought it was full of the enemy, but they must have just built it and left …
"There was a bit of the dirt they'd dug up and there were tree branches around it. I thought this is strange, so I called the section commander up and he nearly had a heart attack.
"I was a forward scout for about three or four months of the tour, and then I was our stretcher bearer.
"I'd done a first aid course before we left for Vietnam, so the platoon commander said, 'Okay, you can carry the medical bag then.'
"I thought, 'Oh, this is better than being upfront; I'll be in the middle.' But the funny thing is I saw more action being in the middle than I ever did being upfront."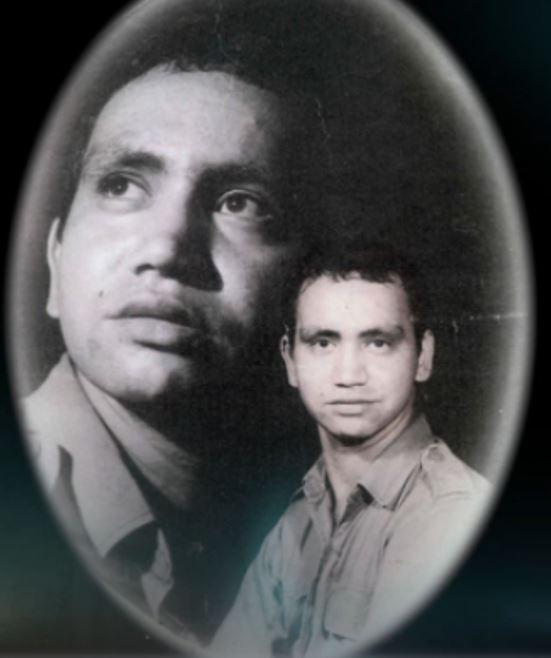 Like many veterans, Graham found coming home difficult.
"When we got to Townsville, we had a bit of a parade, and a few people were there, but not many," he said.
"Then when we flew back to Perth, and it was just like a normal procedure. We just got off the plane and walked through the tarmac.
"No one was there blowing ribbons or whatever for us, and we just walked back into the crowd and went on leave.
"It was very quiet. There were no big celebrations or anything, and no one was at the airport to meet me. I just got a taxi to my brother's place, and they were having a party, celebrating, drinking and everything, and when I walked in, they just said, 'Oh, hey, hello. You're back."
Graham went on to serve in Malaya, before leaving the army and returning to Western Australia. He went on to work for Main Roads in Geraldton and he and his late wife Hazel had two children and four grandchildren.
"When I left the army, some of the blokes said, 'Oh, six years in the army, you'll be back within six months,' and I thought to myself … 'No, I'm going to make a go of it.'"
At 70, Graham continues to work tirelessly for young people and veterans.
He has never missed an Anzac Day service and is committed to recognising Aboriginal servicemen and servicewomen. He is heavily involved with Geraldton Aboriginal Men's Association, the Returned and Services League, Bundiyarra Aboriginal Community Corporation, and is an active volunteer at the Geraldton Streetwork Aboriginal Corporation.
He was instrumental in dedicating a plaque on the RSL's Wall of Remembrance commemorating Aboriginal and Torres Strait Islanders who fought and died for their country, and regularly shares stories with high school students, talking about his childhood, his time in the army, and his pride in being Aboriginal.
In 2015, Graham was named male Elder of the year in recognition of his contribution to the Indigenous community. He was also recognised as Elder of the year in 2008 for his continuous push for the recognition and inclusion of Aboriginal people who have fought in the armed forces, and his mentorship of Indigenous youth.
Like other Indigenous Australians who served during the Vietnam War, Graham does not see his service as being different to that of anyone else.
"I'm proud to wear my medals," he said.
"And I don't regret my time in Vietnam.
"Being a young soldier I thought we were doing our duty for Australia.
"It's good for people to know about the Aboriginal and Torres Strait Islander people [who served] because they didn't shy away from joining the military to fight for this country.
"I'm proud of my service and I'm really proud of the blokes I was in Vietnam with.
"They were my brothers and they are still my brothers.
"We're friends for life."
Graham Taylor is one of more than 250 Aboriginal and Torres Strait Islander soldiers who served during the Vietnam War and are now listed on the Australian War Memorial's Indigenous Service List.  The Memorial's Indigenous Liaison Officer Michael Bell has been working to identify and research the extent of the contribution and service of people of Aboriginal and Torres Strait Islander descent who have served, who are currently serving, or who have any military experience and/or have contributed to the war effort. A proud Ngunnawal/Gomeroi man, he is interested in further details of the military history of all those people and their families. He can be contacted via Michael.Bell@awm.gov.au