'An inspiring example to all'
He was known as "Two Gun Harry" and was awarded the Victoria Cross for his "conspicuous bravery and devotion to duty" during the battle of Hamel a century ago.
But to his son David, Harry Dalziel was the softly-spoken father whom he loved and adored, the quiet and unassuming man who let him take his Victoria Cross to school for show and tell, and the man who twirled the flag at him and his family as he marched by with his mates on Anzac Day.
"He was just a lovely bloke," David said. "He was always smiling, and he loved to talk to people, and that kinds of sums it up actually...
"We always knew he was important because he was always celebrated in places and he always marched in Brisbane on Anzac Day to see his mates, and that was a great catch-up for them, to be with the people who would understand what they all felt like … but he was just a lovely bloke.
"The actual medal was just lying around the house for a long time, and I took it to school for show and tell, and dad came to my school to talk briefly to the children there.
"There were always photographs too … and we got a letter from Queen Elizabeth when she was Princess Elizabeth. So I was always pretty much aware of it, but not like now. Now, it's mind-blowing."
Private Harry Dalziel was serving as a Lewis gun operator with the 15th Battalion in northern France when it was given the task of capturing a position called Pear Trench during the battle of Hamel on 4 July 1918.
With a revolver in each hand, Harry dashed at an enemy machine-gun post, single-handedly capturing the gun and its entire crew. He raced out over open ground under heavy fire three times to secure ammunition boxes even though he'd been severely wounded.
Like many diggers, Harry didn't talk much about his experiences during the war to his family, but he wrote about it later.
 "We were harassed by murderous fire from a nearby enemy stronghold," he wrote. "My gun had cleaned up one nest, but another planted in a different direction opened fire. I dashed at it killing seven Germans with my own revolvers. One German bloodhound wounded me in the hand, but I soon had him on the ground. I lunged at him with my German dagger, catching him right over the heart. His dying cry upset me and I shivered."
Harry was ordered to the rear for medical treatment, but ignored the order and was found in the thick of the fighting when Pear Trench was finally captured.
"Blood was pouring from my wounded hand but I advanced with the others," he wrote. "The poor Huns came up with their hands above their heads calling 'Merci Comrade'. They were handing out watches of different makes, gold and silver leaf wrist watches of beautiful designs. I felt like a war lord with my two revolvers pointing at them and one dagger in my belt. We sent them off with their beautiful watches to the 'moppers up'. This was a grand experience for me and I relished every minute of it. We found Huns dead in all directions, up in trees, under duck boards, in shell holes … everywhere."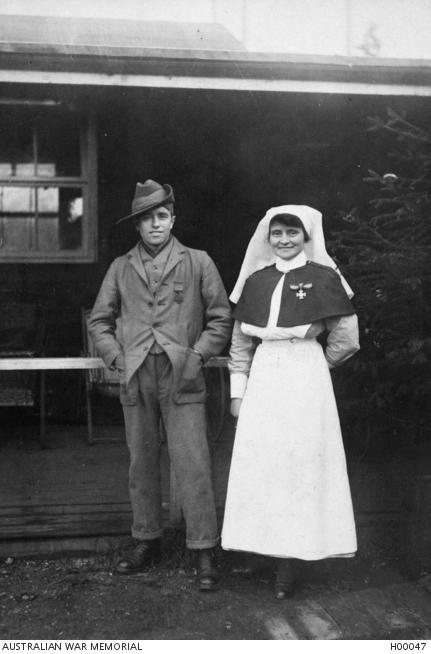 Harry's trigger finger had been badly injured when his hand was wounded in the attack on the machine-gun post, and he was again ordered to the aid post for treatment, but again he refused, going only as far as the ammunition boxes.
"My ammunition ran out, so I had to go and look for more," he wrote. "One machine gun dogged me up, only for my vamoose he would have had me. I noticed when he finished firing, I had two spent bullets stuck in my puttee. A near miss. I had to crawl on my hands and knees over the hill. I had a charmed life and carried on to the ammunition dump. I could see the ammunition in boxes scattered all over the place. The first box I saw I put on my shoulder and made my way back, and then the fun commenced. They were throwing everything at me from the needle to the elephant. One whiz-bang burst behind me. A 5.9 came at me nearly hitting the box.
"I was going to carry on only I fell into a shell hole full of water. I crawled as I have never crawled before, placing my belt around the box of ammunition. I could see my cold blooded machine gun nest near at hand so I pushed on and almost fell over into it. To my consternation I found that I had brought hand grenades instead of ammunition for my little "Tilly" Lewis machine gun …
"I gave the grenades to the troops digging in, and got going again … A few stray shells were lobbing around me but they did not concern me. The Germans might have been clearing out, but to my sorrow they were advancing again, coming on in hoards about five hundred yards away from our objective … I got down to my gun again and this time it was real shooting. All along the line our machine guns rattled and our artillery had them in a quandary…
"After crawling and puffing and dodging shells, and falling into shell holes, I managed to get back with another box of ammunition. I had to change my cocking handle over to the left side because my right hand was getting stiff. My feet were sore and my head ached as if there were two or three heads on my shoulders … The Germans were slacking off a bit but the sniper fire still kept on popping away. They had several pot shots at me so I climbed a little nearer to the ground and hugged my little Lewis gun.
"I started to roll about in pain. I got out of my machine gun nest and scrambled back again … I felt a pain in my head with blood streaming from the left side of my head near the temple. They had hit me at last. My dispatch overseas to Blighty or my last resting place was over."
Harry had been hit in the head by a sniper's bullet which shattered his skull and left part of his brain exposed. His mates thought he was dead, but despite all odds Harry managed to survive.
"He was put on the pile of bodies, but someone noticed that he was still going," David said.
"He was rushed off to a hospital in Rouen in France where the real life-saving work happened … [but] I argue about why he didn't die actually. A mate who was with him [said] the sniper's bullet hit his helmet and the hole in the helmet was as big as a man's fist … The wound was quite big … more than a 50 cent coin in size … and it was always open. When you saw it you could see the brain pulsating underneath the tissue … and my mother had to clean the wound. It never healed because the skull was smashed – the skull was gone – and he always had problems after that. He always had a lot of headaches [and] was lying down with Bex powders and all that … and we had to be careful not to jump on him on the bed or anything, of course … but we did."
Harry was awarded the 1,000th Victoria Cross for his actions that day at Hamel a century ago. "His magnificent bravery and devotion to duty was an inspiring example to all his comrades," the citation read. "And his dash and unselfish courage at a most critical time undoubtedly saved many lives and turned what would have been a serious check into a splendid success."
When King George V presented Harry with the Victoria Cross at Buckingham Palace in December 1918, Harry was said to have been so nervous that he was bowing to everyone he met, including the waiters. But when his mother heard the news back home in Australia, she told reporters simply: "Of course I'm wonderfully proud of my 'soldier boy' as he always described himself in his letters, but never mind the V.C. as long as I get my boy home safe and well."
After the war, his friends called him Two Gun Harry, but he used to say that it should be Four Gun Harry.
"At one stage he said he could have had a gun in each hand as well as [two] in his pockets and the dagger in his belt, but I never knew about that when we were younger," David said.
"Just like the other diggers, he didn't talk [about the war] … but he did say something about how he first used his bayonet on a Turk at Gallipoli and how it shocked him terribly. This hand-to-hand combat I think is what was the most shocking for soldiers. It wasn't a bullet that was at a distance, it was up close, and it must have been awful …
"So we knew he was a Victoria Cross bloke, and we knew that it was highly significant, because when we were quite young someone sort of passed the word around the family that Harry won the war."
Henry 'Harry' Dalziel was born at Ragged Camp near Irvinebank in far north Queensland on 18 February 1893. His parents, James and Eliza, were itinerant prospectors who moved around Australia before settling at 'Carmel Bank', a farm near Atherton, in 1905.
Known to his siblings as 'Lal', Harry was just seven years old when he told to his mother, "I'm going to be a soldier of the Queen when I grow up."
This was during the Second Boer War in South Africa, but Harry never forgot his vow. When the First World War broke out, Harry became a soldier of the King, enlisting in the Australian Imperial Force in January 1915 and sailing overseas with the 15th Battalion. He served on Gallipoli, and was lucky to survive the explosion of an Ottoman artillery shell at Hill 971 in August 1915. Many of his mates were killed, but Harry was later evacuated to England before returning to his battalion during its relief from the Somme in September 1916. He was severely wounded in the arm by shrapnel near Broodseinde in October 1917 and returned to his unit in June 1918, just weeks before the battle of Hamel.
"When there was something to do, like there was at Hamel, he got in and did it," David said.
"He was told to retreat to go back to the aid station after he was injured in his right hand … [but] he kept going. Like a lot of the soldiers, they knew there was a job to be done and they weren't going to be stopped from doing it. They didn't want the Germans to win. That would have been unthinkable."
But even in the thick of battle at Hamel, Harry never lost his compassion.
"A little German boy in tin hat and grey uniform only about 14 or 15 years old came crying to me 'Merci Comrade Merci' out in No Man's Land," he later wrote. "Two burly Yanks came at him with their bayonets fixed. Stop I cried, raising my two empty revolvers. Don't move or I will blow your bloody heads off."
He told them to take the "little German back to the Captain" and "on passing the dressing station, I saw a German soldier with his foot blown away and the two Yanks and the little Fritz conversing together. One of the Yanks came over to me and said, 'This German soldier wants to speak to you.' 'Comrade,' he said to me, 'you have saved my son,' and without any hocks to it, he shook my hand."
It was a moment, Harry would never forget.
After the war, he returned to Australia and married an army nurse named Ida Ramsay in Brisbane. They took up a soldier-settlement block near Atherton in Queensland that they called "Zenith", but Harry's head wound troubled him constantly and he found life hard with his wartime injuries. The couple eventually separated and Ida remained on the farm. Harry moved south, eventually settling in Brisbane to try to find work and be close to the medical care he needed.
During the Depression years, he joined the Citizens Military Force and found some fame as a songwriter. Some of his songs and verses were published in Britain and US, including his favourite 'A Song of the Tableland', about his home in far north Queensland.
"It was such a tear jerker," David said. "That was the place he loved – the Atherton Tablelands – and he wrote it when he wasn't there, and he was unlikely to go back. He went to Brisbane to find work, and because of his injuries he didn't succeed that much, but he certainly had time to write poetry, and it was good stuff … He was an emotional bloke and I think I understand that now."
It was in Brisbane in the mid-1930s that Harry met and fell in love with David's mother, a nurse called Elsie Kanowski, and went on to have three children – David, Ann and Frank.
When the Second World War broke out, Harry volunteered for the militia and was involved in recruiting, training and fundraising drives, but was discharged as medically unfit in 1943.
Not long afterwards, he came to the aid of German dairy farmers Jakob and Christina Mayer. Jakob had fought with the German army in the First World War, and had been placed under house arrest as an enemy alien during the Second World War, but Christina was taken from her three young children and interned at the Gaythorne and Tatura internment camps in northern Victoria.
"The mother was interned because she kept saying too much about her lovely homeland," David said. "They told her not to do that, but she did, and [my father] then used whatever influence he might have had to have the mother returned to her family … That's just what he was like."
Unbeknownst to the Mayer family, Harry had written to Attorney-General Dr Herbert Evatt seeking the mother's release, adding that he would accept personal responsibility for the family's integrity and ongoing loyalty to Australia.
The couple's son Reinhard later wrote of the joy Harry's actions had brought the family. "We were overwhelmed and virtually stood in awe of this unpretentious, quietly spoken man who would have had far more reason to turn away from us. After all, he and my father fought against each other in World War l, yet he was the one who had compassion on us and reached his hand across the barriers of enmity and put his own status and integrity on the line for us. Harry Dalziel really was our Good Samaritan."
In 1949, Harry even posted his Victoria Cross – the medal he had almost died for – to the then Princess Elizabeth as a gift for her son Prince Charles. The future Queen's reply was neatly handwritten on two sheets of Buckingham Palace stationary.
"I was most touched to receive your letter of 1st November and the Victoria Cross which you won on American Independence Day 1918," she wrote. "I know that it must be a very treasured possession, and am deeply grateful for the honour of being offered this Victoria Cross as a gift.
"However, after consulting the King, and after much thought, I do not feel that it is right that I should accept such a present on behalf of my son. I do not wish you to think that I do this through any lack of appreciation, but it is because I feel most strongly that you should retain this mark of the King's, and the Commonwealth's, esteem for supreme valour in battle.
"In returning your Victoria Cross, I do so with profound understanding of the depth of loyalty and affection which prompted your action.
"I am yours sincerely, Elizabeth." 
In 1956, Harry was invited to attend the Victoria Cross centenary celebrations in London, where he met the Queen and other war heroes. He returned to Hamel to place a wreath on the village cenotaph, but it seemed so very different and the passing years had hidden the site of his Victoria Cross action. "The whole place seems covered with greenery – poppies, farms, wheat, all kinds of agriculture," he said later. "It just didn't seem the same place."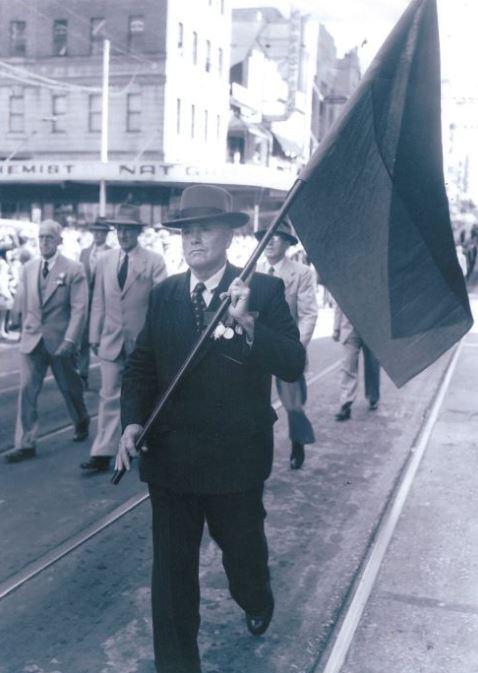 Harry died at Greenslopes Private Hospital in Brisbane on 24 July 1965 at the age of 72 after suffering a stroke. He was given a funeral with full military honours at St John's Anglican Cathedral and the City Hall flags flew at half-mast. On the other side of town, the street sign at Dalziel Street, which was named in his honour, is said to have toppled over during his funeral, residents telling reporters it looked "just like a cross on a soldier's grave".
Today, Harry's son David remains especially proud of his father and has created a website and a companion book in his honour.
"Here was this bloke who was once very young and strong, and athletic, and all that sort of thing, and he did what he did for Australia," David said. "And that's what's driven me to do what I've done ... I would see him getting around the house as an older man ...
"He wore his balaclava a lot with the cold, and was lying down a lot with his headaches. He was even part of the advertising for Bex powders as well, because he used to have Bex powders in this paper thing and you'd open it up and tip it into your mouth and drink some water.
"He used to say [the headaches] were a bit of his legacy … for sticking his head in the way, but he really did get on with things, he really did. Maybe he was boosted by his acceptance of what he did, but I think he was always that sort of bloke.
"Harry was much, much more than an amazing war hero. More than anything, he was a lovely man. He couldn't play football or cricket [with us as children] … but he was an amazing bloke to have as a father."
Harry Dalziel's Victoria Cross is on display in the Hall of Valour at the Australian War Memorial.
To mark the 100th anniversary of the battle of Hamel, visitors can hear how Sir John Monash meticulously planned the battle as part of the free Battle of Hamel virtual reality experience in the BAE Systems Theatre until 22 July 2018.