The Australian War Memorial recently received a 1940s dress on loan from the daughters of Henryka Shaw (née Schermant).  Henryka and her family were living in Krakow, Poland, at the outbreak of the Second World War. Henryka was interned in the Krakow Ghetto because of her Jewish heritage and then survived five concentration camps. At the moment of her liberation from Mauthausen concentration camp, she was gravely ill with typhus. Her clothes had been discarded due to lice infestation and all she had to cover herself with was a bed sheet. This dress is believed to have been made for Henryka by fellow camp inmates in the days after the American liberation of the camp in May 1945. The dress was likely constructed with fabric scrounged from the SS guard barracks.
In preparation for changes to the Australian War Memorial's Holocaust exhibition, our textile conservation laboratory has been carefully preparing Henryka's dress for display.
Textile conservator Stefanie O'Grady described the dress as, "typical 1940s style with a narrow waist, bloused bodice and full skirt. It's highly likely that the dress was made with a reasonable amount of growing room as Henryka would have been very thin at the time."
The waist of the dress is extremely narrow with no opening in the side. Although Henryka would have originally been able to wriggle into the dress, this created challenges for the conservators when designing a display support for the dress, as no conventional display manikin has the same flexibility. Their solution was to construct a display mannequin in two parts, joining at the waist. Shoulder extensions were added to fill out and support the capped sleeves of the dress.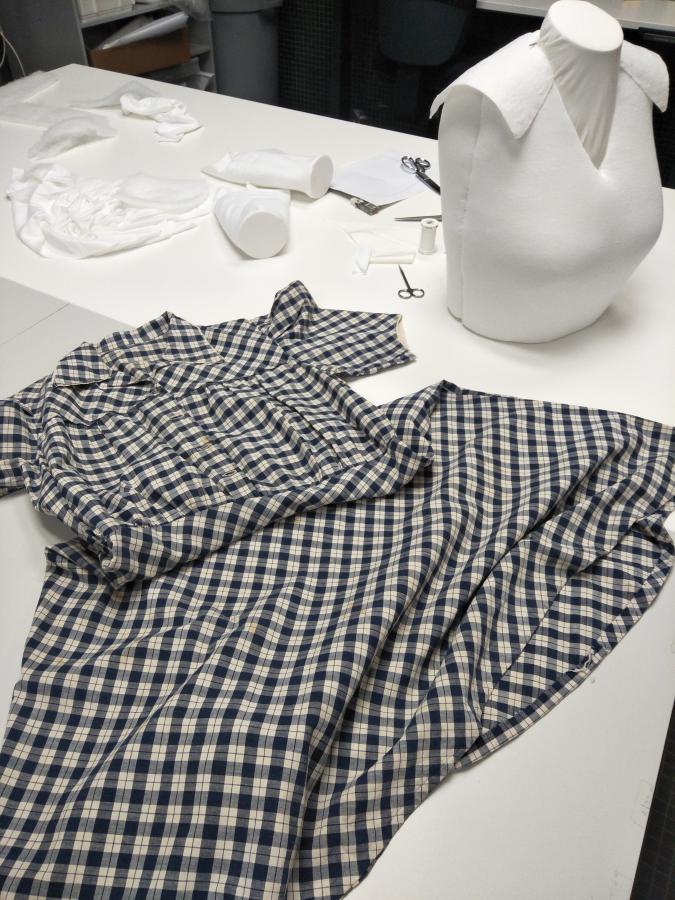 Stefanie described the care and skill used to construct this makeshift dress: "The inside seams show a lovely combination of both hand and machine stitching … and it's possible a number of people were involved in making it.  All of the materials' raw edges have hand-sewn blanket-stitching to stop them fraying: a very slow process."

"The pattern had to be adjusted to fit the size of the re-purposed material they had on hand.  As a result some of the pieces are slightly skewed or off-centre but without being noticeable once constructed. The seamstress made clever use of the fabric available, making the joins in the scraps of fabric invisible by matching the pattern. Even a scrap of the material was saved to make a patch pocket for a detail on the front."
Come to the Australian War Memorial's Holocaust exhibition to see Henryka's dress and learn more about her amazing survival story and emigration to Australia to build a new life.