Highlight on official records of the First World War: AWM38 - Records of Charles E W Bean, Official Historian
Highlight on the official records of the First World War is a centenary program highlighting those records created 100 years ago, why they exist and how we can help make these essential records available for research purposes. 
Function and provenance
Charles Edwin Woodrow Bean (1879-1968) donated his papers to the Australian War Memorial (AWM) over many years. His role as Australia's Official War Correspondent and later Official Historian for the First World War led him to become the driving force in establishing the Australian War Memorial. The first donations of his papers to the Memorial occurred in 1922, with the two major deposits being in 1942 after the completion of volume six of The official history of Australian in the war of 1914-18, and then after his death in 1968.
Many items in this series were created and maintained during the war to record events as they happened. These include Bean's notebooks and diaries, as well as reports and paperwork generated by the Australian Imperial Force (AIF), and other forces. These were used by Bean in his role as war correspondent, reporting events for the Australian public at the time. Bean however, was well aware of the need to collect and maintain records for the post-war task of writing the official history, and as the idea was forming in his mind, the task of building a memorial to the AIF.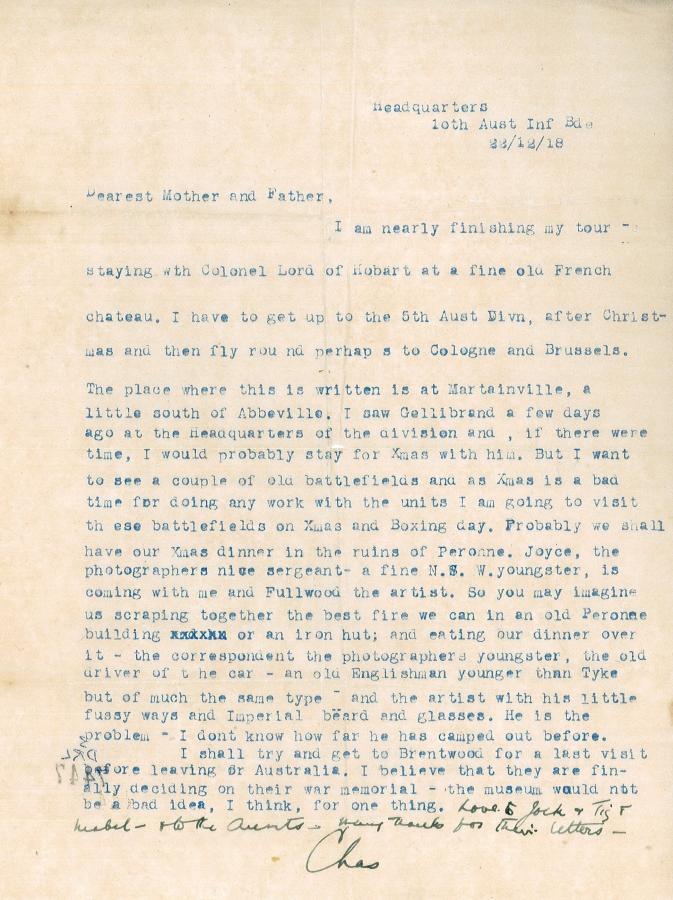 Another significant portion of the records were created back in Australia in writing the Official History. Work began on this project in late 1919 at the Tuggeranong Homestead near Canberra. Bean and his team re-located to Sydney in 1925, and upon the sixth volume being completed in 1942, these papers were deposited with the AWM whose building had been completed just the previous year. These papers include manuscripts for each of the volumes, as well as indexes, financial records and correspondence relating to the writing of the history.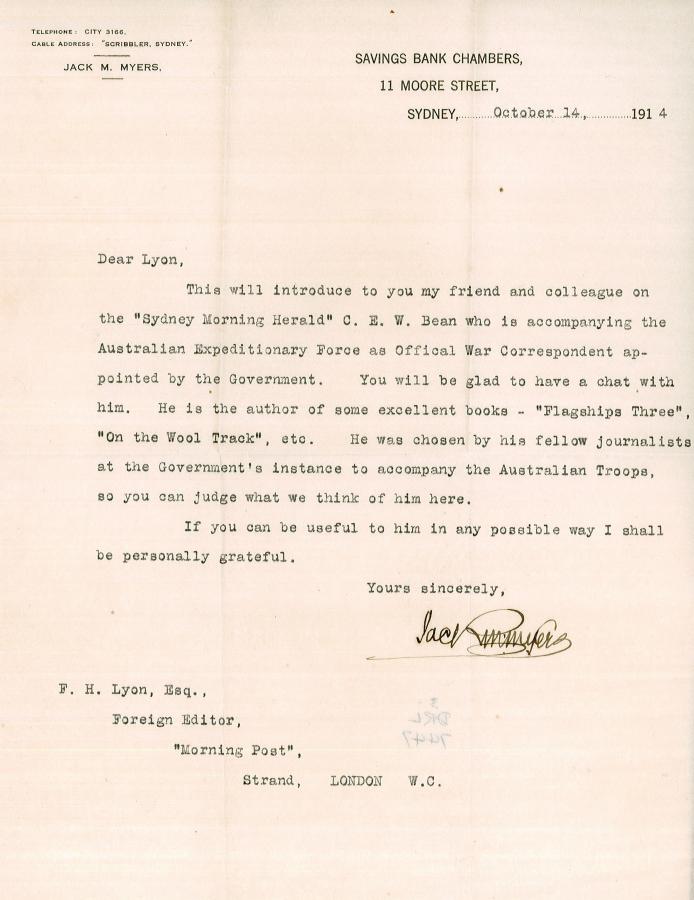 Of interest are papers from later in his life, after the official histories were complete. They include broadcasts, addresses and articles that Bean delivered, however it is noteworthy that these also span the twenty years during the writing of the history.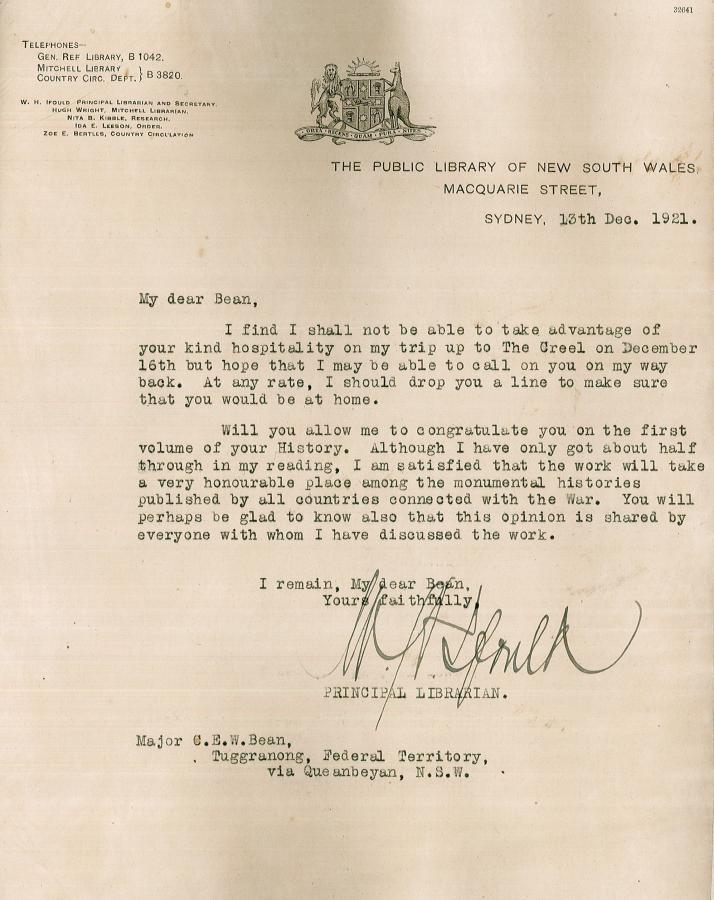 Other items include family and personal papers, and reviews of the Official History. Most of these items came to the AWM in 1968.
Content
The sub-series in AWM38 (2DRL; 3DRL; A-D) relate to Bean's two main posts, that of Official War Correspondent, and later as Official Historian:
DRL number and contents:
2DRL 245: Drafts of broadcasts, addresses and articles 1920-1941
2DRL 445 "
2DRL 449 "
2DRL 475 "
2DRL 482 "
2DRL 627 "
2DRL 669 "
2DRL 767 "
2DRL 872 "
2DRL 1015 "
2DRL 1028 "
2DRL 1183 "
2DRL 1273 "
2DRL 1296: Bean's working copies of The Official History of Australia in the War of 1914-1918 (volumes I and VII only)
3DRL 606: Diaries and notebooks kept during the war (1914-1918) and annotated afterwards; folders compiled whilst writing the Official History (1919-1942). (The originals of these documents have been digitised and can be viewed via the Memorial's website.  A limited number of items also have a typed duplicate which can be viewed in the Memorial's reading room)
3DRL 1722: Extract books (covering operations 1914-1918) and Governor General's cable files
3DRL 2417: Article: 'War Historian's experience with eyewitnesses' (1958)
3DRL 6673: Material donated after Bean's death, including personal, school and family papers, correspondence, manuscripts, typescripts, photographs and printed material relating to the writing of the Official History and Bean's association with the Australian War Memorial 1915-1962
3DRL 7447: Family and personal correspondence, photographs and souvenirs 1836-1959
3DRL 7953: Correspondence and documents related to the writing of the Australian and British official histories, 1921-1941; papers from Australian War Museum Committee meetings, 1919-1938
3DRL 8039: Bean as war correspondent: Commonwealth of Australia Gazette dispatches, press cables and articles, 1914-1918
3DRL 8040: Reviews of the Official History
3DRL 8041: Financial records of the War Histories Trust Fund, 1921-1942
3DRL 8042: Files of source material (letters, maps, statistics etc) used in the writing of the Official History, extension of the folders in 3DRL 606
3DRL 8043: Newscuttings; reviews of the Official History, 1921-1931
Index Cards: Box A1-A16
This is an incomplete card index to most of Bean's diaries (3DRL 606). It was prepared by A W Bazley who worked closely with Bean. It should be used in conjunction with his 'catalogue' (list) of Bean's diaries held as AWM 38 B56/7/1, which indicates the diaries he indexed. Note also AWM38 item A2, and AWM38 B56/7/2 which are lists of the diaries but with differing annotations
B56/1-B56/10 (formerly OW 92/3 56/1-10): Indexes to diaries and lists of donations prepared by C E W Bean
C1-C13 (formerly OW 92/8 [1]-[13]): Typescripts of addresses by C E W Bean
D1-D10 (formerly OW 93/10; 'Bean Study' material): Material donated to the Memorial after Effie Bean's death in 1991, including photographs, souvenirs, and files related to the publishing of the Official Histories
System of arrangement and control
Each donated collection was assigned a DRL (Donated Record List) number as the Memorial accessioned them. Later donations were assigned an OW (Official Written) number which have since been replaced by an alphabetical prefix, e.g. B 56/1
In 1990 the various donations were consolidated and arranged as Official Records Series AWM38 and AWM44 (Official History manuscripts).
The item numbering system was changed in 1995 to conform to a change in the collection database. Item numbers no longer incorporated the word 'Item', nor enclosed any numbers within square brackets. For example an item number such as 3DRL 606 Item 8 [1], was changed to 3DRL 606/8/1.
The control of items in this series without authentic date ranges was addressed in early 2014 when 143 identified item titles were updated for the term '[undated]'. Previously undated items carried the default range of '1800-1800'. These were changed from circa 1914 to circa 1963 to reflect the time over which the records in this series were accumulated.
Using the series
All of the original Bean diaries, notebooks and folders have been digitised and therefore photocopied duplicates would not ordinarily be issued. However, some items from the 3DRL606 subseries are typed versions which may be issued.
Researchers should note that the typed version are not always complete and do not always include all diagrams and drawings of the original diaries. Researches are advised to read the typed versions after having familiarised themselves with the digital originals.
An important point to note when using the diaries and notebooks is Bean's introductory statement, made a condition of the gift of his papers to the War Memorial in 1942 that he stipulated be attached to every diary and notebook a caveat.  This was amended in 1948 to read:
These writings represent only what at the moment of making them I believed to be true. The diaries were jotted down almost daily with the object of recording what was then in the writer's mind. Often he wrote them when very tired and half asleep; also, not infrequently, what he believed to be true was not so – but it does not follow that he always discovered this, or remembered to correct the mistakes when discovered. Indeed, he could not always remember that he had written them.
These records should, therefore, be used with great caution, as relating only what their author, at her time of writing, believed. Further, he cannot, of course, vouch for the accuracy of statements made to him by others and here recorded. But he did try to ensure such accuracy by consulting, as far as possible, those who had seen or otherwise taken part in the events. The constant falsity of second-hand evidence (on which a large proportion of war stories are founded) was impressed upon him by the second or third day of the Gallipoli campaign, notwithstanding that those who passed on such stories usually themselves believed them to be true. All second-hand evidence herein should be read with this in mind.' (Piggott, Michael: A Guide to the Personal, Family and Official Papers of C E W Bean, Australian War Memorial, Canberra 1983, pp 7-8)
Copyright Statement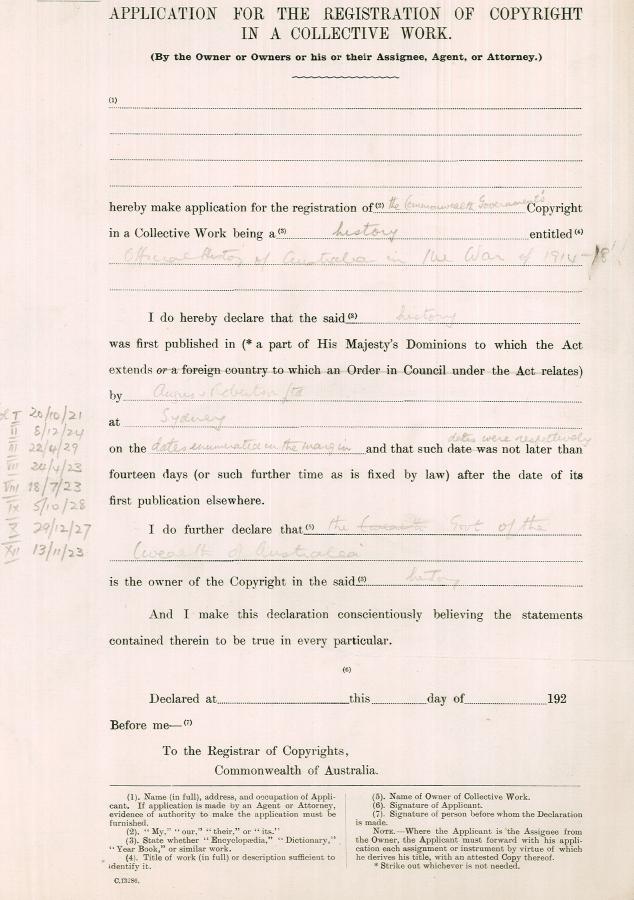 Under Australian law, copyright exists in all unpublished papers in this collection. Copying and publishing of such material remains subject to copyright restrictions, and written permission to publish must be obtained from the copyright holder.
The Bean family retains copyright over works created by Dr Bean in his capacity as Official War Correspondent. The Memorial would like to thank Mr E.B. Le Couteur and Mrs A.M. Carroll for granting permission to reproduce Dr Bean's notebooks and diaries in digital form.
The Australian War Memorial owns copyright for the works created by Dr C.E.W. Bean in his capacity as Official Historian.
This collection also includes correspondence to Dr Bean from a variety of individuals, some of whom were writing as officials, some as private citizens. Copyright for the latter is owned by the heirs of those correspondents. The Australian War Memorial has published these letters under the flexible dealing exception, s200AB of the Copyright Act, 1968. This exception has enabled the Memorial to preserve the original collection and provide much wider access to this important set of records on our website.
For all copyright enquiries relating to this collection write to:
Head, Research Centre
Australian War Memorial
GPO Box 345
Canberra ACT 2601
info@awm.gov.au