Inked: Tattoo Stories, Beyond the World Wars
This is the third in a series of articles on the history of tattoos in the Australian military, exploring their origins, meanings, and their representation in the Memorial's photograph collection.
Bill was a Private with 2RAR when interviewed by the Tasmanian Advocate.  He said that if he were to get all the tattoos done "now" [that is, in 1954], 
"It would cost more than £300 Sterling…So look at the money I've saved! But when I get back to Australia it will spoil my surfing. It seemed all right when I was a youngster, but I'm a bit self -conscious about it now." 
In today's money, Bill's tattoos would have cost around $10,000.
Malaya, circa 1956: Private Ian Lloyd, (right) wears a tattoo on his left forearm, depicting a lion standing on a crown. It is not dissimilar to the Royal Scottish Borderers coat of arms, an infantry regiment whose history goes back to the 17th Century. Coincidentally or not, the Borders were themselves deployed to Malaya at around the same time as Private Lloyd.  However,  Lloyd , photographed here aged 25,  was an Owen gunner from Tasmania, deployed with 2RAR Battalion.
Vietnam
The tattoo on Bombardier Dick King's left forearm shows a skull with a knife through it, wound about by a snake poised to strike. The design implies strength in the face of danger, and conquering the fear of death. It may have been selected from a display board of 'flash' designs in a tattoo shop – a menu board of design options from which customers could choose their tattoo. We don't know whether Dick was tattooed during his travels, or in his home state of Western Australia, but we do know he was a member of 108th Field Battery, and was supporting 1st Australian Task Force infantry during Operation Santa Fe, when this photograph was taken.  COL/67/1123/VN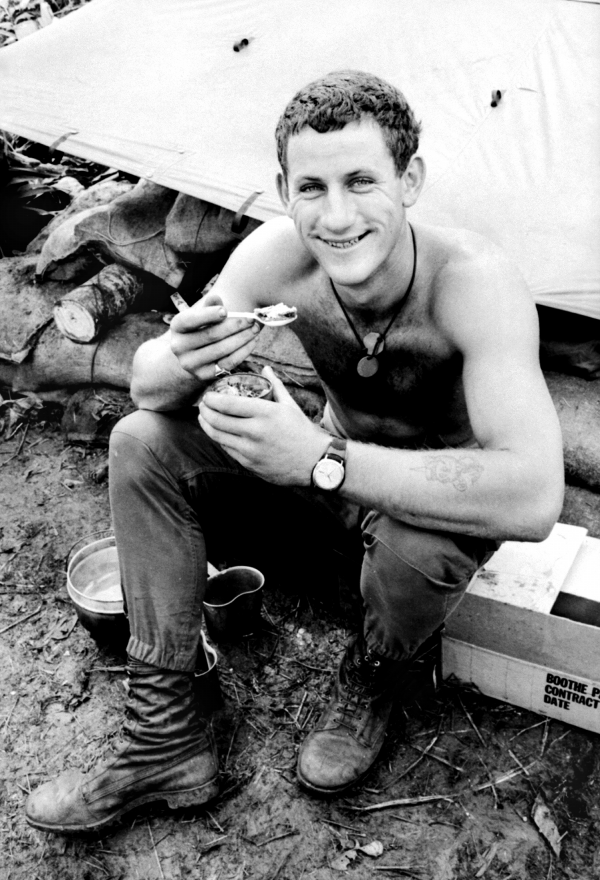 Leading Aircraft man John Flint MacDonald's short sleeved uniform affords a fair glimpse of his tattoos. One is a stylised crest, featuring the RAAF ensign, a clear and sincere testimony to his service allegiance. The other tattoo is of a female figure, which has intrigued a locally hired contractor on base. (VN/​66/​0034/​12 )
This bare-chested, tattooed soldier is Private John Zima, at 1RAR Base at Bien Hoa, Vietnam, in 1966.  He is exercising in an off-duty moment with barbells supplied by the Battalion.
He has a shark tattooed under each collarbone, perhaps demonstrating an empathy with the fierce and fast nature of these creatures. The decorative doubling of the shark symbol, with one a mirror image to the other, may also suggest desire for protection from harm. 
Zima has several more tattoos on both forearms; his left arm appears to show a cartoon-like pig, and possibly an eagle. (SHA/66/0074/VN)
Cheeky Tatts 
This photograph  was taken circa 1990, near the Gulf of Oman, during the time of the first Gulf War. 
The men were crew members of HMAS Darwin, on a recreational shore leave, during what was referred to at the time as a "Banyan party".   As Defence policy has at times required that ink not be visible, buttocks would ordinarily have been a  good location for a tattoo.