"A fair woman with an indomitable courage": Dr Laura Elizabeth Forster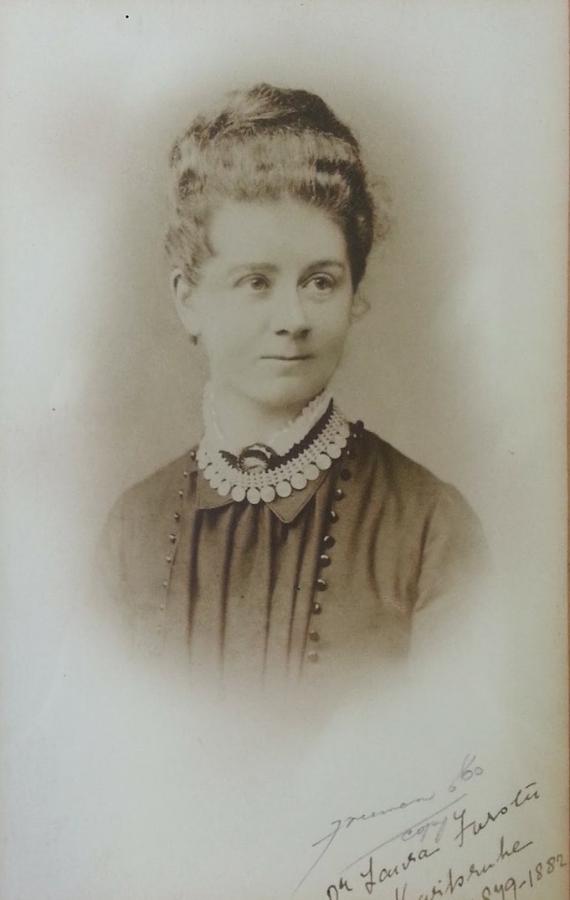 Laura Elizabeth Forster was a trailblazing woman who pushed the boundaries of societal norms to become a respected doctor, surgeon, and researcher. While her family wealth allowed her a life of opportunity, she chose to endure harsh conditions in order to dedicate her life to helping others and the war effort.
Forster was born into a life of privilege on Brush Farm Estate, New South Wales in 1858. Her idyllic childhood was cut short at age four by the death of her mother, Eliza Jane (née Wall), leaving her to be raised by her father, the colonial politician and Premier of New South Wales, William Forster. William later married Maud Julia Edwards in 1873, and together they had five children and spent time in Australia and England. Laura completed her early education at schools in Sydney. After William's death in 1882, Maud moved the family to her hometown of Devon in England.
In Europe, Forster began studying medicine, first at the University of Bern, Switzerland, in 1887. She mastered the German language and published her dissertation on spindle fibres (microscopic protein structures that help divide genetic material during cell division and organise cellular components) in German, Zur Kenntniss Muskelspindlen [to know muscle spindles], in 1894. Upon returning to England, Forster trained as a nurse and doctor, completing her qualifications to work in the United Kingdom as a general practitioner in 1895. In 1900 she found work as a medical officer at the Cutler Boulter Dispensary, Oxford, England.
Forster continued to publish research papers: "Note of Foetal Muscle Spindles" in 1902 and "Histology of tuberculosis in the human lymphatic gland" in 1907. She continued her research work in Spain at the School of Cajal (Spanish Neurological School) and in 1911 published a research paper in Spanish: "La degeneración traumática en la médula espinal de las aves" [Traumatic degeneration in the spinal cords of birds].
When the First Balkan War commenced in 1912, Forster volunteered her services. As women were not permitted to work as doctors on the front, so Forster served as a nurse, despite being a respected physician.
At the outbreak of the First World War, Forster joined the British Field Hospital in Antwerp, Belgium, where she worked as a surgeon. The hospital eventually evacuated under bombardment, and the wounded were moved to England. In 1915, Forster moved to Russia to continue her work as a surgeon at the largest hospital in St Petersburg, picking up the Russian language with ease. After working in the men's surgical unit, she moved to the National Union of Women's Suffrage Societies' (NUWSS) 116-bed maternity hospital in March 1916. The NUWSS had suspended political activity in order to focus on fundraising and involving women in the war effort, establishing female-staffed hospitals.
By May 1916, Forster had moved south to join the Russian Red Cross, serving in the Caucasus and in Erzurum, Turkey, where she was in charge of a 150-bed field hospital for infectious diseases during a typhus epidemic.
In September 1916, the NUWSS requested that Forster returned to Russia to take charge of a 15-bed hospital at Stara Chelnoe. By the end of 1916 she had been transferred to the 80-bed 52nd Epidemic Hospital in Zalishchyky, Ukraine. She endured freezing conditions and by February 1917 was bedridden with influenza. After years of working long days in hard conditions, she died from heart failure on 11 February 1917.
An obituary published in the Sydney Morning Herald on 5 July 1917 described Forster as "a fair woman with indomitable courage, and a love of adventure, which led her into many out of the way corners of the world". She was remembered for her "pluck and endurance" and her ability to "put up with a good deal of discomfort … the way she ignored her own comfort and undertook strenuous work was very much to be admired".
Forster's final research findings, on ovarian cancer in mentally ill women were published posthumously in 1917. A scholarship at the University of Sydney, Women's College was established in her memory. She is remembered as a pioneering female researcher, doctor, and surgeon.
Laura Elizabeth Forster has recently been accepted for addition to the Memorial's Commemorative Roll. Her name can be found here: https://www.awm.gov.au/collection/R2722166
The Commemorative Roll commemorates Australians who died during or as a result of service in wars, conflicts or operations identical with the Roll of Honour, but who are not members of the Australian armed forces. To submit a name for consideration for the Commemorative Roll please visit https://www.awm.gov.au/commemoration/honour-rolls/additions