'I just sang from my soul, from my heart...'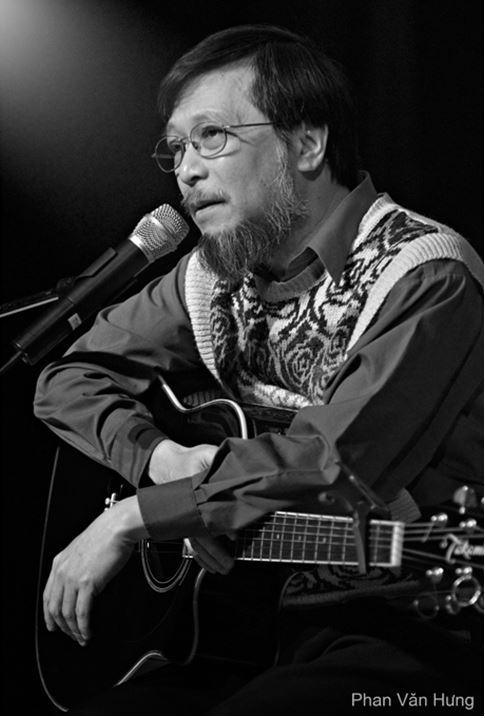 Phan Van Hưng was four years old when his family fled Hanoi in 1954.
"It was a time of war… and Vietnam was divided," Hưng said.
"The north became a communist country and the south became a more capitalistic and democratic country … so my family decided to leave the north to escape into the south to Saigon."
It was the second time Hưng's father had been forced to flee.
"My father had to leave three times, first of all in 1945, during World War Two," Hưng said. "The Japanese had taken over, and he had to leave his province and his village to go and live in the city, Hanoi. 
"He had to leave everything behind – all of his loved ones, and everything that he had …
"The third time was in 1975, when he had to flee Saigon to go to an unknown destination.
"The whole country was at war, and all around us there was death and injuries, and people suffering, but there was also an amazing human spirit …
"When you live in that sort of environment you can still find solace, you can still find peace, and you can still kind of find your way to live in inner peace.
"In spite of the war, and despite all the problems that we had, we had a relatively good life [in Saigon] and we enjoyed a jot of freedoms…
"My family lived there in Saigon until 1975, when the whole of Vietnam was taken over by communism …
"It was on the last day before the fall of Saigon. There were helicopters that were taking people out of Saigon to go on to ships and that sort of thing and my family there – my dad and my mum and my year old sister; she was still little then – fought their way through the crowd …
"Many other people died on that day because they tried to get out and their boats sunk, or their helicopters had an accident, or they fell onto the ground.
"People died by the hundreds and thousands in those days, and that was a great plight.
"I had just finished my engineering studies in France … and as the curtain of communism went down in Vietnam it became instantly clear that there was no way that I could be part of the new regime so I became a refugee and I was still a refugee when I arrived in Australia.
"My wife, Nam Dao, was also from Hanoi. Her family had also escaped from the north to the south, and she was only two years old when they went to live in Saigon.
"We met in France, and we knew nothing about Australia.
"It was a new country for us … but we had a group of friends in Paris who were activists in those times and we saw Australia as the land of opportunities.
"I arrived here in 1982 and that was a time of great suffering as millions of people tried to escape the country on small boats…
"Hundreds of thousands of people died as a result of their escape … out of starvation or sinking boats or attacks by pirates or attacks by communist patrols … and there were countless stories of violence, and even rape and extortion and stealing."
Hưng turned to music to express his thoughts and feelings and help tell the stories of Vietnamese refugees.
"I had no training at all," he said.
"I just dabbled in the guitar as young people do, but the suffering was so great that it was impossible for me to keep it inside … I had to find a way to for it to come out somehow and that was through music …
"Being part of the community of refugees here, first in Sydney and then in Adelaide, I could see with my own eyes, and hear with my own ears all the stories of suffering that people had to go through, and so I started writing.
"I was blessed to have my wife ... She's a born poet, and we quickly formed a kind of partnership at a very deep level and that extended over some 120 songs.
"All of them were about the plight of our people, and we worked on them for more than 30 years. And when I look back at all those songs that were written, I realise that we were witnesses to an era, to a particular point in time that saw horrible things, but that was also full of great courage and also resilience and love too … and so these songs are like the oral history of our people after 1975."
Their music struck a chord with Vietnamese refugees in Australia and around the world.
"[Music] was a source of resilience, and solace too, and when we started to write we didn't know that our music was so important, not only for us, but for other people," Hưng said.
"We didn't realise that at all … that our music had such an enormous impact on people … but with time, we realised that this is kind of a universal music … it's not just about us, the Vietnamese people, in a particular time in history, it's also a universal story about how people can overcome challenges and difficulties and how they can be resilient and loving and still find solace."
A Buddhist, Hưng stopped performing 15 years ago to focus on a life of meditation.
Although he no longer performs publicly, Hưng will be coming out of retirement to perform at the Vietnam Requiem in June to mark the 50th anniversary of the Australian withdrawal from Vietnam.
Created and directed by the Australian War Memorial's musical artist-in-residence, Chris Latham, the Vietnam Requiem brings together Australia's leading composers and performers in a bid to create a deeper understanding of the Vietnam War through music.
A commemorative work, it will focus on veterans and those directly affected by war, including military and civilian medical staff, entertainers, journalists and photojournalists, the protest movement and the Vietnamese refugees who made new lives for themselves in Australia.
"I'm really honoured to be part of it," Hưng said.
"There's a special link – a special bond – between all the Australian men and women who served in Vietnam and us, the people of Vietnamese background who escaped Vietnam after the war to seek asylum here in Australia.
"When I think of the Australian troops that were in Vietnam to fight, I remember that they fought alongside us. And that is why we have been so deeply affected by their losses during the war, but also their suffering, and the suffering of their families, after the war.
"The purpose of the concert is to honour and commemorate all these sacrifices, and I am very grateful that the program has also dedicated one part of it to remember the civilian population who suffered immensely too …
"It's precisely because of this suffering that we have a Vietnamese community here in Australia, a community of all those who had to leave our country of birth to escape tyranny and persecution.
"As they escaped on these small fishing boats, and faced the ocean, there were new dangers, and suffering, and death, and my role in the concert is to reach out to tell some of these stories, the stories of my people."
As part of the requiem, Hưng will play a traditional Vietnamese Dong Son drum.
"These drums are very ancient," he said.
"They can be several thousands of years old, and the Vietnam Requiem will have a real, ancient Dong Son drum in the orchestra.
"These drums are the soul of the Vietnamese people, and when you ask a Vietnamese person what object represents our culture the best, many will say it's the Dong Son drum.
"They were played at the height of the Dong Son civilisation in Vietnam when the technology of casting large objects in bronze was really advanced and were normally used in ceremonies and festivals and prayers and rituals and also in battle too.
"It's really fascinating when you think about it. When you go to a museum, for example, you will find some of these drums exhibited, but you can only look at them from afar – you cannot touch them – but we will be playing it live, so you can see the excitement.
 "I don't know if anyone has heard the sound of a Dong Son drum before, so this will be the first time they will hear it. And because nobody knows for sure how they used to be played – there are no recordings or photographs of people playing it because it was so ancient – you have to reinvent it in some way, so we are going to use it in our own way to express today's emotions …
"For me, it's just impossible to explain the emotion that I feel when I play on such an instrument; an instrument that was played by my ancestors, thousands of years ago.
"I came to music knowing nothing about music, and was just drawn to write because of all these emotions that were in me that wanted to come out. I just sang from my soul, from my heart...
"When I play it, I can feel a shiver running along my spine, thinking about all of the generations, the hundreds and hundreds of generations that have played on that drum.
"I feel very grateful… to reach out to tell some of these stories of my people."
The Vietnam Requiem will be performed at Llewellyn Hall, ANU School of Music, Canberra, on Saturday 5 June 2021 and Sunday 6 June 2021. For more information, visit here.