'It's been a pretty amazing journey'
Rod Henderson was on the right door gun of a Chinook, flying low over Afghanistan, when he realised something was horribly wrong.
"As soon as the aircraft jolted and started wobbling, I knew we were going to hit and hit hard," he said.
"We were on the late final approach to land at [Forward Operating Base] Sakari Karez in Kandahar and there was this big jolt in the aircraft and one of the back parts of the helicopter snapped off.
"Unbeknown to us at the time, it was the rear longitudinal cyclic trim. It helps control the pitch of the aft rotor, and it just snapped and gave way.
"The whole aft rotor swashplate started bouncing up and down.
"And I remember thinking, 'Oh shit. This isn't normal.'"
It was June 2012, and Rod was serving as a loadmaster in Afghanistan.
The pilots tried to get the aircraft level and steady as they cleared major obstacles and brought the tail round to the right to land.
"That's when it felt like we had left controlled flight," Rod said.
"Our aircraft captain put out a call that we'd had an automated flight control failure and that we would have a hard landing.
"Then the Chinook came straight down, real quick, and ripped off the right side landing gear.
"It felt like we were starting to tip over, and then the forward rotor blades started hitting the ground right outside my window.
"I'm like, 'Oh, God. This is it, this is it, we're going over.'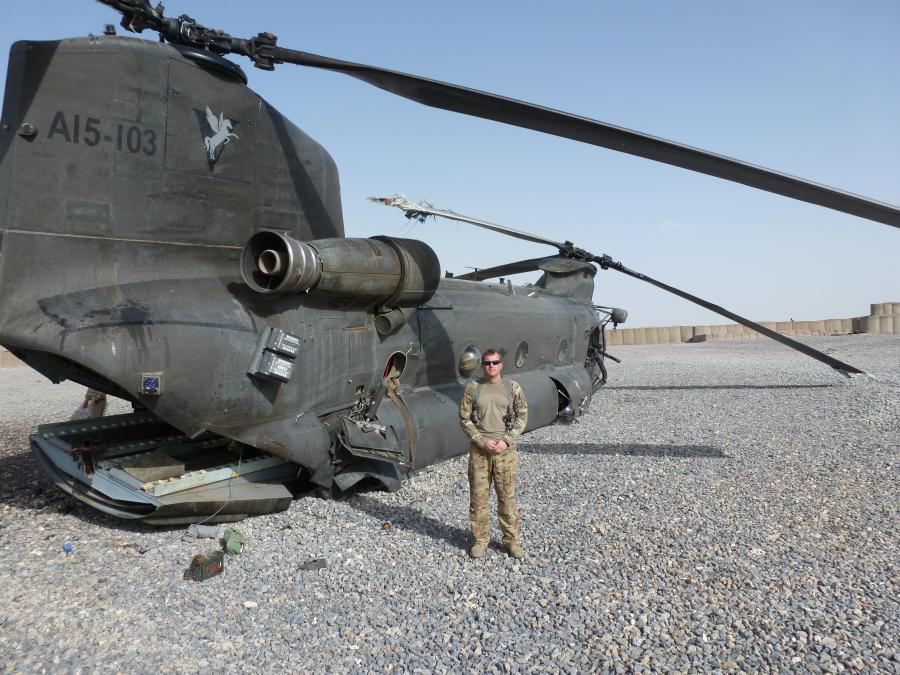 "I was absolutely terrified...
"They're massive blades – they're three feet wide – and they're hitting the ground.
"Rocks and sparks are going everywhere, and I'm like, 'Oh shit, shit, shit,' while trying to push myself back off the door gun.
"Cam Smith was the left gunner and the Esky he was sitting on fell on top of me and I sort of bounced off that and ended up in the companion way just short of the cockpit.
"You could feel the whole aircraft bending and flexing, but luckily we remained upright.
"I thought, 'Oh, good, we're still up on our wheels, we're alright."
"Then I looked outside and saw the fuel valve punched out through the side of the aircraft and the fuel hosing out.
"That's when I felt real fear.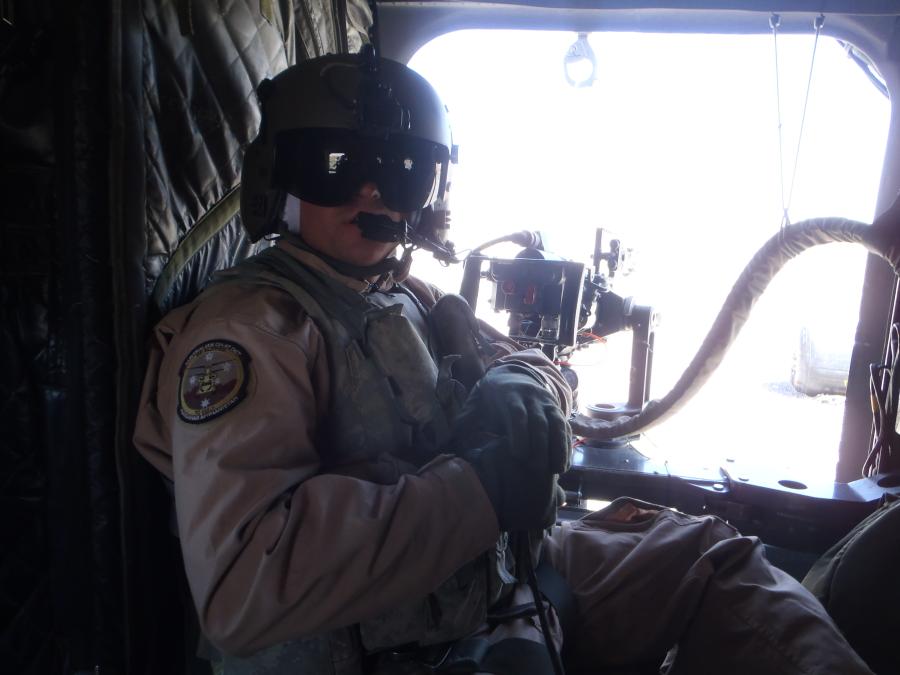 "I grabbed the first guy next to me, and yelled at him, 'You've got to get out.'
"He's this monstrous, monstrous human being, and I'm trying to just shoehorn him out my window, but with the door gun there, there was no way in the world he was getting out in a hurry.
"Luckily, he didn't though, because Cam was behind me yelling, 'Wait, wait, the blades are still there.'
"I didn't even realise. The blades were winding down – I thought they'd come off – so he could have walked out right into them.
"It was one of those moments, when you're just pinging on adrenalin, and focussed on what you've got to do.
"I was just focussed on old mate next to me, and then the crash – or heavy landing, as I think it's still classified as – when everything just sort of went wrong.
"And that's what it's like, it's moments of sheer terror, or controlled chaos, and then it just stops.
"When I finally got out of the aircraft, we did a headcount, and everyone was all right – a bit of a scratch on the knee, a bit of a sore back, but we had all got out pretty much unscathed.
"I still remember our aircraft captain, Alexis Tooms, giving me a huge hug when I got out. It was clearly a relief to him to know his whole crew was fine.
"We were all okay, but it soon became clear the aircraft was not. There were big rips and tears down the side of the aircraft and fuel was going everywhere. Everything was just bent and twisted and, about a metre of the front rotor blades were gone.
"But we were lucky. Others had it so much worse."
A sergeant in Army Aviation, Rod had joined the Australian Regular Army in 1995 and had served in the Infantry with the 3rd Battalion, Royal Australian Regiment, in East Timor before retraining as a helicopter loadmaster and door gunner.
"I always thought that would be really good one day, but I really didn't like heights," he said.
"I've just never been a fan of heights, but I ended up being a paratrooper in the army and then a loadmaster and a door gunner on a chopper. Crazy, right?
"It's about six months of training, just learning how to operate inside an aircraft.
"Your job is basically operating the role equipment and the hoist, assisting the pilots with performance calculations, and looking after the cargo in the back and the door guns.
"Your day consists of flying tasks which at home could include training or real time flood, fire or cyclone relief missions. You are constantly doing various jobs, so you're always away, and you're always on call because everyone wants to use the helicopters for something."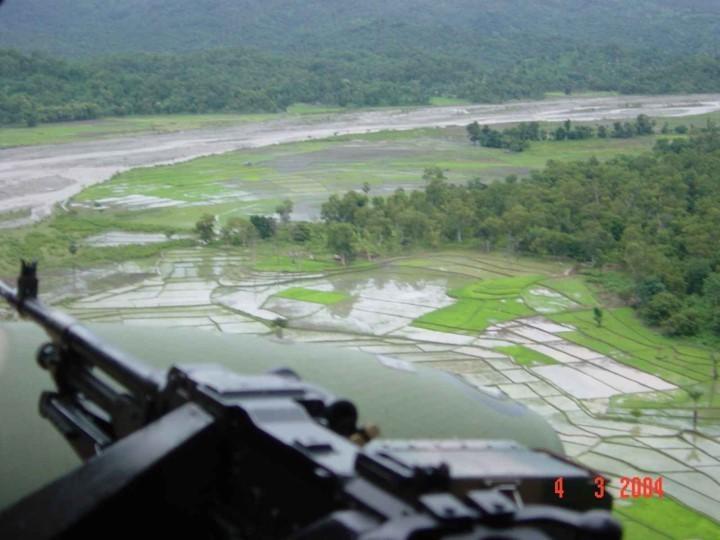 Rod deployed to East Timor with a detachment of Black Hawk helicopters in 2003, 2004 and again in 2006. He also deployed to Pakistan as part of Operation Pakistan Assist following the earthquake there in October 2005. The Black Hawks delivered humanitarian aid and enabled medical teams to provide vital health care and assistance to those affected in remote regional villages.
"It was a really interesting time," Rod said.
"One minute we're at home in Townsville, and two weeks later we're flying around Kashmir... ferrying medical teams in and out around the mountains.
"Seventy-odd thousand people were killed and a lot of others were injured. Millions more were displaced and it was great to be able to help them, dropping off food and water, or whatever it was they needed.
"Later in the deployment, whenever we landed at these huge displaced people's camps, if we had time, we'd break out these cricket sets we carried in the aircraft and just start playing cricket.
"At one particular camp, there were twenty or thirty thousand people there and they all started gathering around.
"Once they realised we were Australian, they thought we must all be cricket experts, but of the 10 or 12 of us that were there, half of us couldn't play cricket at all.
"Very quickly the locals scratched out a pitch on the side of the hill, and so we set up the stumps.
"They're fielding their best team and they're coming in and bowling these balls that would knock over some of our first grade players, but they absolutely loved it.
"It was only for half an hour – that's all we had – but it was great to be able to do that amid all the awful things that they were dealing with."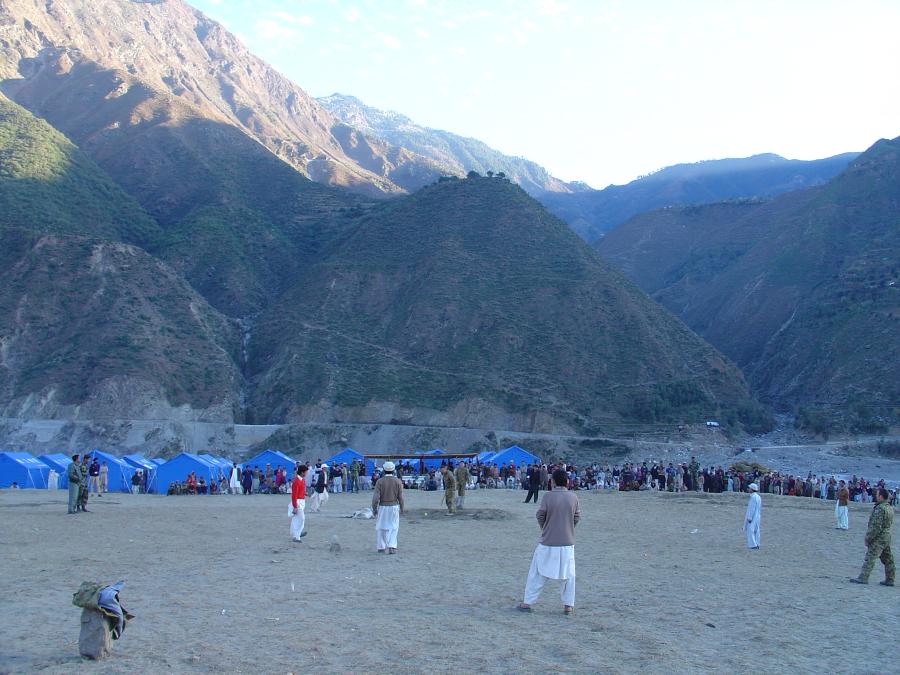 Rod also flew to New Guinea in August 2009 to help recover the bodies of Australians killed in a plane crash there. Thirteen people, including nine Australians, three Papuans, and a Japanese national, had been killed when their Airlines PNG Twin Otter aircraft crashed into a mountain near Kokoda.
"They were flying into Kokoda to start their trek along the Kokoda Trail," he said.
"The weather was awful and their plane flew into the side of a hill near Isurava.
"We left Sydney the next day and hit the ground in New Guinea the next morning.
"It was a task that took weeks in difficult weather, but it was important to us to get them back home to their loved ones."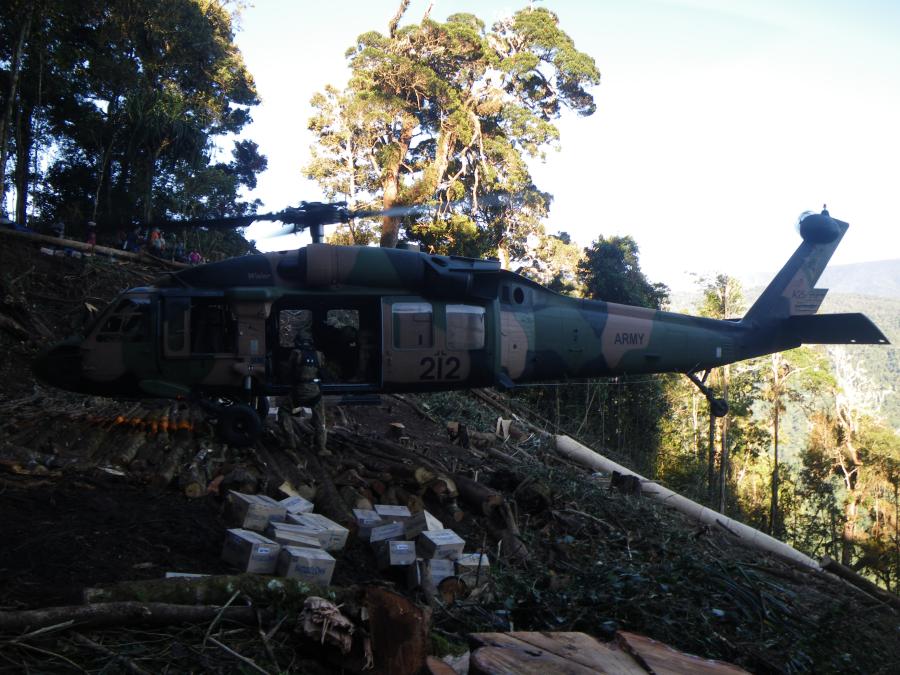 After more than 1,900 hours "flying around in the back of a Black Hawk", Rod converted onto the Chinook aircraft.
"Coming from the Black Hawk, which is like a sports car in the sky, the Chinook is massive," he said.
"It's just a massive, massive helicopter and it's incredible what it does.
"It's like a big, vibrating bus – there's lots of noise, lots of heat, lots of room to get up and move around in – but it's fast and it's efficient, and it's awesome to be a part of.
"You have to pinch yourself, and say, 'Well, look at what I'm doing. I'm flying around in a helicopter, and I've got a big window that I'm looking out of.'
"I remember my woodwork teacher used to say, 'Stop staring out of the window Henderson, you'll never make money staring out the window,' and I'm like, 'Here I am – the army's paying me and I'm staring out a window.'
"To this day, I run outside and look at choppers as they pass over, 100 per cent – military aircraft, the rescue chopper... I still love it.
"I really miss the job and all the things I'm sure I used to moan and complain about. It's just really not that important compared to how awesome the job was.
"I really enjoyed it, and I really enjoyed the places I went to and the people I went with.
"They're your closest of mates... and your families lean on each other when you're away.
"I was privileged to work with some of the best officers and NCOs the Army produces in Infantry and Army Aviation in particular.
"And the bonds I've forged are just lifelong."
But it wasn't without cost.
"I still suffer from terrible anxiety sometimes for no reason and absolutely awful hyper-vigilance," he said.
"Whenever you went flying you had to be hyper-vigilant for hours on end, almost non-stop, and it used to take hours to try and wind down, particularly after night flying.
"You didn't have to be on operations against an enemy to be in a life-threating situation. It could happen at any time just doing crew training at home.
"We used to do our helicopter underwater escape training in Nowra, and that's just an awful thing... You sit in a helicopter mock-up and they dunk you in the water and roll you over while you're blindfolded...
"There was a time when I couldn't get my seatbelt off – it got stuck – and they tried to release me...
"I panicked at that point... I was completely out of air, and I started fighting and thrashing about and then just floated to the surface, but because the helicopter was upside down, I floated to the floor.
"I was still under the water, and I just remember thinking, 'Why don't they get me out? They're supposed to get me out.' And then the next thing I know, I hit the side of the pool, coughing and spluttering.
"I was just terrified – I'd given up at that point, and I really thought I was dead...
"I couldn't get back in a pool for a while after that, and then I had to go and do it all again a few months later.
"Some of the most dangerous flying I've been involved with was during my time with the Special Operations Aviation unit in Sydney.
"You'd be flying out off the NSW coast to fast rope to a cargo ship or flying to an oil rig off the Victorian coast with the aircraft full of Special Forces and you'd need to hit your target perfectly. This sometimes meant you're pulling up the helicopter at night, in the rain, in the middle of nowhere, close to these immovable steel structures, or in between the sponsons of a ship.
"You're hovering between these masts while the ship's moving, calling to the pilots, 'No, further right, no, further left, come down, etc,' all while making sure the Special Forces guys are safely roping to their point.
"Then you think, 'Oh no, we've got to go and do that two or three more times.' One slip, and smack, your blades will hit the posts, and then you're down in the drink, and you're gone. The margins are so tight. It can be very quick to go from being safe to being a life-threatening situation.
"It's that constant hyper vigilance to not run into stuff, because that's your job, right? You're a backseat driver. You tell the driver – the pilot – to move forward, move back, come up, come down when you're getting into a landing pad because they can only see so much out the front of the aircraft.
"Believe me when I say many pilots got sick of us being these nagging little voices in their helmets during training. When they're trying to get down into a spot amongst the trees, you're out looking around, backing the tail up, or swinging the tail around, so you can fit in.
"You have to all work together to get the aircraft in to a safe position to land.
"You spend the whole time flying trying not to hit stuff, and I think that's why, when the blades hit the ground in Afghanistan, it had such an effect on me.
"That hypervigilance takes its toll on you. But you shouldn't be walking around in your time off looking for threats. You shouldn't be on edge all the time.
"The Army does a great job at training you to operate at a certain level, but there is still no effective 'untraining' to turn it off.
"The anxiety can lead to 'the toxicity of thought', to quote Kevin Humphreys, a previous Chinook pilot and now a mental health ambassador, and these thoughts, if not controlled, can become overwhelming.
"Fortunately, my wife is also a military psychologist, and she is my rock. But there are many others who I have worked with during my time in both Infantry and Aviation that continue to suffer from this."
Today, Rod is a volunteer guide at the Australian War Memorial in Canberra. He is also a volunteer advising the gallery development teams on the future Chinook display and peacekeeping galleries. He also assists with the Memorial's School Wreath Laying Program when he can.
"The Memorial is a big part of my life," he said.
"It can be cathartic, just to come here and walk the galleries.
"It gives you a lot of perspective when you see the people who have come before you and what they've done.
"I feel honoured to be a part of it, especially as a guide, to be able to tell the stories of those who have gone before us and those who have their names on the wall [on the Roll of Honour].
"It's my opportunity to continue to serve."
Rod has since donated a number of items and photographs to the Memorial to help tell the story of Australia's longest war. The items include the helmet patch he wore while flying with the Chinooks in Afghanistan. It says simply: "Stop screaming, I'm scared too."
He hopes sharing his story will help others and encourage them to share their stories as well.
"Donating your items and sharing your experience is really important," he said.  
"It's about telling those personal stories, the stories of the individual people, the crews, and the work that we did.
"For me, and a lot of my friends, it means so much that we are now part of the continuing story here at the Memorial.
"You look at the Iroquois [helicopter] – a lot of soldiers see the Iroquois as being synonymous with the Vietnam War era and a lot of people feel the same about the Chinook and Afghanistan, so it has a lot of meaning to a lot of veterans.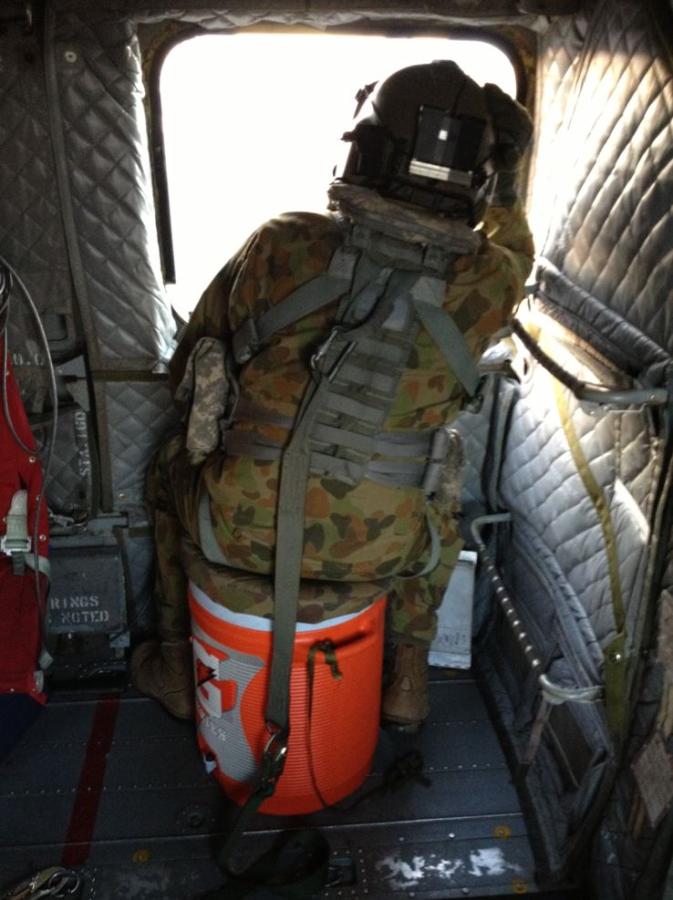 "To see a Chinook on display in the new galleries will mean a lot to the people who worked with them – the people who maintained and refuelled them, the crews who flew around in them, as well as the people who might have had their arses saved by them.
"On a personal note, having the Chinook in the new galleries will have a special place in my heart.
"It will give my kids something to see, and I guess for this article, something to read.
"When they are older and can understand a bit better, they can go into the Memorial and see these items and get a better understanding of what their dad did.
"You spend so much time in the helicopters you take it for granted until it's not there anymore and then when you have the chance to get back into something like that, everything smells the same, and everything is familiar and comfortable, so it's good."
Looking back, he is proud of his service and the work that he did in both Infantry and Aviation.
"Overall, it's been a great experience," he said.
"I would not be the determined person I am today if I had not done time as an Infantryman. We did a lot of hard physical work, but you did it with great mates.
"I also reflect on quiet times; the afternoons going into evenings, sitting on the back of a ramp, on a Chinook, on the way home – high, safe, and out of small arms range – sitting there with my feet dangling over the edge, looking at the sun setting over the mountains of Afghanistan... It's the stuff you wouldn't normally see or get the opportunity to do in any other job.
"I look back at it now, and I'm happy, not just with my time in the Army, but now with my continuing work with the Memorial.
"It's been a pretty amazing journey."