Second World War Escape and Evasion maps
Quite a few people have examples of Second World War Escape & Evasion (E&E) maps in their homes. This document covers some of the basic aspects of the creation and issuing of E&E maps during the Second World War. It is not a definitive history but is a starting point for those who hold or are interested in Second World War E&E equipment.
In December 1939 a new military intelligence section called MI9 was created by the British Ministry of Defence. MI9's objectives were:
To facilitate escapes of British prisoners of war, thereby getting back service personnel and containing additional enemy manpower on guard duties.
To facilitate the return to the United Kingdom of those who succeeded in evading capture in enemy occupied territory.
To collect and distribute information.
To assist in the denial of information to the enemy.
To maintain morale of British prisoners of war in enemy prison camps.
To achieve the first two objectives, MI9 created equipment to help allied service people evade capture or escape from the enemy. The first E&E equipment to be created was silk maps, which were issued to airmen. The man responsible for the creation of most of MI9's escape equipment, Clayton Hutton, regarded the map as "the escaper's most important accessory". The maps were of a small scale, covering large areas of Europe. Silk maps could be concealed in small places, could survive wear and tear and immersion in water. Maps were also produced on paper made from mulberry leaves, which was thinner but more durable than normal paper.
Silk supplies were a valuable commodity, so later in the war, from about 1942, most E&E maps were printed on treated viscose rayon, cuprammonium (a type of rayon sometimes called Bemberg silk) or acetate rayon (also called calendered taffeta). For maps that were produced either in silk or rayon, you can often tell the synthetic fabric maps from the silk by the feel of the map. The silk maps are often softer in feel, the man made ones tend to feel more 'starchy' due to the chemicals used to coat it as part of the printing process. However, if the rayon map has been handled to a great degree, some of the "starchiness" goes away.
BRITISH MI9 E&E MAPS
'Bartholomew' maps
The earliest E&E maps produced by MI9 were based on maps of Europe published by John Bartholomew and Son. 'Bartholomew' maps were initially printed on silk, but some later issues may be on rayon. These are usually simple black and white maps, with little to no extra colour. Maps covered Western Europe (including the Mediterranean), Eastern Europe, the Middle East, the Malay Peninsula, North Africa and other parts of Africa.
At least 45 different maps have been identified from this series. They are undated, sometimes untitled and usually have a numbering system of an upper case letter combined with a number, or just a letter. Later maps have some extra colour and are printed on silk or rayon. The maps were printed by John Waddington – the maker of Monopoly and other board games.
1943 Series Europe
This series of 10 map sheets (often with maps printed on both front and back in a variety of combinations) was first published in 1943. They are printed in several colours on rayon. They were based on International Map of the World series, although some maps are composites of the originals. They were also printed by Waddington. They are undated, but sometimes have information in the legend which can give an idea of when published. The number system is'43' followed by an upper case letter (often in the top right or left corner). The letter is also recorded with the title or legend.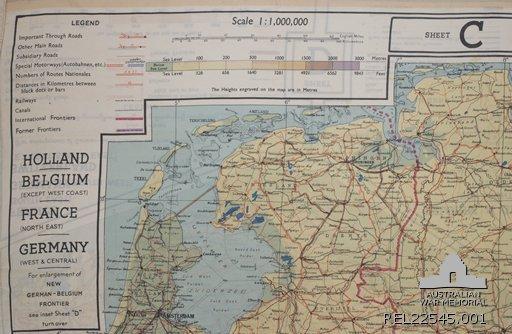 1944 Series South west Pacific Area (SWPA) & Asia
A small number of maps of SWPA/Asia were produced in 1943, but in 1944 a series of 18 map sheets was produced. Like the 1943 European series they were printed on rayon in several colours, back to back in nine set combinations. The number system is'44' followed by an upper case letter. The letter is also recorded with the title or legend. In August 1944 D Survey, Ministry of Defence began printing MI9's maps.
Miscellaneous maps and map series
In addition there were other smaller series of maps (an example is a very rare series of maps of Norway), or special editions of individual maps, printed on either rayon or silk (depending on when they were produced). One example is the 'Zones of France', showing the occupied zone and unoccupied zone (Vichy France). It also shows coastal defence areas and German patrols near Spain. Some other E&E maps include instructions on routes to take to evade capture or escape occupied Europe.
The British produced approximately 1,750,000 maps on silk, rayon and tissue paper during the course of the war.
AMERICAN MIS-X MAPS
With the Americans joining the war after the attack on Pearl Harbor in December 1941, they also saw the need for an organisation like MI9. In 1942 a delegation of Americans visited MI9 to see what the British had produced in order to create a similar organisation. MI9 produced a catalogue of E&E equipment called 'Per Ardua Libertas', which was issued to the visitors. Later in the year, the Americans created an organisation called MIS-X.
The two organisations worked together in creating and providing equipment to serviceman. All American maps were printed on a new type of acetate rayon, which was specially developed by the Americans and treated to withstand tropical climates.
From late 1942 to 1945, the Americans produced over 4,500,000 maps on rayon for the Air Force (plus over 3,000,000 for the Navy). Several companies printed the maps under government contracts. Some included maker's marks on their maps. These are usually located as part of the publication statement, under the lower right hand corner of the map:
KG - Kaumograph Company
SF - Sweeny Lithograph company
SS – Steinbach Company
AUSTRALIAN MAPS
Australians were mostly issued with maps produced by the British and Americans and Australia produced a very small number of textile maps in comparison. The main series was the Royal Australian Air Force series from 1944. These are generally black and white with brown contours, although some have blue for the ocean. The maps covered the South West Pacific Area and parts of northern Australia.
These maps were printed on silk by feeding rolls of fabric through a rotary printing press at the Argus newspaper in Melbourne. This is an unusual method of textile map production as normally E&E maps were printed on pre-cut sheets of silk in lithographic printing presses. As well as normal maps, they also produced maps showing ocean currents.
Earlier, in about 1941, a small number of maps were produced based on army topographical maps and printed by A.H.Q. Cartographic Company. Possibly used as survival maps, in case an aircrew was downed over Australia, the series includes 'Victoria River Downs', 'Pellew, Northern Territory' and 'Darwin, Northern Territory'. In about 1942 at least one map of the Northern Territory was produced as a survival map on silk by the RAAF.
FURTHER READING:
Per Ardua Libertas (catalogue of a selection of items made by MI9, published c 1942 for their American counterparts)
Official Secret / Clayton Hutton
MI9 Escape & Evasion 1939-1945 / MRD Foot & JM Langley
Escape from Germany (specifically the 1985 edition)/ Aidan Crawley
Luftwaffe vs. RAF : flying equipment of the air war 1939-45 / Mick J, Prodger
Behind Enemy Lines: evasion and escape aids of World war II (exhibition catalogue from the Frazier History Museum, Louisville, Kentucky 2013) / R E Baldwin
The Escape Factory: The Story of MIS-X, the Super-Secret U.S. Agency Behind World War II's Greatest Escapes, St. Martin's Press / Lloyd Shoemaker