The 'Souvenir of Egypt' and the 'Souvenir of Palestine'
One type of souvenir we often get asked about at the Memorial is an embroidered item known as a 'Souvenir of Egypt". These were very popular during the First World War due to their colourful nature and the fact they were easy to fold and post home.  Soldiers bought them while travelling to or from the Western Front (via Egypt) or while they were serving or training in Egypt. Very little is written about these souvenirs and much of what we know is from anecdotal information from veterans obtained by Memorial staff in the 1980s and 1990s.
The embroideries were machine chained onto colourful cotton sateen (often mistakenly thought to be silk) and usually bear the words 'Souvenir of Egypt' and a year date. Most have a distinctly Egyptian flavour and show the pyramids, camels or date palms. Others show images associated with different armies (such as the Australian Rising Sun Badge, New Zealand General Service Badge or British unit badges) or nations (such as the Australian coat of arms).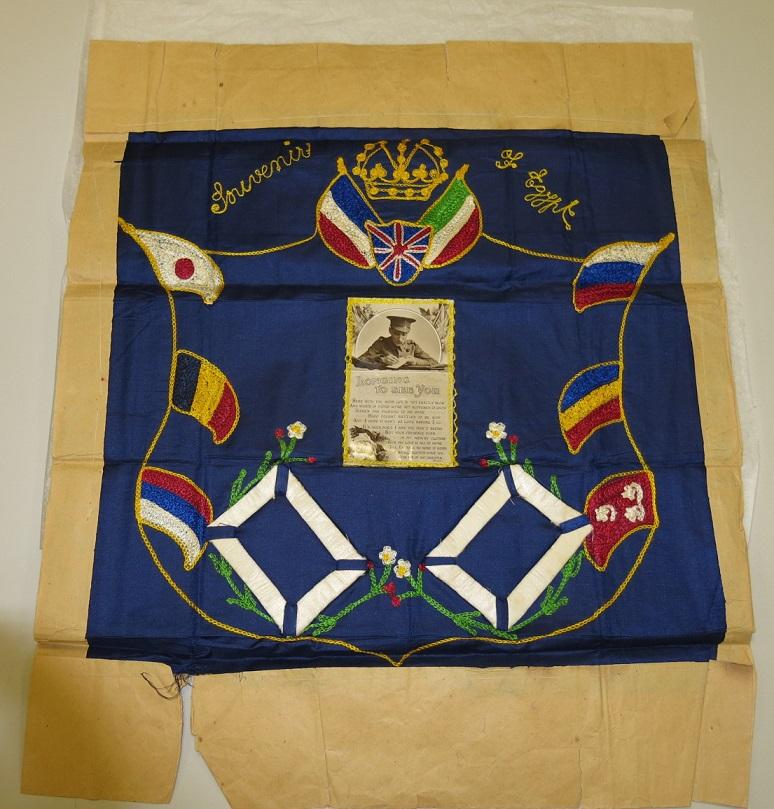 It was also possible for the customer to design the souvenir completely, in which case it would have to be ordered and collected later on. Examples of this can be seen in the embroideries made to replicate a unit colour patch as worn by Australians on their uniforms.
Fast forward about 20 years and you find that similar souvenirs were also available in Egypt during the Second World War. However, they were usually embroidered on black velveteen and the variety of images was not as great as had been available during the First World War.
A related souvenir from the Second Word War is the colourful 'Souvenir of Palestine'. Like the First World War Egyptian embroideries, they used cotton sateen in a range of bright colours (although sometimes velveteen was used instead) and bear the words 'Souvenir of Palestine', a year date, and sometimes a personal message, as well as images of specific mosques or landmarks, camels, goats and date palms. The Palestinian souvenirs were often seen displayed for sale outside houses in country villages.
Unlike the Egyptian souvenirs, where the outline of an object such a pyramid would be in filled with embroidery, many Palestinian made souvenirs only had the outline of the image chain embroidered with the interiors of the images filled in with paint, probably screen printed.
So what did the recipients do with these bright and colourful objects? Some put them away safely so no damage could be done to them. Others were hung with pride in frames while many more were turned into cushion covers which decorated many Australian homes. Many of these souvenirs show evidence of this display or use, they are faded or the fabric has 'shattered' due to UV exposure.
If you have a Souvenir of Egypt, a Souvenir of Palestine or indeed any other textile precious to your family, the Memorial has some information on our website on how to best look after these objects from our Conservation staff.