Artist Steven Holland is a quietly spoken man, but you can hear the passion in his voice when he speaks about his work in the Australian War Memorial's sculpture garden.
Having completed the Animals in war memorial in 2009, Holland was commissioned in 2019 to create a new memorial honouring military working dogs and their handlers.
"I was just thrilled," he said. "The dogs are so important and it is fantastic to be able to honour them."
The new memorial Circling into sleep features a tear-shaped slab of granite and a series of paw-prints cast in bronze which spiral into the centre of the memorial, alluding to the circling behaviour of dogs as they settle down to rest.
"When we were making the Animals in War memorial, the stonemasons gave me a piece of stone – an offcut from the plinth – and asked me if I would like to take it home," Holland said.
"I had it in the garden, and I just thought, 'That's it, if we can somehow incorporate this existing piece of stone into the centre of the memorial, it will tie the two things together beautifully.'
"The next thing was to establish lines of communication with the men and women who work with military working dogs …
"You've got the RAAF security dogs, the Military Police dogs, and the Special Forces dog teams, and somehow or other, they all needed to be acknowledged through this memorial.
"The Memorial did not want to incorporate a representation of a dog because there are so many different types of dogs – different sizes, and different shapes – that work in the military and they didn't want to tie it down to any one type, or to any one conflict."
Military working dogs have served alongside Australia's defence forces since the First World War, and continue to play a vital role in domestic and international operations today.
To create the memorial, Holland worked closely with the military working dogs and their handlers at Holsworthy Barracks in Sydney.
It was one of the dog handlers who came up with the idea of the spiral pattern.
"We wanted to incorporate paw prints into the memorial, and it was Lieutenant George Hulse's idea to have the paw prints circling," Holland said.
"It's the behaviour that I call the nesting behaviour, and all dogs do it. Maybe it dates right back to when they lived in the savanna and were crushing down the grass and making a nest for themselves to sleep in. George rang me up and he said, 'I've got it, I've got it,' and then it was just so plain and obvious – it was perfect."
After conducting research to find out which way the dogs spiraled, and learning that the direction appeared to be random, the bronze paw prints were created with help from Explosive Detection Dog Billie and her handler.
Billie was trained to walk in a tight circle on a bed of soft clay to create the paw-print track and silicon rubber moulds were created from each paw print. The paw prints were cast in wax before being cast in bronze and inlaid into the stone base of the memorial.
The ashes of Military Working Dog 426, affectionately known to his handers as Aussie, were interred within the memorial on 4 December 2019.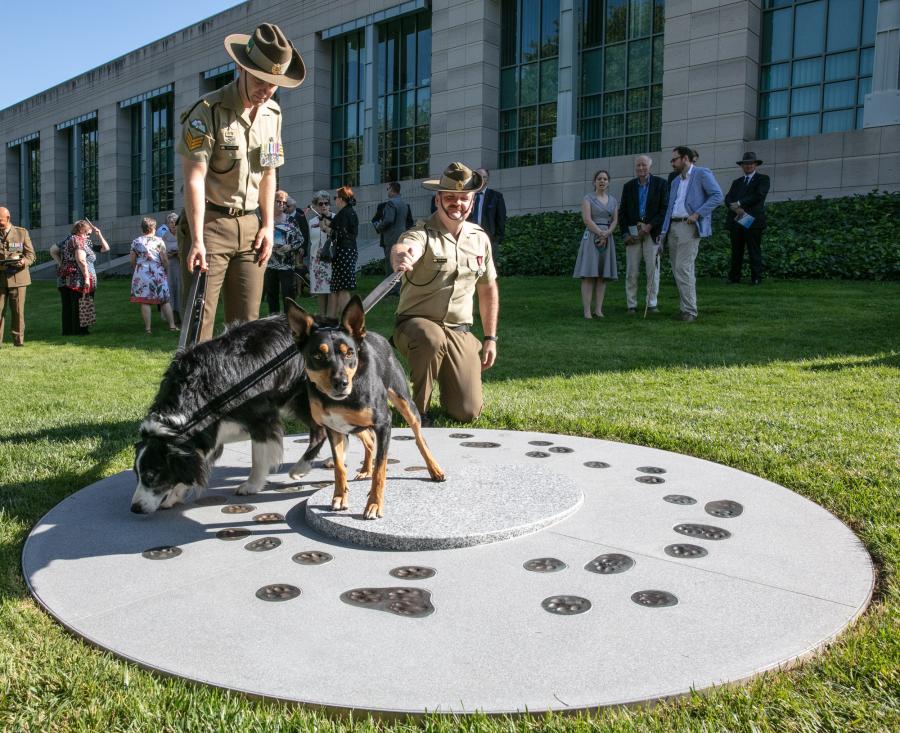 Holland was moved by the loss of his own dog in creating the memorial.
"When our beautiful dog Bailey died, I was grief stricken," he said.
"I was heartbroken, like all dog owners are, and I buried Bailey in the garden with his blanket … and very deliberately decided not to put anything on it. I said just let the earth flatten down over time, and quietly and slowly, dissolve and disappear.
"I know Bailey's there, and I don't need anything to remind me of him; the empty space and the place itself was enough for me, and so that helped guide me in creating this memorial.
"The bronze paw-prints set into the memorial are low to the ground and humble; they speak of the earth and lead to where Aussie's ashes are interred. 
"The bronze paw-prints communicate a track left behind; they are tangible, indicate mortality and will create a powerful, endearing canine presence.
"Through their playfulness and curiosity, their intelligence and insight, their bravery and their faithfulness, they made a profound impact."