'It was so unbelievable that anyone could do it'
His rank was ordinary seaman, but there was nothing ordinary about Edward "Teddy" Sheean.
He was just 18 years old when he defied orders to abandon ship as the rapidly-sinking HMAS Armidale came under heavy attack by Japanese aircraft in the Timor Sea on the 1st of December 1942.
Instead, Teddy, the youngest member of the crew, raced to help cast off life rafts and the ship's two boats, before scrambling back to an anti-aircraft gun, strapping himself in, and blazing away at the enemy planes as they strafed his crewmates in the water. Although badly wounded in the chest and back, he kept firing – even as the ship disappeared beneath the waves. Of the 149 men on board Armidale, 49 survived thanks to Teddy's actions that day.
Seventy-eight years after he sacrificed his life to save his crewmates, Teddy was awarded Australia's highest military honour for acts of bravery during wartime.
The Victoria Cross was presented to his nephew, Garry Ivory, who travelled from Tasmania to the investiture ceremony at Government House in Canberra.
Garry has dedicated almost half his life to campaigning for proper recognition of his uncle's bravery.
"I don't know, I can't describe the feeling," he said the night before the ceremony. "I've been on that much of a high.
"You've got no idea how special it is; I don't think anyone does. I didn't sleep last night and I don't think I'll sleep tonight much. I'm just so excited. It's just excellent.
"I've taken a hanky in each pocket anyway, just in case."
The youngest of 14 surviving children, Teddy was born in December of 1923.
He grew up in the small country town of Latrobe in the north of Tasmania and enlisted in the Royal Australian Naval Reserve in April 1941. Five of his brothers would also serve in the Australian armed forces – four in the army and one in the navy. Teddy was the only one who wouldn't make it home.
Garry didn't learn of his uncle's selfless actions until the 1980s.
"I'm nearly 71, and when I was growing up, we were never told any stories about our uncle," Garry said.  "There was a photo of him on my mum and dad's mantelpiece and a citation from the King on the other side … but they never talked about it; it must have been too difficult.
"Then in 1988, I ran into a survivor by the name of Rex Pullen, and Rex informed me of what Teddy had done, and I started knocking on a few politicians' doors. And then the book by Frank Walker, The Ship that had to Die, came out in 1990 and that really got me going, and I've never stopped since."
Victor 'Ray' Leonard, the last surviving Armidale crew member, was 19 years old when he served alongside Teddy. He later recalled the surviving sailors talking of Teddy's actions as they swam to safety on that fateful day.
"He was the youngest man on the ship, but also one of the most outspoken men," he said in an interview for the Governor-General.
"He came across as a popular, affable, warm, likeable man who settled into his mess very comfortably, and from the very beginning showed himself to have a great deal of strength, extraordinary strength, mental and physical for a young man of 18.
"His voice was not soft and sweet, it was firm, and strong. He didn't speak quietly. He was inclined to shout, but the shout had a pleasant notice to it.
"He was not lacking in confidence, this young fellow. He was a go-getter, an out-going person … He wanted to get on with life and not think about things. And he did that. He did get on …
"What was going on in his mind as he made his way up that sloping, slant of the ship to his Oerlikon in which he must have known he was about to die. Well, we thought and thought about that, but we couldn't encompass it. It really didn't make sense … It was so unbelievable that anyone could do it. But we knew he did do it.
"The 13 planes, we could count them, nine bombers, three Zeros, a float plane, all with a different function coming in closer. They were obviously Japanese, and they skirted the horizon as a sheep dog might have skirted a semi-circle of sheep.
"We were ready for them, but we weren't ready for 13 at once, and we couldn't avoid the bombs and the torpedo that fell. It was one torpedo at first, coming in from port. It dropped in the water … with a very loud explosion that I felt lifted the ship and settled it. Almost simultaneously, bombs were falling. This had been preceded by the Zeros coming in with their rapid fire machine gunning and doing damage to us physically on the ship. It was only a matter of a minute or two before the captain ordered abandon ship.
"Having dropped into the water… I set to swim, and as I did so, I heard a different noise of gunfire. Up till now I could hear Japanese gunfire, cannon, or bullets, but now I heard an Oerlikon; our familiar Oerlikon gunfire …
"I silently thanked him as I swam as fast as I could … then stopped and looked around just as I saw the last foot or two of Armidale slip beneath the waves.
"He was a very, very brave man who gave his life in the long run for others."
Teddy was posthumously Mentioned in Despatches "for bravery and devotion to duty when HMAS Armidale was lost". His family campaigned for decades to have his bravery properly recognised.
After years of review and several panels and inquires, the recommendation that Teddy be posthumously awarded the Victoria Cross for Australia was approved by Queen Elizabeth II on the 12th of August this year.
It was the 101st Victoria Cross to be awarded to an Australian, and the first awarded to a member of the Royal Australian Navy.
"It's everything for me and the family," Garry said. "I never gave up. I continued to fight on.
"The Governor General phoned me at home and … I just burst into tears.
"I just couldn't help it. It was so emotional. I think after getting so close, and then getting knocked back, and then getting close, and knocked back again, I think it just all got to me in the end…
"I didn't go outside my house for a couple of hours. I was just sitting back absorbing it all because I wasn't allowed to tell anybody.
"The Governor General rang me about 8.30 that morning, but he was making an announcement around lunchtime that day, so I was sworn to secrecy.
"I didn't go out so that I wouldn't open my mouth because I wouldn't have been able to help myself."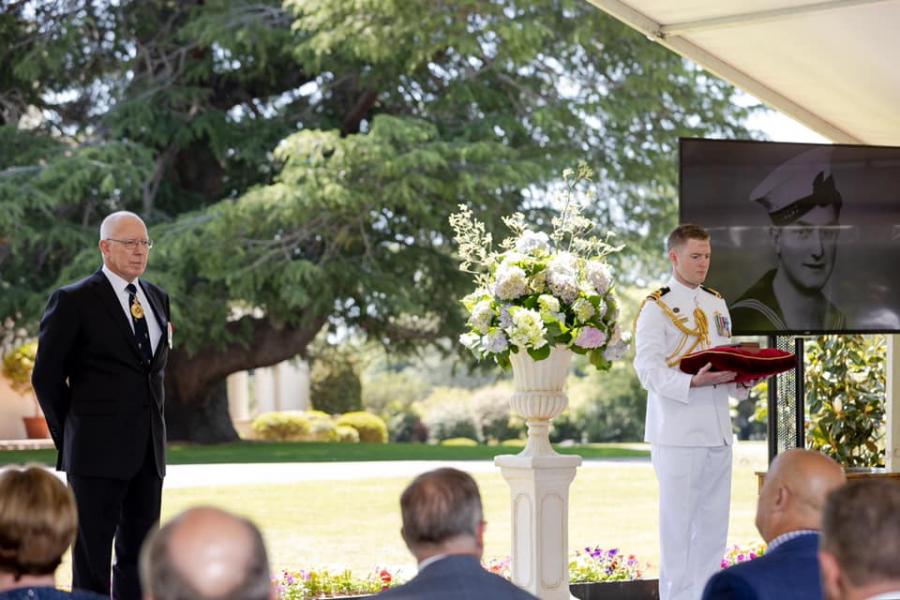 After the announcement was made, Garry celebrated with family and friends at the local RSL in Launceston by opening a very special bottle of port. The port had been given to him in 2001 when HMAS Sheean was commissioned in his uncle's honour. HMAS Sheean, a Collins-class submarine, is the first and only Royal Australian Navy ship to bear the name of an ordinary seaman.
"The commanding officer gave me a bottle of Sheean commissioning port and I said to him, 'I will never knock the top off this until we get the VC,' and that was the day the top came off that port… We were a bit wary of what it was going to taste like, but it tasted beautiful."
Spurred on by the painting of Teddy's final act by artist Dale Marsh at the Australian War Memorial, Garry never thought of giving up in his fight to have Teddy's bravery recognised.
"No; never," he said. "I used to look at the painting at the War Memorial, and say, 'He fought till his last breath, so if I've got to do that to get him awarded the proper recognition, I will,' and that was my aim right through. I would look at a copy of the painting and that used to inspire me. He fought to his last breath, so I can do the same."
The Victoria Cross is now on permanent display in the Hall of Valour at the Memorial. It is displayed alongside what is believed to be the last letter he ever wrote. 
"That means everything to all of us," Garry said.  "I was always telling everyone from day one that if we were ever successful, we would donate it to the Australian War Memorial.
"We've just formed the opinion that it's not my medal; it's not their medal; it's not anyone in the family's medal; it's Teddy's medal, and it should be there for the whole of Australia to see, and that's the way we've looked at it from the beginning."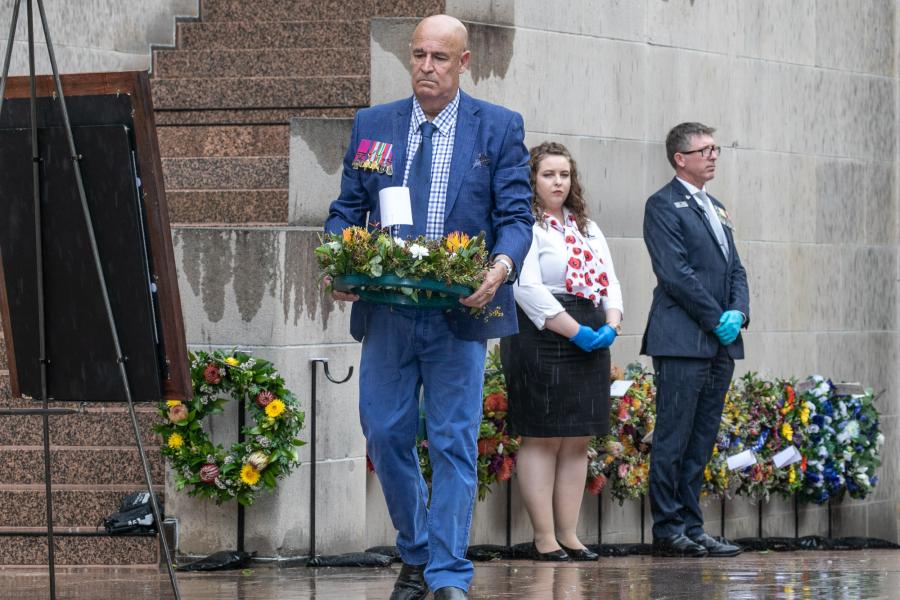 He was proud to see his uncle's story told at the Memorial in a moving Last Post Ceremony read by the Chief of Navy, Vice Admiral Michael Noonan.
"That is very moving," he said. "And that is when it will probably get to me more than anything."
He wishes his mother, who was two years older than Teddy, could have lived to see her brother's bravery finally recognised.
"My mum passed away in 1980, but she'd feel very proud," he said.  "I'm sure she'll be up there looking down on us.
"It's been 32 years all up, but the way I'm feeling now, it's been worth every minute.  
"It is very, very special, and I'm very, very proud."