The Australian War Memorial is committed to the commemoration of the service of Aboriginal and Torres Strait Islander peoples. As part of this commitment the Memorial aims to collect items that highlight their service.
Warrant Officer Leonard Victor "Len" Waters  
Len has the distinction of being the only known Australian Aboriginal fighter pilot in the RAAF during the Second World War. His regular aircraft while flying with No.78 Squadron was a P-40N Kittyhawk fighter-bomber named "Black Magic", with the squadron code "HU - E". 
Len Waters joined the RAAF on 24 August 1942 and graduated from the flight mechanics course in January 1943. He was later selected for aircrew training and graduated as sergeant pilot. Posted to No. 78 Squadron on 14 November 1944, he flew a total of 95 operational sorties over New Guinea and the Dutch East Indies (now Indonesia) in 1944 and 1945 from bases on Noemfoor, Morotai and Tarakan.
The framed hand coloured portrait of Len, below, had his skin lightened by an employee of the Empire Art Company, a mail order portraiture business in the Second World War. 
Lance Corporal Charles Tednee Blackman
Charles was one of the earliest known Indigenous soldiers to enlist in the First World War joining the Australian Imperial Force in August 1915. He was followed by his two older brothers,Thomas Blackman and Alfred John Blackman, who enlisted in 1916 and 1917 respectively. Private Alfred John Blackman died fighting on the Western Front in October 1917, while Lance Corporal Charles Blackman and Private Thomas Blackman returned to Australia.
Their correspondence spans the period 1915 to 1919, with Blackman writing of the fighting at Pozieres, almost being taken prisoner during a German raid, new and old friends, and convalescence after being gassed at Ypres. Finally, he writes of returning to training and missing Australia, wishing he was home. 
This logbook details training and active service flying Kittyhawks, and detailed comments about operational flights. RCDIG0001094
Marion Elizabeth Lean Smith
Marion Smith, is the first Indigenous woman from Australia to serve with the Queen Alexandra's Imperial Military Nursing Service during the First World War. Smith
was a Darug woman, and had been born in Liverpool, New South Wales before migrating to Canada as a child. The Memorial holds an autograph book with her autograph, collected by Sister Gertrude May Skyring during her time with the Australian Army Nursing Service during the First World War. Learn more about the life of Marion Smith here.
Marion Leane Smith is the only known Aboriginal woman to serve in World War I ( courtesy of NITV). 
The first page of Gertrude Skyring's autograph book contains Marion's signature. PUB01504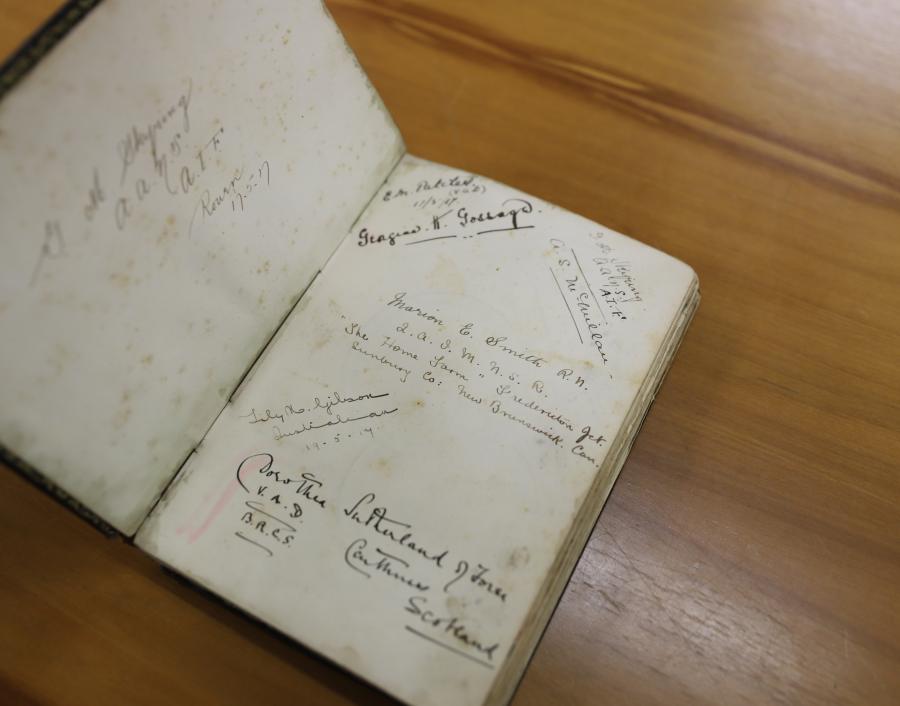 Marion E. Smith is visible, giving her address as "'The Home Farm', Fredericton Junction, Sunbury County, New Brunswick". PUB01504
Sergeant Reginald "Reg" Saunders 
Reg Saunders was born in 1920, in Purnum, Victoria, near the Framlingham Aboriginal Reserve. Reg and his brother Harry served in the Australian Army during the Second World War. Harry was killed in action in New Guinea while serving with the 2/14th Battalion. Reg saw action in North Africa at Benghazi, in Greece, and spent 12 months behind the lines on Crete. He also served on the Kokoda Trail and was shot in the knee, returning to service with the 2/7th Infantry Battalion after his recovery. He was the first Indigenous Australian to be commissioned as an officer in the Australian Army in 1945.
Corporal Edward Gordon Patrick "Pat" Sullivan
Pat Sullivan was born in Deniliquin, NSW, in 1902. He enlisted for service in the Second World War on 1 July 1940 and was assigned to the 2/18th Battalion. The battalion sailed to Malaya with the 8th Division and took part in the fight against the Japanese before the fall of Singapore in February 1942, when survivors were taken prisoner.
Sullivan quickly realised that he would need a hobby to occupy his mind rather than giving way to depression. A friend from the 2/9th Field Ambulance gave him a bag of embroidery cottons he had found during the fighting in Singapore. Another prisoner showed him some basic embroidery stitches and helped him with his first attempts at needlework. The designs on his embroideries were his own work and the Memorial holds several different examples of these in the National Collection. 
Work on this embroiderer's work bag took several months to complete. A cushion cover and a tablecloth were the first works to be finished. Sullivan had a single needle which he carried in an improvised bamboo case. He embroidered in his spare time at Changi and while working on the Burma–Thailand Railway. A British officer intervened when the Japanese attempted to confiscate one of the embroideries Sullivan was working on, and fellow Australians helped to conceal his work during other searches.

Two of Sullivan's brothers were captured by the Japanese; one survived, the other died in June 1945 on Japanese-occupied Hainan Island.

Sullivan survived his captivity and returned to Australia. 
Read more about Pat here.
Oodgeroo Noonuccal (Kath Walker)
Oodgeroo Noonuccal joined the Australian Women's Army Service in 1942, after her two brothers were captured by the Japanese at the fall of Singapore. Serving as a signaller in Brisbane she met many black American soldiers, as well as European Australians. These contacts helped to lay the foundations for her later advocacy for Aboriginal rights and working towards reconciliation.
Kath later changed her name to Oodgeroo Noonuccal and became a well-known Australian poet, actress, writer, teacher and artist. 
In 1970 Walker was appointed a Member of the British Empire for her services to Aboriginal people. She returned her award some years later in protest against the celebrations planned to mark 200 years since the arrival of the first convict ships in Australia.
She died in 1993 at the age of 72. A trust was established in her honour to carry on the work she had begun towards reconciliation.
Boomerangs in the Collection
The boomerang has come to represent Australians and Australian Forces in times of war. A returning boomerang is seen as a good luck symbol to rbing about the return of loved ones.