The Gallipoli map collection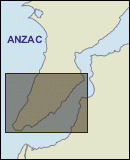 In anticipation of an invasion of the Gallipoli peninsula, the Turks began producing a series of 1:25,000 maps of the area. But they were not ready in time for the landing of allied troops on 25 April 1915 and the commanders of the Turkish forces generally had small-scale maps.
Within the first few weeks of the campaign, however, the Turks began to distribute 1:25,000 maps to their officers. Early in the campaign, a few of these new maps were captured by the allies. The first map of the Anzac area was captured on 19 May, found on the body of a mortally wounded Turkish officer on the parapet at the Nek. A map of the Cape Helles area was captured by the British around the same time. It covered the area from the tip of Helles to the Kilitbahir plateau. Further maps at a scale of 1:25,000 were produced throughout the campaign.
In celebration of the victory over the allies at Gallipoli, the Ottoman Turks compiled a set of maps showing the battlefield as it was at the end of the campaign in 1916. The Turkish Mapping Directorate, under Brigadier General Mehmet Şevki Paşa, completed a set of 43 maps, including an index and key. They enlarged the 1:25,000 maps used during the campaign to 1:5,000 scale and added surveys completed during 1916.