Stella Bowen: Provençal conversation
Art, Love and War
Periods:
The return to England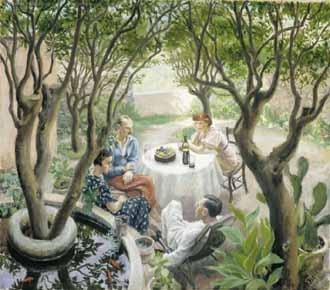 In England, Stella Bowen had developed a clientele for her casual group portraits, which she called "conversation pieces"; many of these portraits have not been located. The group at Cagnes is a celebration of the relaxed Provençal way of life that Bowen found so refreshing:

At one-thirty someone would say, "what about lunch?" and one of us would go down to Mme Nickolai for a long loaf, some butter, black olives, garlic sausage and a slice of ripe fromage de brie. A litre of vin rouge turned this into a feast and the lunch would prolong itself as a convivial occasion, fitting reward for a morning's work.

This work encapsulates all the elements that were so important to Bowen: friendship, warmth, conversation. The surface of this work is lively and its diffused light creates a relaxed atmosphere, an effect accentuated by rapid painting.
Paintings