To mark the centenary of the Royal Australian Air Force the Memorial will be sharing stories, photos and information about Australian service in the sky. These collection items highlight the contributions and experiences of our RAAF members, past and present.
To commemorate the centenary of the establishment of the Royal Australian Air Force (RAAF), we are showcasing some of the highlights of the Memorial's art collection. Thousands of RAAF-related artworks trace the history of Australian military aviation.
This online exhibition, presented gradually throughout March, will illustrate the history of the RAAF, starting with Australian Flying Corps (AFC). 
Explore the online exhibition
Capturing the RAAF through time
IMAGES FROM THE COLLECTION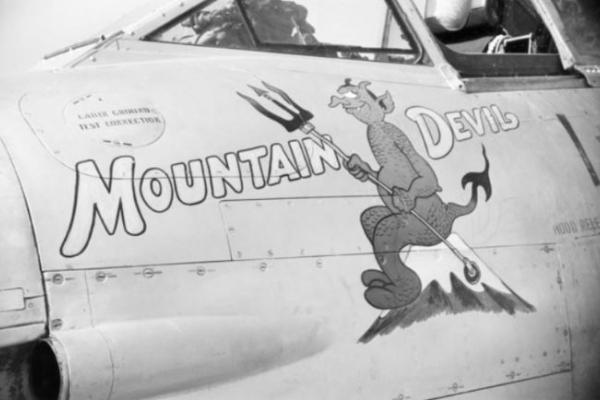 War Paint: Australian Nose Art over Korea
During the Korean War, No. 77 Squadron, Royal Australian Air Force (RAAF) had a diverse range of nose art on their Mustangs and Meteor aircraft.  From rank emblems and names applied in cursive red font to more ornate artworks including cartoons and sporting emblems, the unit continued the tradition of applying nose art to wartime Australian military aircraft.
Explore
RAAF Heraldry
ITEMS FROM THE COLLECTION