Captured in paint - a 69 year old mystery solved.
The end of armed conflict in the European theatre of the Second World War in May 1945 saw tens of thousands of western Allied Prisoners of War from all over the world be repatriated to the United Kingdom for their first steps in their eventual return to their families and friends. 
Among them were several thousand Australians, who in the course of the war in North Africa and Europe, found themselves in German or Italian run prisoner of war camps.  For these Australians, Gowrie House in Eastborne East Sussex was an official repatriation centre where upon arrival the men were provided with a meal and accommodation.  After settling in, they were allowed to send a free cable home and were presented with a Red Cross parcel.  The men were presented with new uniforms and pay advances and then given 14 days leave and rail passes to explore Britain.  Upon their return to Gowrie House, they awaited embarkation to Australia. 
On 11 June 1945 the Official Australian War Artist Stella Bowen captured the image of an Australian soldier who was being processed at the repatriation centre.  It is not recorded what conversations were struck up between the artist and her dark skinned subject.  One critical piece of information was never recorded, and that was the name or service details of this unknown digger.  Lacking his name, Stella simply named the piece 'Private, Gowrie House'.
This well liked artwork has been publically displayed at the Australian War Memorial several times since 1945, and formed part of tremendously popular traveling exhibitions such as Stella Bowen Art, Love & War http://www.awm.gov.au/exhibitions/stella/.  It is currently traveling again around Australia as part of the Reality in Flames travelling exhibition https://www.awm.gov.au/exhibitions/reality/.
During these 69 years tens of thousands of Australians and people from around the world have seen the artwork either physically on display or digitally online.  In seven decades no former Australian or Allied prisoners of war, members of the public, researchers or academics had publically identified this soldier. 
To qualify as the 'Private, Gowrie House' subject he had to be all of the following ;
An Australian Army prisoner of war captured fighting either the Germans and/or Italians in Libya, Greece, Crete or Egypt between January 1941 and November 1942
To have visited Gowrie House on or immediately around 11 June 1945
Be likely of Aboriginal or/and Torres Strait Island descent.
In a remarkable co-incidence, on 11 June 2014 the 69th anniversary of this artwork being completed, yours truly (like David Harris an Aboriginal serviceman in the Royal Australian Infantry) made a breakthrough whilst looking through a book on Western Australian Aboriginal servicemen and women titled 'Forever Warriors' published by the highly respected Jan 'Karbarli' James (http://trove.nla.gov.au/work/37567943?q=+&versionId=49039304). 
On page 142 is the official enlistment photograph of WX1823 David Harris and a very brief biographical summary.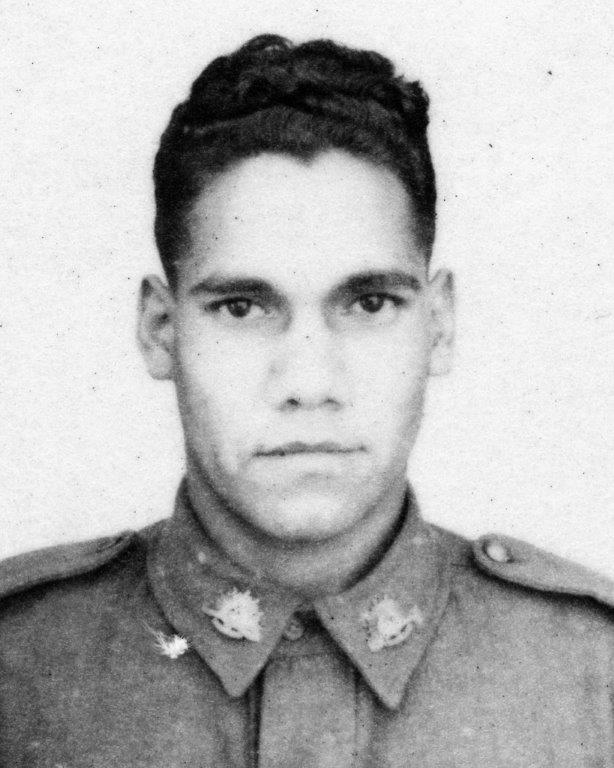 What got my attention was some of his facial features, notably his chin, his eye brows and the shape of his upper lip.  What further peaked my interest in the picture was that David Harris was a wounded on the Greek island of Crete and made a Prisoner of War of the Germans.  I couldn't put my finger on it right away but he reminded me of someone. . .then it struck me, a similarity to the Stella Bowen 'Private, Gowrie House'.  Cutting my lunch short I returned to my office and searched the National Archives of Australia website for Private Harris through their excellent collection of scanned Second World War personnel files and I also pulled up the picture of 'Private, Gowrie House' from our Memorial website.
Private David Harris' records showed that he was a soldier in the Western Australian raised 2/11th Battalion, was a member of the unit boxing team, was heavily wounded in combat on Crete and captured whilst at a Casualty Clearing Station (CCS).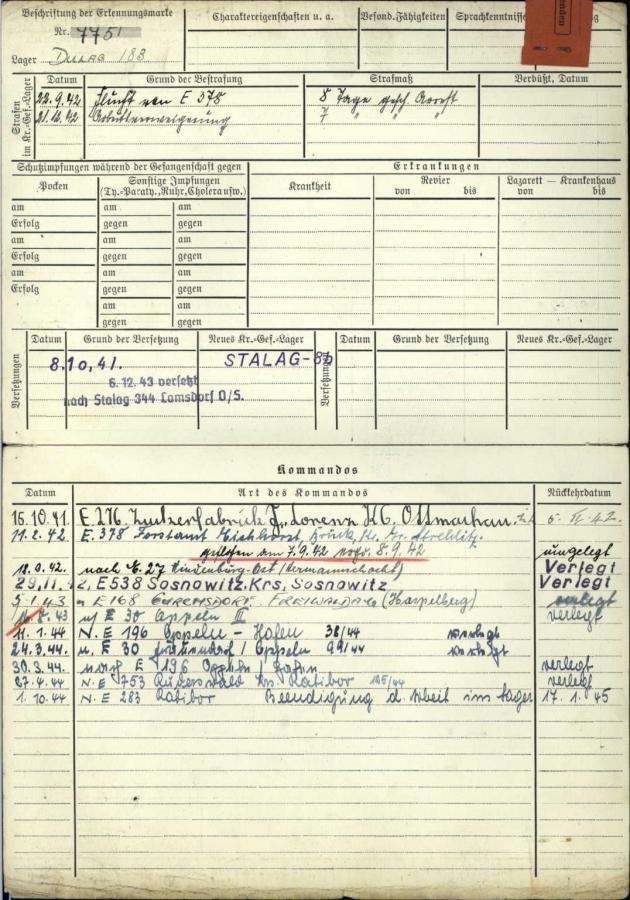 I noted that one of the page 25 of the NAA files on one his German records it mentioned a Prisoner of War camp, Lamsdorf.  I checked this location via our collection search function and the following image came up with David featured on the left hand side.
Critically, on page 6 of his service records it states that he arrived in the United Kingdom on 4 May 1945 spent the next few months there recovering from his wounds and a severe bout of Pneumonia.  This placed him in southern England, in and around Gowrie House at the same time that Stella Bowen was a Official War Artist when she painted 'Private, Gowrie House'.
I was so excited with this discovery that I went into the staff area of our Art department seeking Aunty Margaret Beadman.  She is one of our longest serving volunteers at the Australian War Memorial and a living treasure who has an amazing ability to track down and record our Aboriginal and Torres Strait Islander servicemen and women.  I showed her the picture and she agreed with me, that these pictures look just like David Harris.  She emailed Jan James in Western Australia and she very graciously forwarded the following image from the Harris family.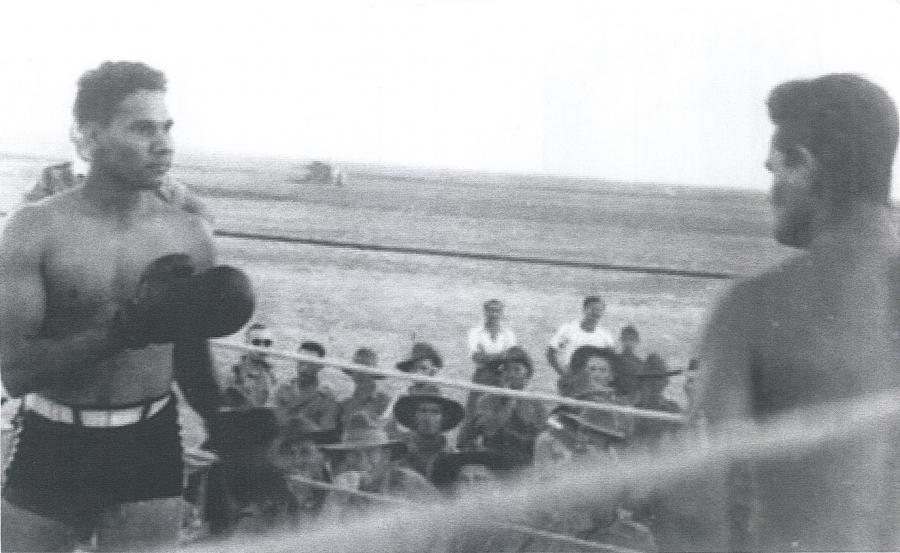 When this image arrived I was finally convinced that it was indeed Private David Harris that was our unknown Australian captured in paint by Stella Bowen on that day in June 1945. I cropped and reversed the photograph above and compared it next to the painting side by side facing in the same direction. . .and they matched. It is a lasting testament to the superb ability of Stella Bowen to capture David Harris' likeness so well.
Members of David Harris' family in Western Australia were shown the 'Private, Gowrie House' artwork and my email claiming that it could be him. They were all positive that this was him. Through the wonderful assistance of Jan James again I phoned and spoke in-depth to a niece of his, Shirley Harris, who was one of David's favourites and knew him personally. Shirley was 'absolutely 100% certain it' it is her Uncle. Before publishing this blog I respectfully sought the permission of the family. I wish to publicly thank them for their assistance with this blog which I have published as part of the Australian War Memorial's ongoing and proud contributions to celebrating NAIDOC week.
The Memorial is a custodian to a diverse range of relics and items relating to Aboriginal and Torres Strait Islander servicemen and women. Now we can finally give some form of public recognition to an individual who is featured in a well known artwork, by a highly regarded Official War Artist, for the benefit of all Australians. To uncover the identity of this previously unknown Australian Infantryman is very special for me personally and professionally. To help another Australian family learn that there exists an artwork in the National Collection of a valued member of their family, who volunteered for our Nation at a time when he and his family were second class citizens at best, speaks volumes for their dedication to protecting country.
It is fitting that this years NAIDOC week theme is 'Serving Country: Centenary & Beyond' and is dedicated to those Aboriginal and Torres Strait Islander servicemen and women like David Harris, who have continued in the long and proud tradition of Indigenous Australians in protecting country.