​​​​​Modern Australian artists were immersed in the Second World War. They served in the armed forces, worked with labour groups or in factories, and as official artists observing, recording, and interpreting military activity.
Drawing on their immediate experiences, these men and women responded to the upheaval and anxiety of the period to create powerful imagery that explored all aspects of life during war. In particular, they were inspired to create modern and innovative visual forms to interpret the experience of combat, the powerfully destructive machinery of war, and the vast social upheaval produced by global conflict.
Reality in flames is the first exhibition dedicated exclusively to exploring how Australian modernist artists responded creatively to the Second World War. The exhibition consists of 84 works of art drawn from the Australian War Memorial's collection; taken together, they constitute one of the most diverse and comprehensive collections of modern Australian art relating to war. Many were created through the official war art scheme, where artists were commissioned to record the experience of Australians fighting overseas or of home front wartime activity – a tradition that began during the First World War and continues today. The Memorial has continued to enhance its collection of works from this period through an active program of acquisitions and donations, and the collection is now one of the most diverse and comprehensive accounts of this period in Australian military, social and art history. The exhibition includes work by leading artists such as Joy Hester, Nora Heysen, Frank Hinder, Roger Kemp, Sidney Nolan, Eric Thake, Albert Tucker, and Danila Vassilieff.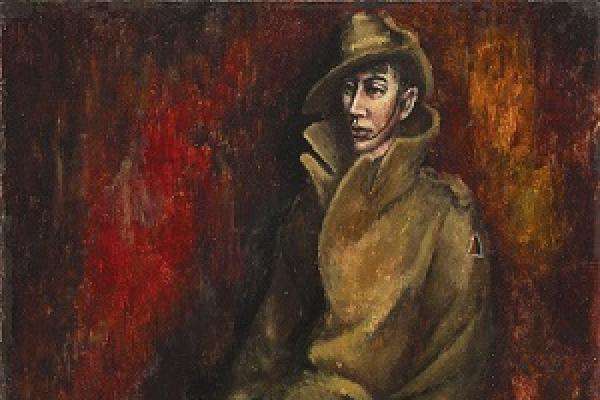 Soldier
Russell Drysdale (1912–1981),1942 oil on hardboard, 60.3 x 40.7cm, ART92623
Russell Drysdale's Soldier (1942) is a crucial work in the exhibition, capturing as it does the disquieting mood of a nation at war. It was created at a time when there was great fear that Nazi Germany might triumph in Europe and when recent Japanese attacks on mainland Australia had sent shockwaves through the nation. Concerned about the Japanese raids on Sydney, Drysdale left the city and moved his family inland to Albury. Soldier is one of many works he completed that depicts the men he often saw waiting at Albury railway station, an important junction on the line between Melbourne and Sydney. The soldier's heavy winter uniform and kitbag, and the dark lighting, help to convey a sense of isolation. He waits for a train to take him to his next posting, then possibly to a theatre of war.
View the artwork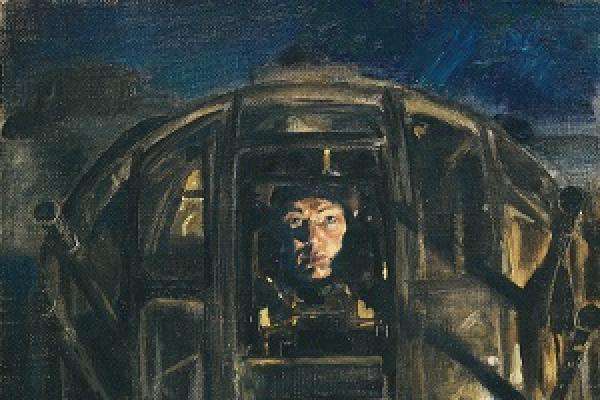 Rear Gunner, Halifax
Dennis Adams (1914–2001), 1944, oil on canvas, 42.8 x 30cm, acquired under official war art scheme in 1946, ART22962
Official war artist Dennis Adams traveled through Britain and Europe to cover the Australians fighting there. Dennis Adams's work repeatedly explores the many unfamiliar and highly dangerous roles people fulfilled during the war. Rear gunner, Halifax (1944), for instance, presents a man isolated in his gun turret at the back of a bomber aircraft, which would fly night-time missions at high altitude and for thousands of kilometers across Europe.
View the artwork
Waiting room at Finschhafe
Sali Herman, 1945, oil on canvas on plywood, 45.5cm x 60.8cm, ART22838
Many other artists focused on the new foreign and cultural encounters experienced abroad and at home. Sali Herman, a refugee from Switzerland, became an Australian War Memorial official artist in 1945, covering the late stages of the war in the Asia–Pacific region. Like other artists and soldiers, he was struck by the diverse cultures encountered throughout the war. In Waiting room at Finschhafen he pictures one such scene, which he described as follows:
At that time [Finschhafen] was most likely one of the busiest airports in the world … Men came from everywhere and had to wait for further transport. Sitting and standing in the waiting room were Australians, Americans, and Negroes in an atmosphere of smoke, boredom and tiredness.
View the artwork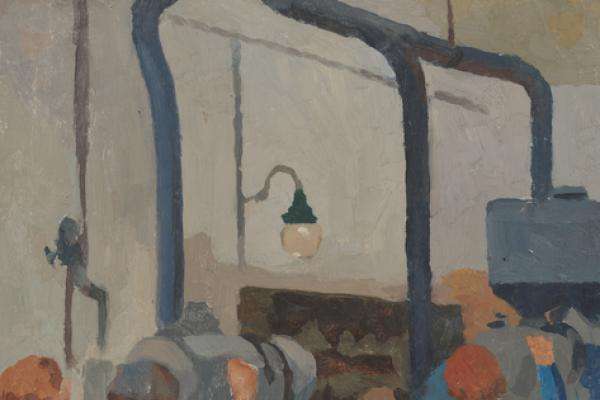 Girls working in the Container Production Room (Commonwealth explosives factory, Maribyrnong)
Sybil Craig (1901–1989), 1945, oil on artist's board, 40.7 x 30.2cm, acquired under official war art scheme in 1945, ART23507
Sybil Craig was one of three female official war artists commissioned during the war. She covered the home-front production of munitions. Craig's Girls working in the Container Production Room (Commonwealth explosives factory, Maribyrnong) (1945) depicts women absorbed in factory work. Their bodies work in harmony with the machines and they are shown as confident and in control, performing what was traditionally considered a man's role. It is one of many works in this exhibition that explore the ways in which gender roles changed during the war.
View the artwork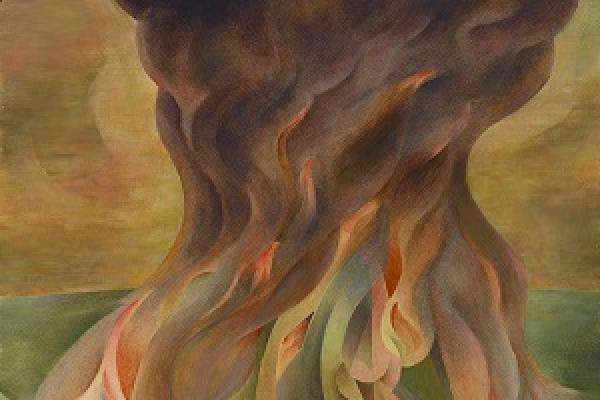 Bomber crash
Frank Hinder (1906–1992), 1949, egg tempera, oil glazes on gesso on hardboard, 59.5 x 49.1cm, ART26924
Frank Hinder's painting Bomber crash (1949) also explores destruction, drawing on his firsthand experience of a plane crash whilst serving in the Australian Infantry Forces as a camouflage artist in 1940. Using an arrangement of futurist-inspired curvilinear forms, Hinder recreated the explosions, flames, and dark plumes of smoke that engulfed the crashed plane. Hinder wrote in his diary of this experience:
Roared up runway – seemed to take long time to get the tail up … getting close to end of field … lot of noise and racket, tried to protect head and face waiting for next bump and crash. Came to rest and flames shot up all round … Before door opened wondered what it would be like to be incinerated.
Reality in flames presents artists' reactions to the dangers and challenges faced by soldiers abroad and to the complex changes war brought to the home front. It provides a rich visual commentary on the Second World War, while commemorating Australia's contribution and the war's enduring impact on our society.
View the artwork
Gauges and components
Dore Hawthorne (1895–1977), 1945, oil on hardboard, 20.4 x 25.3cm, ART94129
In the late 1920s Dore Hawthorne co-edited the Sydney based modernist literary and art journal Undergrowth: a magazine of youth and ideals. During the Second World War, however, her life became consumed by her work in the Small Arms Factory in Lithgow. Her painting Gauges and Components represents gun parts and factory objects related to the manufacture of Bren guns. It forms part of a series of forty works by Dore Hawthorne exhibited, in 1945, under the title Factory Folk, which depicts life and work at the factory with humour and sympathy. She painted the series under the pseudonym 'Brendorah', conflating her name and the gun that dominated her life.
View the artwork
Kamiri searchlight
Eric Thake (1904–1982), 1945, gouache, pencil on paper 55.5 x 78.2cm, ART26787
Eric Thake, who had been working in a surrealist mode since the early 1930s, wrote of his experience in New Guinea as an official artist for the Royal Australian Air Force: "I'm seeing so much every day that is new and strange. I am seeing in minutes and hours and days more than I ever expected to see in my lifetime." His Kamiri searchlight (1945) presents an anti-aircraft searchlight as a precise tool of war, set amongst an exotic costal setting, which was the backdrop to many battles in Southeast Asia.
View the artwork
Battlefield
Albert Tucker (1914–1999) Battlefield, 1942, charcoal and oil pastel on paper 13 x 18cm, ART94636
In 1942, Albert Tucker served in the army for several months, and his many images from this period represent the military as bleak and dehumanizing.
View the artwork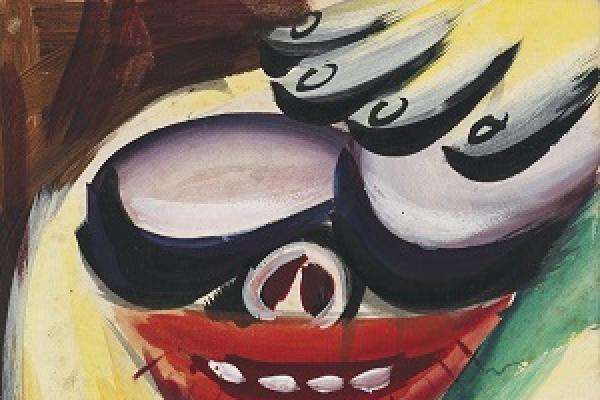 Image of modern evil
Albert Tucker (1914–1999), 1943, watercolour, gouache and ink on paper 16 x 11cm, ART93996
In 1943 Albert Tucker started creating his Images of modern evil series. Through this work Tucker pictures a strident sexuality, real and imagined, played out in the blacked-out Melbourne streets. For the artist, this personal imagery symbolised social disintegration. Tucker believed there was nothing dignified in war and he felt compelled to create images that clearly presented this reality.
View the artwork