On patrol with Frank Norton
Frank Norton (1916-1983) was appointed as the Australian War Memorial's official war artist to Korea in May 1952 to cover the activities of the Royal Australian Navy.
He arrived at HMAS Commonwealth naval base at Kure, Japan, on 26th June 1952 and for five months went on patrols along the West Coast of Korea with the three Australian ships on station: HMAS Warramunga, HMAS Bataan, and HMAS Condamine.
For the Veteran artist there were no naval battles as he had witnessed during the Second World War. Instead, threats were posed by mines, enemy coastal artillery, and airstrikes.  He created more than 50 works for the Memorial recording activities, related to the maintenance of the naval blockade, shore bombardments, anti-invasion, and escort duties. 
These watercolours take us with Norton on his first Korean patrol with HMAS Warramunga (June – August 1952). His passion for naval life is conveyed through his choice of perspective and attention to detail presenting a unique record of the naval warfare carried out along the Korean coast.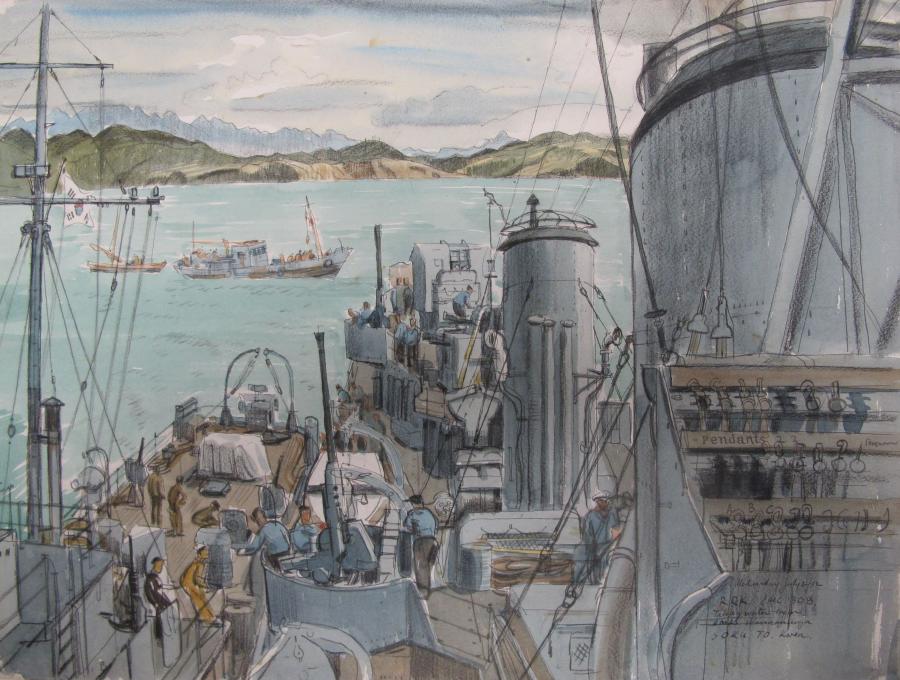 Frank Norton (1916-1983)
Served RAN Second World War official war artist, Korean War official war artist
Images:
HMAS Warramanga – arrival in the patrol area (29 June 1952, watercolour, carbon pencil, pen and ink on paper, 33.5 x 42cm) AWM ART40018
HMAS Warramanga weighing anchor off Sok To (30 June 1952, watercolour, 33.4 x 42.2 cm) AWM ART40019
Quarterdeck, HMAS Warramunga (1st July 1952, Korea, watercolour, pen and ink, carbon pencil on paper, 29.6 x 40.2 cm) AWM ART40020
Cho Do coastline, Korea (1952, watercolour, pen and ink, carbon pencil on grey paper 33.2 x 42.7 cm) AWM ART40021
HMAS Warramunga, UN ships off Sok To Island (2 July 1952, watercolour, carbon pencil, pen and ink on paper, 29.5 x 40.3 cm) AWM ART40024
Off Sok To from HMAS Warramunga (1952, watercolour, carbon pencil, pen and black ink om grey paper, 33 x 43.2 cm) AWM ART40022
HMAS Warramunga, R.O.K. minesweeper and junks at Sok to Island (2 July 1952, watercolour, carbon pencil, pen and ink on paper, 30.3 x 40.4 cm) AWM ART40028
HMAS Warramunga off Sok To from USS Sarsi III (5 July 1952, coloured wash, pen and ink on paper, 32.5 x 43 cm) AWM ART40027
Saturday forenoon, HMAS Warramunga (5 July 1952, coloured wash, pen and ink on paper, 32.5 x 43 cm) AWM ART40026
Transferring mail, HMAS Warramunga and HMAS Bataan (1952, watercolour with carbon pencil,, pen and ink on paper, 30.6 x 41 cm)  AWM ART40025