'It just encapsulates how we need to remember these names'
Ledy Rowe wears the first poppy she ever made on a lapel on her jacket, keeping it close to her heart. For her, the poppies are particularly special.
"It just encapsulates how we need to remember these names," she said. "The names of people who haven't been spoken for 100 years."
The former army officer is one of more than 50,000 volunteers from around the world who have been lovingly knitting and crocheting poppies to commemorate the centenary of the armistice that ended the First World War as part of the 5,000 Poppies project.
The project started as a small personal tribute by co-founders Lynn Berry and Margaret Knight to their fathers' service during the Second World War and soon became a world-wide community project culminating in a moving display of 62,000 poppies at the Australian War Memorial for Remembrance Day 2018.
More than 4,000 square metres of Memorial grounds have been transformed into a field of red with each handcrafted poppy symbolising an Australian life lost during the First World War.
For Ledy, whose family has a long history of military service, the poppies, and the stories behind them, have been a labour of love.
Her grandfather enlisted during the First World War, her father and uncles signed up during the Second World War, her brother was called up for National Service during the Vietnam War, and her sister served in the army. Ledy, herself, was studying for a diploma of fine art in Newcastle when she decided it wasn't for her.
"I joined the army too and 39 and a half years later … I'm part of this amazing group," she said. "And whether people have made 10 poppies or 1,000, it's just been amazing."
As the Canberra co-ordinator for the 5,000 Poppies project, Ledy is one of a team of dedicated volunteers who met at the Memorial's Poppy's café several times a week to knit and crochet poppies.
She first became involved in the project five years ago as a way of honouring her grandfather's service during the First World War.
"It means a lot to me," she said. "I'm blessed … and in 2013, I saw a small snippet on Facebook about 5,000 poppies and I thought, 'That would be interesting,' so I made myself the poppy that I'm wearing."
In 2014, she travelled to the Western Front battlefields with the army and began making more poppies, which she placed at cemeteries and memorials across the Somme as a symbol of remembrance.
"It was important just to have that private moment of reflection," she said.
"My grandfather, Andrew Woolnough, deployed on the 19th of October, 49 years before I was born. He was injured and came back after about nine months, but he never spoke about it, and I was born nine days after he passed away."
When the Second World War broke out, his son, Cyril Woolnough, served with Bomber Command, and Ledy's father, Bill Painting, joined the air force and flew 59 bombing missions.
"He flew in Mitchell bombers, and the crew trained together, flew together, and came home together," she said.
"The story is that a Dutch squadron had had a sortie and they'd lost the majority of their aircraft which had been shot down, so the British said, 'We'll give you some volunteers … but we'll have to ask them first.' So the question Dad's crew asked was, 'Do the Dutch do parades?' The answer was, 'No,' so the crew said, 'Let's go,' and the Australian crew went from the RAF to 320 Royal Naval Dutch Squadron and they flew with them in the Dutch Mitchell bombers."
While her father Bill was lucky enough to survive the war, his oldest brother John became a pilot and never made it home. He was killed on 26 November 1943.
"He was with his RAF squadron, and on his first flight, he went missing," she said. "Some people say he was shot down, but others say the planes above his aircraft were shot down, and as those planes fell, they took his aircraft down as well. The aircraft broke up in the air over Cherbourg in France and they found the crew who were in the tail of the aircraft, but my uncle and the co-pilot were in the front and they were missing until 1949."
The family was left devastated by his loss, and never forgot his service.
"One of my last jobs for the army was running the roster for the Army reader at the Last Post Ceremony at the Memorial, and I loved it," Ledy said.
"I did four readings before I read about my uncle, and it was highly emotional …
"I did my last reading on my 60th birthday, and I got right through until I said, 'And he was 21.'"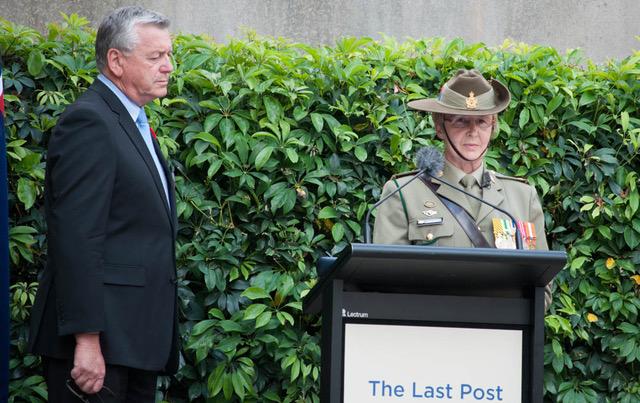 For Ledy, it was particularly poignant. "This is about remembering those people who never made it home and the families they left behind as well as those who came home, but were wounded both physically and mentally," she said. "And it's still a struggle that continues today with our returned soldiers …"
The poppies are her way of saying thank you.
"When someone gives their life, I think they're worthy of being remembered," she said. "It's important that on this, the 100th anniversary of the armistice, the war to end all wars, we all pause and reflect on how we can make a positive difference in the world … We owe them that."
The 62,000 Poppies display will be open from 9 am to 10 pm daily from now to 11 November as part of the Memorial's Honour their Spirit commemorative program marking the centenary of the Armistice on Remembrance Day 2018.
Read more on the story behind the 5,000 Poppies project .
Watch videos about the 62,000 poppies project. 
The Last Post Ceremony is held every evening at the Memorial and is broadcast live on YouTube and Facebook.